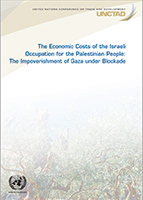 Occupation denies the Palestinian people their inalienable human right to development and imposes heavy economic cost on them. This cost is inflicted across all regions of the Palestinian economy, with Gaza heavily and disproportionately impacted, a newly released study by UNCTAD says.
The study, entitled " The Economic Costs of the Israeli Occupation for the Palestinian People: The Impoverishment of Gaza under Blockade", was prepared in response to six United Nations General Assembly resolutions (69/20, 70/12, 71/20, 72/13, 73/18 and 74/10), which request UNCTAD to assess and report on the economic costs of the Israeli occupation for the Palestinian people.
The study provides greater details complementing UNCTAD report to the Seventy-fifth session of the General Assembly entitled "Economic costs of the Israeli occupation for the Palestinian people: the Gaza Strip under closure and restrictions".
Since June 2007, two million Palestinians have been under a prolonged blockade inside the 365 km² area of the Gaza strip, which suffers one of the highest population density levels in the world. On top of the suffocating blockade, three major military operations by the occupying power have shattered the productive base of the economy of Gaza.
According to the study, without the blockade and military operations, the poverty rate and poverty gap in Gaza could have been one-quarter and one-fifth of their current levels, respectively. Gaza's GDP would have been 50% higher than its actual size in 2017. As poverty spread and deepened, the cost of lifting people out of poverty quadrupled.
The study provides recommendations to put Gaza back on track towards sustainable development. These include lifting the blockade, ending the restrictions on access and movement for the Palestinian people of Gaza so that they can travel and trade freely with the West Bank and the rest of the world, building seaports, airports, water and electricity projects and enabling the Palestinian government to develop the oil and natural gas resources off the shore of Gaza.