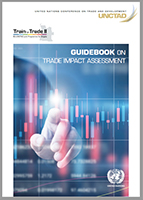 An impact assessment is an essential component of policy formulation and policy management. It supports policymaking by gathering and analyzing evidence, verifying the existence of a problem, identifying its underlying causes, assessing which action is needed, and analyzing the advantages and disadvantages of available solutions (OECD, 2014).
It is also a vital instrument for channeling stakeholder engagement and communicating the ramifications of policy changes.
This Guidebook on Trade Impact Assessment is designed to help trade policymakers and practitioners in developing countries to have comprehensive information on:
When and how to conduct an impact assessment.

Where to obtain detailed and technical information on the conduct and use of impact assessments.

How the results of the impact assessments may be interpreted and put into practice.
It is not meant to provide technical methodologies to conduct impact assessments but rather to provide a practical guide for non-specialist policy practitioners to steer through some of the most commonly used quantitative and qualitative assessment methods, concepts, and processes.