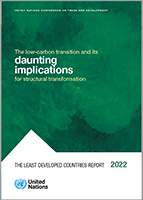 The low-carbon transition and its daunting implications for structural transformation
The Least Developed Countries Report 2022 explores LDC-specific development challenges as they pertain to low-carbon development and structural transformation.
The report contributes to unpacking the multifaceted linkages between climate change adaptation and sustainable development, highlighting potential mutually beneficial opportunities as well as potential trade-offs for which international support to LDCs is indispensable.
Although least developed countries (LDCs) have barely contributed to climate change, they are on the front lines of the climate crisis. Over the last 50 years, 69 per cent of worldwide deaths caused by climate-related disasters occurred in LDCs. Building resilience via a green structural transformation, and making growth sustainable by generating decent jobs, domestic savings, diversification of the economy and exports, and a shift away from dependence on primary commodities, is moving to the forefront of the national development agenda in LDCs.
LDCs represent the litmus test against which history will judge how effectively the efforts of the international community to make the low-carbon transition take into account the "development dimension" and reflect the principles of equity and differentiated responsibilities and respective capabilities. LDCs have set ambitious emission-reduction targets for themselves, committing to climate-resilient development pathways by 2030 and delivery on net-zero emissions by 2050.
They should be rewarded for their commitment by means of international assistance to LDCs. Yet, international support for LDC adaptation and sustainable development has so far fallen remarkably short of what is needed, both in terms of climate finance and access to environmentally-sound technologies.
The Least Developed Countries Report 2022, on the theme low-carbon transition and its troubling implications for structural transformation, provides an insight of many aspects of the world's most impoverished countries.

I appreciate the report that duly highlighted the climate change, the specific needs of the LDCS, and the much-needed scaling up of international cooperation.

The climate change impacts will be the most challenging and long-lasting for LDCs and other vulnerable countries, reinforcing the importance of climate justice.

Sheikh Hasina
Prime Minister of Bangladesh
The international community is at a defining moment for its vision of containing climate change through swift and bold action towards a low-carbon transition. The least developed countries have wholeheartedly taken on the low-carbon challenge and will need to start walking the path of implementing their ambitious climate commitments.

The Least Developed Countries Report 2022 aims at assisting them and their development partners to implement these pledges, while pursuing their legitimate development aspirations. It sheds light on the specific needs of the least developed countries, which have been left to confront and settle a difficult balance between national and common interests as to global climate actions.

Rebeca Grynspan
Secretary-General of UNCTAD
Global economic systems are embedded in nature and interlinked through trade.

The Least Developed Countries Report 2022 flags the importance of acknowledging these interactions, including the unequal material exchanges that have persisted due to differences in technology, factor endowments and institutional capabilities among countries.

The ecological footprints associated with these material exchange dynamics raise the vulnerability of developing countries to climate-related shocks and exacerbate global inequalities.

Sustainable development globally will depend on the growth of global production chains and their localized and global externalities, as well as institutional capacities among LDCs to regulate material extractions and exchanges with developed countries.

There is, therefore, a need for more just global agreements on climate change, and multilateral consensus on trade- related environmental measures that affect trade.

Partha Dasgupta
Professor Emeritus of Economics
University of Cambridge
Placing climate action at the centre of Agenda 2063 and the implementation of the African Continental Free Trade Area presents a tremendous opportunity for Africa to redraft the geography of value chains and transform the climate challenge into a vehicle for smart industrialization.

It will take proactive and collective continental efforts and The Least Developed Countries Report 2022 is timely.

By laying bare the painful trade-offs of the climate challenge, it represents a significant resource towards Africa's simultaneous realization of its developmental goals and continental climate actions.

Carlos Lopes
Professor, Mandela School of Public Governance
University of Capetown