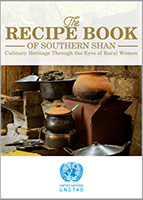 Culinary heritage throgh the eyes of rural women
This collection of recipes is intended to provide visibility to one of the ways in which women are contributing to preserve and promote the cultural heritage of the country, particularly the culinary heritage of Shan State, and keeping their families and communities afloat despite all odds.
Most recipes included in this unique collection have as ingredients agricultural products - such as rice, pickled tea leaf, soybean, garlic, turmeric, sweet beans, tomatoes, ginger and avocado - that women grow and consume in their household or sell to other women in wet markets.
Among the many possible ways to contribute to restore peace, there is farming, trading, and cooking. This publication wishes to highlight these.
For the collection of recipes and the stories behind them, consultation meetings were conducted with key stakeholders from ethnic cultural associations, sectoral associations and organizations in southern Shan, and private cooking class in Inlay.
The preparation of the dishes listed in this recipe book took place in the kitchens of women farmers in Taunggyi, Pindaya, Aung Ban, Inlay, Kalaw and Pin Laung.
---
This Recipe Book was produced within the framework of the Myanmar-SECO-UN Cluster on Trade and Productive Capacity Project "Upgrading horticulture supply and sustainable tourism to develop business linkages".
Project activities were financed by the Swiss State Secretariat for Economic Affairs (SECO) as a portion of the Government of Switzerland's contribution to the Global Aid for Trade (AfT) initiative and as a part of a long-run engagement of Switzerland in Myanmar.
The enhancement of women's position in society and in the economy was one of the goals of the project which focused on women farmers and women micro and small entrepreneurs in the Shan State.