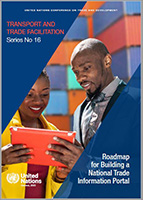 Transport and Trade Facilitation Series No. 16
Import, export and transit entails cross-border transactions with two or more countries. For economic operators, ensuring an uninterrupted flow of their goods at the border always poses a series of challenges. Despite significant improvements in terms of trade facilitation nationally and internationally, completing formalities and processing trade documentation remains complicated for most firms, especially smaller ones. Often, due to lack of transparency, complicated or redundant procedures, and unharmonized legal frameworks, exporters and importers alike spend substantial time and resources securing the correct trade documents to comply with customs formalities and regulations.
Recognizing the root causes of inefficiencies in cross-border procedures, and building on its decades' long experience developing digital government solutions for investment and trade, UNCTAD developed the Trade Information Portal (TIP) - an online tool aimed at improving transparency and supporting traders' with completing trade-related requirements and formalities. To date, UNCTAD has assisted 30 countries in establishing TIPs, with 22 of them currently operational and eight being implemented.
This publication sets out the importance of placing the user at the centre as the primary customer and how a TIP system should be structured to ensure that the needed information is packaged, delivered, and received in a manner that is always easy to follow.
The guidance set out in this document reaffirms that a central repository for trade information is the most effective way of complying with Article 1 of the TFA, and that step-by-step guides to procedures are key to ensuring transparency and make trade-related procedures more efficient.
The first substantive chapter, "What is a Trade Information Portal (TIP)?", elaborates how a TIP can be pivotal to fostering transparency, offers a TIP definition, and an in-depth look at its fundamental structure.
The following chapter focuses on the implementation, i.e., the process and requirements of designing, constructing, and sustaining a fully operational TIP system.
The final chapter explains how to operate a TIP to deliver benefits for the trading community by making sure economic operators are aware of it and that the government uses its functions to identify, implement and monitor trade facilitation reforms and their impact.