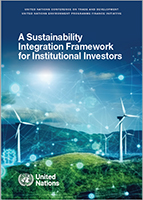 Institutional investors, such as sovereign wealth funds (SWFs), public pension funds (PPFs) and asset managers, increasingly recognize that sustainability-related risks pose a threat to the future value of their assets and even business models. They also understand that integrating sustainability performance into their operations is in their financial best interest and in line with their fiduciary duty. While this acknowledgment is important, it is only the first step. To capture the potential benefits and protect against downside risks, institutional investors need to create and implement the necessary policies and frameworks to integrate sustainability into their operations. The longer this implementation takes, the longer the pressures continue to grow – posing significant risks for investors and shareholders and increasing the likelihood of potential social and environmental catastrophes.
The Sustainability Integration Framework for Institutional Investors (hereafter "the framework") draws on best practices from asset owners and managers to assist institutional investors interested in crafting their own approach to sustainability integration. While it is mainly directed at SWFs and PPFs, many of the strategies and methodologies are applicable to a wider audience of asset owners and managers. The framework intends to offer a structured approach for thinking about sustainability and is supplemented by case studies and examples that illustrate best practices. Recognizing that institutional investors have different risk exposures and tolerances often stipulated by fiduciary rules, that they have different financial and human resource capabilities, and are bound by diverse regulatory environments, the framework offers valuable inputs for institutional investors across the maturity spectrum.
Additionally, although the strategies and recommendations included in this framework have been successful for certain investors, the national regulatory environment and development context, and the specific mission of the investor will drive individual strategy formation and implementation.
Broadly, the sustainability integration framework recommends that institutional investors should follow these steps:
Incorporate sustainability into the investor's
Establish the governance structure for sustainability
Put sustainability policies in
Integrate sustainability risk management in the investment
Incorporate sustainability into investment
Mainstream sustainability along the investment value
Measure and report on
In all instances, institutional investors such as SWFs and PPFs should ensure their approach is prepared to accommodate emerging practices and trends, in particular international standards setting. Effective sustainability integration is a circular process, where practices are continually refined based on past performance and emerging best practices.
The framework represents a "living document", open to feedback from multiple stakeholders in the global investment-development community, including through the UN World Investment Forum. It will be updated periodically with new practices and lessons learnt.