Oceans Economy and Trade Strategy: Belize marine fisheries and seafood processing sectors
Oceans Economy and Trade Strategy: Belize marine fisheries and seafood processing sectors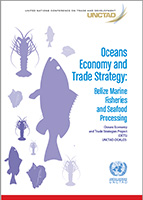 Belize's fisheries sector supports over 2,500 fishers directly and over 15,000 Belizeans indirectly (BFD, 2019). The fisheries and seafood processing sector also supports the evergrowing tourism sector by supplying the restaurant and hotel industry with finfish, spiny lobster, and queen conch in addition to exporting large volumes of these products.
Belize exported 2.06 million pounds in weight of seafood product valuing at $21.3 million in 2019. In the last decade, total production has yielded a steady catch of spiny lobster and queen conch, which are now classified as mature fisheries, while the potential for deep-sea fishing has long been identified as a potential commercial stock (BFD, 2019). Therefore, the fisheries sector economic interests must be considered when maximizing the benefits of Belize's ocean bounty while maintaining ecosystem health.
The Oceans Economy and Trade Strategy (OETS) project was developed to assist developing countries to realize the full potential of oceans economy sectors. This report was prepared in consultation with UNCTAD, the Division for Ocean Affairs and the Law of the Sea (DOALOS) of the Office of Legal Affairs of the United Nations, and the Government of Belize.
The main objective of this report is to assess the economic potential and regulatory needs for the marine fisheries (finfish) and seafood processing sectors (queen conch and spiny lobster), and to present an action plan that enables sustainable trade in those sectors. The sectors were selected by Belize during a stakeholder workshop, held on 28-29 November 2018 in Belize City. Prior to that meeting, legal, institutional, and economic studies were conducted. This report builds on those studies and the outcomes of the workshop. Table 1 provides a summary of the proposed strategies for the marine fisheries and seafood processing sectors as devised by the participants.
Additional interviews with key stakeholders revealed ongoing projects and initiatives such as a deep-sea fisheries subproject, a PESCA4-tourism subproject, a traceability pilot project, and local sustainable seafood branding initiatives. Actions proposed by this plan may be streamlined with these ongoing projects and initiatives to achieve the intended outcomes listed below.
The intended outcomes of implementation include:
Increased capacity of stakeholders in ocean-based economic sectors by creating an enabling environment for research and development.

Economic resilience through the diversification of fisheries and seafood production by identifying opportunities for market access.

Overall sustainable economic growth in ocean-based economic sectors thus improving livelihoods of those involved directly in the ocean economy.

Production of high-quality marine products through value added options.

Enhanced synergies with ongoing projects, national plans, strategies, and policies of Belize.
Each part of the report outlines the current status of the sectors, issues to be addressed, and actions that may be undertaken by the Government of Belize and associated stakeholders under UNCTAD's five Oceans Economy pillars to increase trade and boost economic growth.
---