Services Policy Review of Paraguay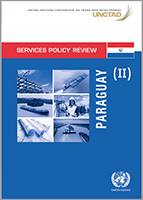 This Services Policy Review of Paraguay is the second assessment that the Paraguayan government has requested from UNCTAD to assist the country in diversifying and improving its economy for the benefit of its people.
The previous study focused upon financial, telecommunication, education, and construction services sectors within Paraguay (UNCTAD, 2015).
This follow-up study focuses more in-depth on trade in the construction services sector and the transport services sector, in particular, fluvial transport services and professional services associated with the construction sector. It is designed to identify the bottlenecks and opportunities to pursue development gains from services, trade in services and services-enabled trade.
This first chapter presents an economic and trade assessment pertaining to the services sector. The second chapter analyses Paraguay's national development plan, the National Plan on Trade in Services and the National Services Forum, trade negotiations and other recent initiatives in services. Detailed assessments on the fluvial transport services sector and on professional services associated with the construction sector follows in the third and fourth chapters, respectively. The fifth chapter concludes with a preliminary analysis of cross-cutting and sectoral options to support public policy instruments.
(UNCTAD/DITC/TNCD/2014/2)
-
14 Apr 2015
(UNCTAD/DITC/TNCD/2014/2)
-
26 Feb 2018
---