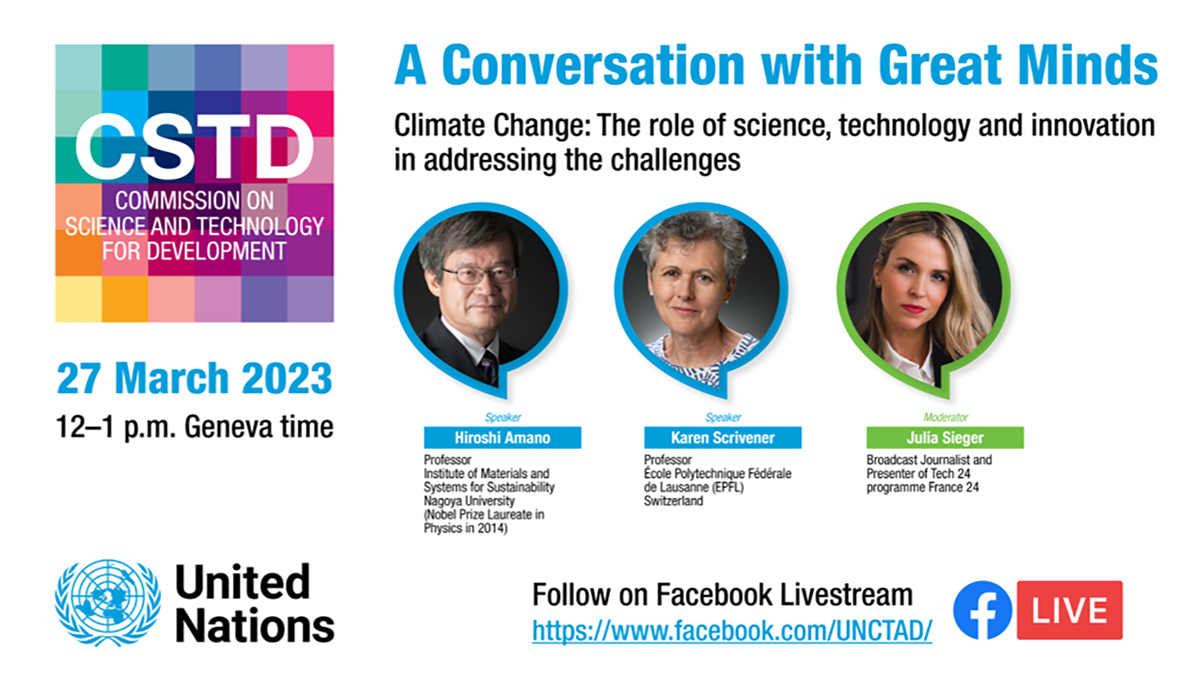 27 March 2023
12:00 - 13:00 hrs. Tempus
Online and Geneva
, Switzerland
Speakers:
Mr. Hiroshi Amano, Professor, Institute of Materials and Systems for Sustainability, Nagoya University (2014 Nobel Prize winner in physics)
Ms. Karen Scrivener, Professor École Polytechnique Fédérale de Lausanne (EPFL), Switzerland
Moderator:
Ms. Julia Sieger, Broadcast Journalist, France 24
Climate change is a global challenge that calls for global solutions. And we cannot address this challenge without science, technology, and innovation. These are critical adaptation tools that can be deployed to address the looming crisis that humanity is faced with. Innovation and advances in science and technology, if guided by the Sustainable Development Goals, can be used to drive the world along more sustainable and equitable pathways, particularly in the generation and use of energy. The challenge is how to scale these tools at speed to meet the needs of everyone, especially the three-and-a-half billion people who live in countries highly vulnerable to climate impacts.
On 16 March, UNCTAD published Technology & Innovation Report 2023, aptly themed Opening Green Windows: Technological opportunities for a low-carbon world. The report suggests that the green technology revolution offers developing countries not only the chance to build resilience and mitigate climate disaster, but also to spur economic and technological development, allowing developing countries to "leap" out of the cascade of crisis and move forward.
Green technologies – those used to produce goods and services with smaller carbon footprints – are growing and providing increasing economic opportunities, but many developing countries could miss them unless national governments and the international community take decisive action.
A green technology revolution means sharing knowledge and technologies with all countries, equally. Currently, most of the global capacity, technology and expertise is housed within a handful of countries. As the world transitions to a net-zero, resilient and just future, we cannot allow developing countries to fall behind.
This year's Conversation with Great Minds will address issues including how to prioritize R&D for climate change – especially for the most vulnerable people – how to share knowledge and technology, and what should be the role of governments and the UN to help.
There is some issue in accessing document path, Please contact to Site Admin
There is some issue in accessing document path, Please contact to Site Admin
---