13 January 2016
 What were you doing when you were 22 years old? By that age, Anielle Guedes had already founded her own company and won recognition as a "Top Innovator Under 35" in the Brazilian edition of the MIT Technology Review. 
Anielle took her first degree in physics and economics at the University of São Paulo, followed by a degree in sustainable products and production chains at the Istituto Europeo di Design in Italy. She then completed yet another one in exponential technologies applied to global grand challenges with Singularity University in the United States of America.
But in practical terms, it was not clear to Anielle how to make use of all that knowledge. The turning point came one day as she walked down Avenida Paulista eating a sandwich. Suddenly, a beggar pushed her and grabbed her sandwich, saying: "I feel hungry too!"
Despite the man's behaviour, Anielle could not help feeling sympathy and she thought of ways in which to help him and other homeless people. It was then she began to realize the enormous potential of technology to lead the way to social benefits.
Inspired by her family's construction business, Anielle started to inform herself thoroughly on the housing situation in her home town. The best way was by working in the slums of São Paulo for more than three years. Afterwards, she founded Urban 3D, a technology construction company aimed at using materials science technology to develop low-cost solutions to the urban housing crisis.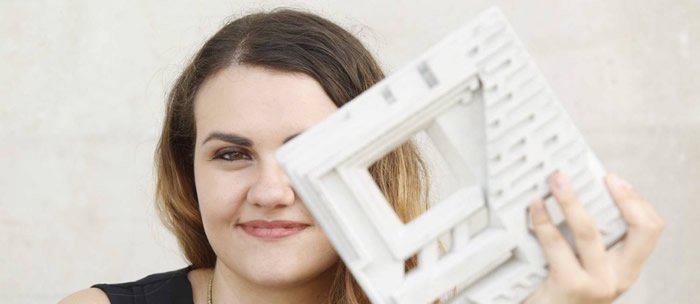 Anielle Guedes, founder of 3D Urban, proposes using 3D printing technology to build low-cost housing.
The company's first product was concrete made from recycled materials that keeps its structural integrity, while costing 30 per cent less than traditional concrete. Now, the company is turning to the power of 3D printing to develop cheap building materials to address today's rampant homelessness problem.
"We cannot continue to live in a situation where people do not have the basic necessities to live, such as sanitation and running water," Anielle says. "If basic needs are not met, it's impossible to focus on other fundamental issues such as health or education. These are just a handful of development issues that are intrinsically tied to housing."
So how could such a daunting and pressing challenge be tackled with limited human resources and funding?
Anielle decided to join the UNCTAD Business Schools for Impact network. The project's network is tailored to students, impact practitioners and universities interested in creating positive change in poor communities and regions. Its aim of mobilizing investment for sustainable development in low income countries gave her the opportunity to meet other entrepreneurs and social project leaders.
She benefited from coaching sessions and individual discussions with experts, such as an intellectual property lawyer and a founding resource specialist, and meeting other passionate young people. "These exchanges have been extremely useful in developing my project", Anielle says.
The initiative also offers internships to students, matching them up with enterprises in developing countries. Students get hands-on experience in poor communities where they can make a difference while entrepreneurs benefit from the students' business skills. That was how she connected with Brazilian student, Guilherme M. Lourenço, who joined Urban 3D as an intern and brought his excellent communications and fundraising skills. Guilherme, a recent graduate in global business and sustainability in Milan, says enthusiastically of his experience at the enterprise: "My master's course provides different theoretical tools for us to be motivated to do more than just the basics of office work, and this internship provided the practical opportunity to do so."
The UNCTAD Business Schools for Impact project "helped me expand my capabilities and extend my reach," Anielle notes. The partnership between Anielle and Guilherme has been so fruitful that they have agreed to continue their collaboration beyond the internship period.
Anielle is full of energy, matched only by her perseverance. She is pioneering ideas for sustainable development solutions in the construction sector to tackle homelessness. Her story can inspire future generations of professionals. Assisting Urban 3D at this early stage is just one example of how UNCTAD helps, and we look forward to helping other rising entrepreneurs and students!