20 November 2018
A global system that leaves the top 1% as rich as the bottom 56% is overdue for reform, with women's economic exclusion among the highest priorities.
While some countries and socio-economic groups have reaped the gains from trade in a globalized world, billions of others, including women, have been marginalized or excluded, experts told a meeting of UNCTAD's Trade and Development Commission in Geneva, Switzerland, on 12–16 November.
This is "perhaps the most important question that we have to deal with in the world going forward into the 21st century," said Ricardo Melendez-Ortiz, chief executive officer of the International Centre for Trade and Sustainable Development.
The resulting backlash against trade threatens the very future of the multilateral trading system, he said.
"The time is ripe to think how today's model of trade can be more inclusive," he said.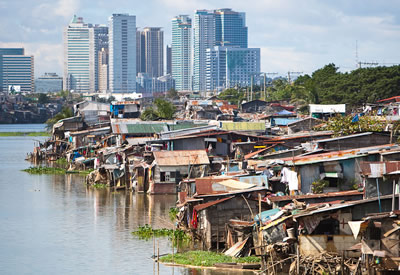 The distribution of world GDP has the shape of a champagne glass, said Isabel Ortiz of the International Labour Organization.
The top 1% of the world's population – 61 million people – had the same income as the poorest 3.5 billion people or 56% of the world's population, Ms. Ortiz said.
Policies that encouraged privatization, labour flexibility, and a diminished role for the state had contributed to rising inequality since the 1980s, she said. While there had been some progress in recent years, it had been very slow.
"At this speed, we estimate that it will take 800 years for the bottom 20% to achieve just 10% of global income," Ms. Ortiz said.
Missed opportunities
The 2030 Agenda for Sustainable Development, endorsed by United Nations members in 2015, is an alternative way forward to promote equality, Ms. Ortiz said. Equality is key to growth and socio-political stability, and achieving it called for harmonized national and multilateral policies.
But trade had played a role in promoting prosperity, Roberta Piermartini of the World Trade Organization said. Moreover, equality between countries improved as some countries have caught up.
Two key groups – the middle or working class in developed countries as well as the very poor in developing countries – had been left out of the gains from trade, Ms. Piermartini said. Automation and competition from cheaper imports had contributed to job losses for the middle class, while the story of the very poor was one of missed opportunities.
Ms. Piermartini said that one reason for this was that people in lower income groups – including women, people living in rural areas and informal sector workers – were in parts of the economy that faced higher export tariffs. She said this shows that there was still a lot to be done with trade policy, especially concerning tariffs which were still a barrier to increased economic participation for many.
Within and between countries, the food and agricultural sector displays some of the highest levels of inequality, Carolyn Rodrigues-Birkett of the Food and Agriculture Office of the United Nations said.
"For example, the world at this current moment has over 820 million undernourished people," she said. "On the other hand, we have 1.9 billion people that are either overweight or obese."
Increased globalization threatens to marginalize further small farmers and others who have been left out of global value chains, Ms. Rodrigues-Birkett said. She called for more significant investment in rural development, along with a major shift in how we measure progress.
Fighting inequality
The most pressing priority was to help those in extreme poverty, Ms. Rodrigues-Birkett said, with 80% of extremely poor people living in rural areas. She also emphasized the need for greater focus on gender, since 79% of women in the Least Developed Countries – a 47-nation category – indicated that agriculture is their primary source of income.
"Focusing on gender equality is at the heart of reducing economic, social and political inequalities. The world is poorer if it does not benefit from the full contributions of women."
Claudia Hernandez, Ambassador and Deputy Permanent Representative of the Dominican Republic to the World Trade Organization, said that competition policy had a role to play in fighting inequality."
"It can help democratize the markets by enlarging the number of products consumers have access to, including low-income consumers," she said.