07 July 2020
To mark "Africa Integration Day", UNCTAD Secretary-General, Mukhisa Kituyi, responds to questions on the impact of COVID-19 on African trade.
Exactly one year ago today, the African Union Heads of States and Government decided that 7 July be designated as "Africa Integration Day", to commemorate the operationalisation of the African Continental Free Trade Area  (AfCFTA) Agreement and popularise economic integration across the continent as a lever of inclusive sustainable development.
To mark this special occasion, UNCTAD Secretary-General, Mukhisa Kituyi, addresses the social and economic impacts of the pandemic and its effects on African trade.
Q:  Following the national shutdowns that were implemented to stem the spread of the corona virus and the negative impacts on many economies as a result, what lessons should we be taking from our handling of the COVID-19 crisis?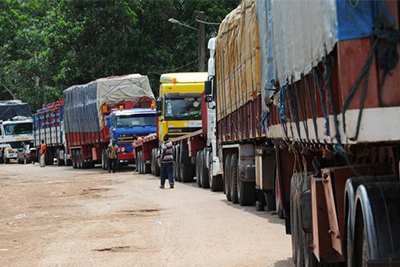 A: It may even be early to draw definitive lessons, but the Covid crisis has only accelerated a number of worrying trends already underway – from debt buildups, to rising protectionism and nativism, and a withdrawal from international cooperation and multilateralism. We must fill this void in Africa with stronger regional approaches.
The collapse in trust and lack of coordination among countries has been disheartening both in practical terms – from closed borders and stranded seafarers to supplies of essential goods and medical supplies – but also in terms of our collective vision for recovery and response – developed economies have pumped trillions of dollars of stimulus into their own economies, but the biggest toll may yet to come in developing countries, and very little of the 2.5 trillion USD we estimate that developing countries will need has been forthcoming. Africa alone will need hundreds of billions in additional liquidity.
The reality of shorter value chains, "go-it-your-own" populism and the deflating spirit of international cooperation are a wake-up call to Africa that we must get our own affairs in order for our protecting our own lives and livelihoods. This makes regional integration under AfCFTA all the more urgent and important.
Q:  COVID-19 has accelerated the uptake of digital solutions, tools and services as the world struggles to carry on with their daily lives by working on-line. How can less developed countries take advantage of this to close the inequality gaps with their more developed counterparts?
A: Many African countries, especially. the LDCs, do not have the same recourse to working on-line through the lockdowns and social distancing that have come with this pandemic.
While some informally employed have had to keep working to make ends meet, others have had to go home to rural villages, and don't have the option. In addition, with so many schools closed, young students are also home, unable to learn due to limited connectivity.
First, digital tools, services and solutions can be put to use to help those limited households with internet connectivity – even if only via mobile phones – to get information about treatment, health precautions to take to prevent virus spread, and where they can go to get help – be it medically or economically.
Secondly, smart alternatives to digital solutions for those who aren't digitally capable should be sought as well. Other more widely available technologies, like radio, for example should be employed to the extent possible to keep health information and schooling available to all. Students in rural areas who lack internet connectivity can still benefit from classes offered over the radio, even if the quality of the instruction will be markedly different from what could be offered digitally.
As the LDCs aim to recover better, they can also foster new strategies leveraging digital opportunities in an inclusive manner going forward. UNCTAD's eTrade Readiness initiative is an example of how LDCs can help position themselves towards better recovery, with support from our Rapid eTrade Readiness Assessments and our eTrade for Women initiatives, for instance.