03 June 2019
Governments called on to apply the same approaches to building start-up ecosystems as they do for foreign direct investment.
Boosting the digital economy in developing countries will require a new way of thinking, not only from entrepreneurs but also from governments.
This is the message UNCTAD Secretary-General, Mukhisa Kituyi gave recently at the Leaders' Summit at Transform Africa Summit, to heads of state from around the continent, which was discussing how to boost Africa's digital economy, in Kigali, Rwanda on 15 May.
"When a country gives better conditions for investment to foreigners than locals, the locals register companies abroad," he said. "What you have been doing for foreign investors, do it for your start-ups."
The message stems from experience.
UNCTAD has been working with such enterprises for over 30 years through its Empretec programme. It's also currently running the fifth class of the eFounders Fellowship programme in Hangzhou, China.
That, and small and medium-sized enterprises (SMEs) represent about 90% of all business worldwide.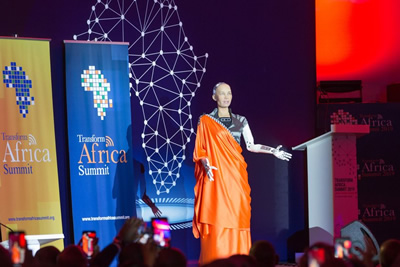 Related links:
A recent UNCTAD report about entrepreneurship in least developed countries also showed that the right kind of innovative small businesses can bring economic growth.
If you add in the benefits of the digital economy, small businesses can go beyond the local and reach national and regional markets, transforming economies and lives.
Much of this potential lies in the hands of the youth, which are leading the field in digital innovation in developing countries.
"While many SMEs in developing countries have yet to switch to digital technologies, a digital transformation is happening across Africa and Asia led by SMEs and young entrepreneurs who are willing to take a risk and pioneer new business models as game-changers," Dr. Kituyi said.
Investing in the future
Young online entrepreneurs will steer Africa and Asia's digital future.
A recognition of this potential has led UNCTAD to partner and invest in supporting start-ups, much like Dr. Kituyi has called on governments to do.
Among the most recent and high profile is a partnership with Alibaba Business School, which arose out of a collaboration with internet era pioneer, entrepreneur, and philanthropist, Jack Ma.
In 2016, Mr. Ma was appointed, in his personal capacity, by United Nations Secretary-General António Guterres to serve as a special advisor to UNCTAD on young entrepreneurs and small business for two years.
On their first trip together to Africa, Mr. Ma and Dr. Kituyi found mutual ground in their passion for empowering, training and inspiring young entrepreneurs.
During his tenure as special adviser, Mr. Ma collaborated closely with UNCTAD on a series of events and initiatives designed to put the over US$25 trillion annual digital trade to work for the benefit of those who've been left furthest behind.
But the main project's been the groundbreaking eFounders Fellowship Programme, a smart partnership between UNCTAD and the Alibaba Business School.
The programme aims to bridge the digital divide in developing countries across Africa and Asia by empowering young digital entrepreneurs to become champions for the new economy.
"The appetite for the digital economy can inspire the development of other infrastructure sectors," Dr. Kituyi said.
"E-commerce provides many opportunities for growth in the developing world, but we need to seize those opportunities now."
Since the launch of the eFounders programme over 170 entrepreneurs from both regions have been trained. The sixth class is about to kick off in Hangzhou, China.