26 September 2023
In New York, UNCTAD chief Rebeca Grynspan joins world leaders in pushing for financing to keep the promise of sustainable development to everyone, everywhere.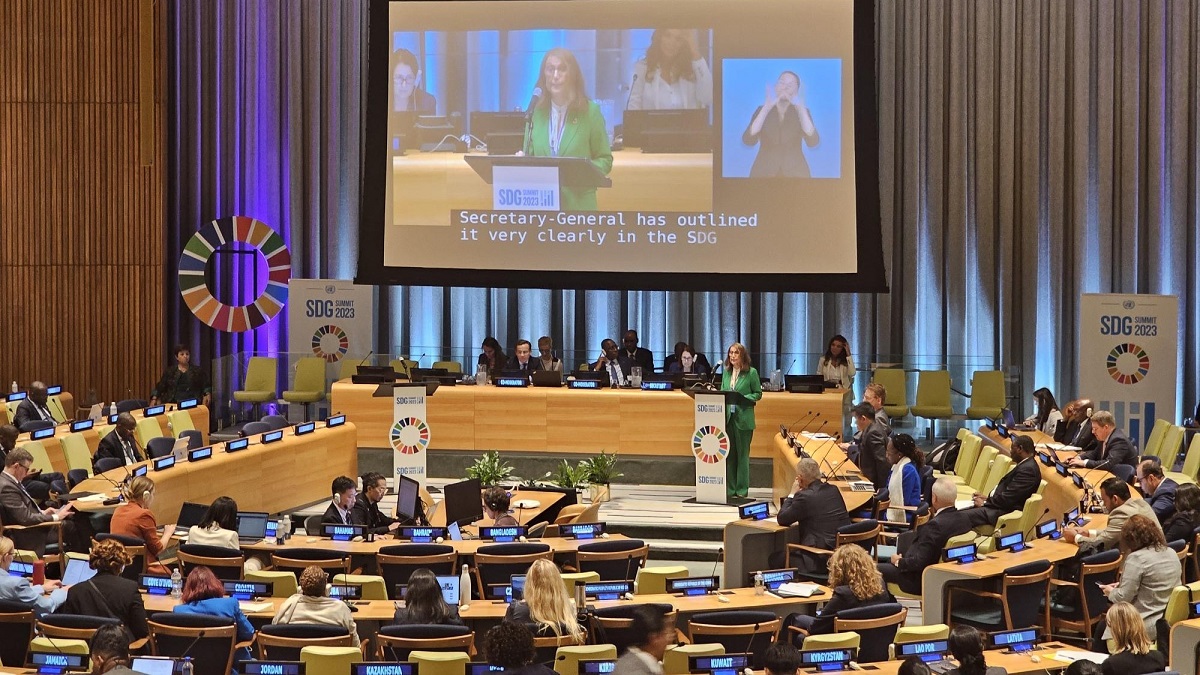 © UNCTAD | UNCTAD Secretary-General Rebeca Grynspan addresses the 2023 SDG Summit Leaders' Dialogue 6 on 19 September, representing the UN system.
UNCTAD Secretary-General Rebeca Grynspan and other world leaders promoted a global rescue plan for the Sustainable Development Goals (SDGs) during the high-level week of the 78th session of the UN General Assembly, from 18 to 26 September.
Currently at the halfway point towards achieving them by 2030, only 15% of the SDG targets are on track and many are going in reverse.
Warning over world of debt
On 20 September, Secretary-General Grynspan spoke at the SDG Media Zone, where national leaders, influencers, activists, experts and media partners highlighted actions and solutions in support of the SDGs.
The session examined the ongoing crisis of global debt, which reached an all-time high of $92 trillion in 2022.
A recent UN report flagged that 37 out of 69 of the world's poorest countries were either at high risk or already in debt distress, while highlighting the inherent inequality in the international financial system.
The report found that developing countries on average pay four to eight times more in interest rates than developed ones.
Disturbingly, 3.3 billion people live in countries that spend more on debt interest than education or health.
"They [developing countries] end up having not only a debt crisis, but a development crisis," Ms. Grynspan said. "They are faced with impossible choices, to serve the debt or serve the people."
Concrete steps needed to turn the tide
Turning to solutions, Secretary-General Grynspan outlined the "very concrete things" the world can do to rev up investment, debt restructuring, and liquidity and contingency funding for developing countries.
She echoed calls from UN chief António Guterres for an SDG Stimulus of at least $500 billion a year to bolster sustainable development and climate action.
"We're proposing to scale up the multilateral development system finance for affordable, long-term finance for investment in [developing] countries," Ms. Grynspan said.
"They can do that with re-capitalization of multilateral development banks, and a better use of the balance sheets."
The UNCTAD chief also threw her support behind an effective debt-relief mechanism that supports payment suspensions, longer lending terms, and lower rates, as well as a deep reform of the global financial architecture.
Rallying support for developing countries
While in New York, Secretary-General Grynspan also had a range of high-level engagements to advocate for trade and development policies that support developing countries to tackle compounding and complex global crises emanating from climate change and the war in Ukraine in a post-COVID-19 world.
These included:
Holding bilateral meetings with China, Costa Rica, Luxembourg, the European Union, Türkiye, Uganda and Venezuela, which focused on debt and finance.
Representing the UN Secretariat in the SDG Summit Leaders Dialogue, where the High Impact Initiative on SDG Stimulus was launched.
Moderating the high-level discussion of heads of state at the High-Level Dialogue on Financing for Development on mobilizing resources for sustainable development and addressing global economic challenges, especially debt.
Presenting the report entitled "A world of debt: A growing burden to global prosperity", which highlighted the crushing weight of debt on developing countries and the urgent need for debt sustainability.
Participating at two events of the SDG Acceleration Day, namely UNCTAD's event on Transforming4Trade, which seeks to help countries foster economy-wide productive capacities and achieve structural economic transformation, and another event on the SDG Stimulus alongside UNDP and the UN Department of Economic and Social Affairs.
Representing UN Secretary-General António Guterres at events related to women for peace, as well as international financial architectural reform with European Council President Charles Michel, and Pedro Sanchez, the president of the Government of Spain.
Participating in the ministerial roundtable on middle-income countries.
Accompanying UN Secretary-General António Guterres in key bilateral meetings with heads of state.