16 February 2023
UNCTAD sets out the policy actions needed for more people in the region to benefit from digital technologies.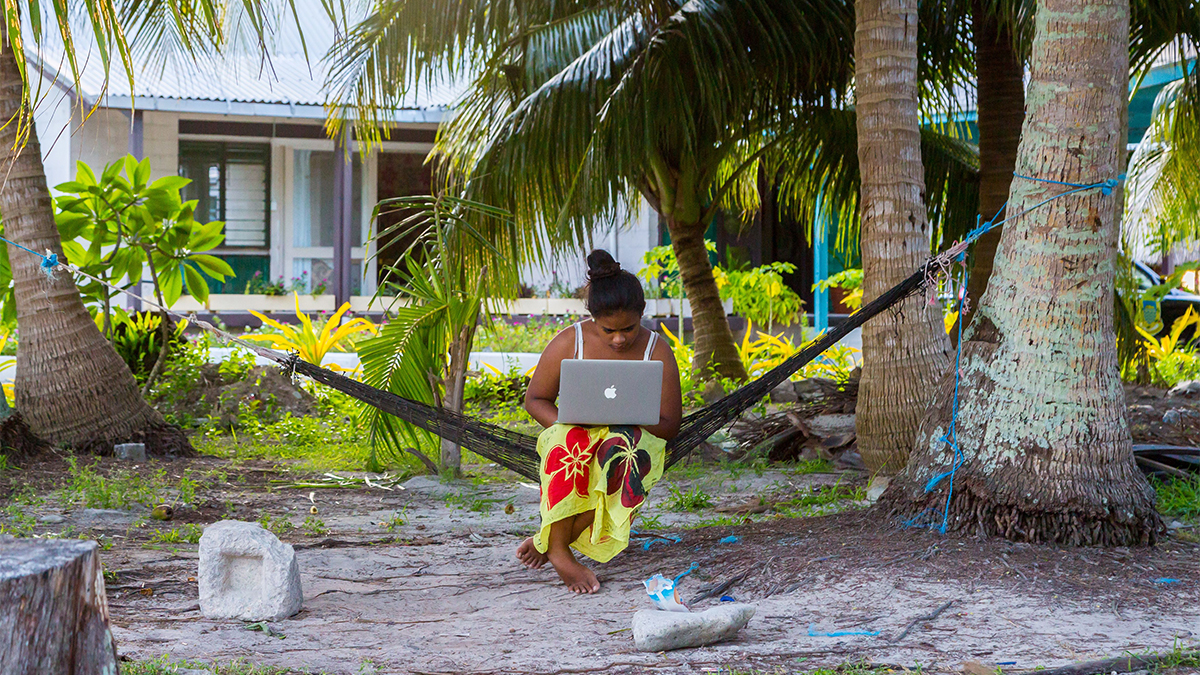 © Shutterstock | Young Polynesian woman in a hammock with a notebook working outdoors under palm trees.
UNCTAD published the first Pacific edition of its Digital Economy Report on 16 February.
It's the first in-depth research report on the digital economy in the Pacific, examining opportunities and challenges of digital transformation in the region.
Digital technologies and e-commerce have the potential to transform livelihoods in the Pacific by enhancing trade across sectors and industries.
"The digital economy means small businesses can access new markets, reduce transaction costs, encourage financial inclusion and boost exports," UNCTAD Secretary-General Rebeca Grynspan said. [Read her statement]
E-commerce opportunities
Opportunities exist for entrepreneurs like Salita Bako, an avid gardener in Auki, the capital of Malaita Province in Solomon Islands. She grows tropical anthurium plants and this year decided to supplement her income by selling them online.
She had never sold goods online but as a long-time member of several buy-and-sell groups on social media, she knew exactly what to do. She took photos of flowering anthurium plants and posted them on the groups' walls. Then she waited.
Within hours, 10 people contacted her asking about the prices, availability and where to pick the anthuriums. Later that day, she sold all the plants.
That is the power of e-commerce. It allows anyone anywhere to reach new customers with their goods and services.
In Solomon Islands, where the GDP per capita is less than $2,500 and well-paying jobs are scarce, selling goods online can be a good source of income.
With time, Bako hopes to sell her anthuriums to customers outside Auki.
Unique challenges in the Pacific
The report sets out the challenges facing e-commerce across the region.
Vast distances between small island economies present challenges to digital connectivity as well as merchandise trade and logistics. Building digital infrastructure is expensive and transportation of goods is time-consuming and costly.
Small market and population sizes also make the Pacific less attractive for international investment. This means e-commerce solutions are often homegrown. The cultural and linguistic diversity in the Pacific also poses a challenge to developing local online content.
"While there is no one-size-fits-all solution to address the unique digital challenges faced by the Pacific region, the report explores how policymakers, the private sector and development partners can leverage digital technologies for socioeconomic development," said Shamika N. Sirimanne, UNCTAD's technology and logistics director.
Despite the challenges, digital technologies have much to offer the region.
"In Pacific countries, digital platforms can provide opportunities to expand access to local, regional and international markets," said Neha Mehta, Pacific regional lead for the UN Capital Development Fund (UNCDF) in Fiji. "This is especially important for women, youth and other marginalized groups."
Policies for digital age needed
The report recommends actions that policymakers should take to address the challenges to e-commerce in the region and place inclusion at the centre of digital development.
It says Pacific nations need to adapt policies and regulations to the digital age. Trade agreements and consumer protection laws, for example, rarely consider complexities associated with doing business online.
The Pacific Regional E-commerce Strategy and Roadmap provides a starting point to reform and adapt these policies. The strategy outlines 54 measures to strengthen the business, policy and regulatory environment for e-commerce in the Pacific.
UNCTAD's report provides insights and data to guide the implementation of the strategy and ensure better-informed policymaking.
A joint initiative
The report was developed under the Pacific Digital Economy Programme, jointly administered by UNCDF, UNCTAD and the UN Development Programme.
The programme supports the development of inclusive digital economies in the Federated States of Micronesia, Fiji, Kiribati, Papua New Guinea, Republic of Marshall Islands, Samoa, Solomon Islands, Timor-Leste Tonga and Vanuatu.
It's funded by the Government of Australia and the European Union.