22 August 2019
Furquan Kidwai from Pakistan, e-commerce platform entrepreneur
As an entrepreneur, it is important to start a business that addresses a problem. This is what Furquan Kidwai, an entrepreneur from Pakistan, did by founding Dawaai - a medical platform that aims at providing its users with healthcare access.
Access to healthcare is widely considered to be a fundamental human right, however, it can represent a substantial challenge when considering the conditions and locations of certain patients – where physical distance becomes an issue. Moreover, it comes with additional contemporary risks such as the use and distribution of fake prescriptions and counterfeit medicines - presenting threats to both patients and healthcare providers in general.
Dawaai is a multiservice website which is primarily a pharmacy. Patients from all over Pakistan can order their medicines and get them delivered straight at home. The prescriptions are either checked on delivery, or online. The delivery system then allows patients in complicated physical conditions or locations to access basic healthcare services and continue their treatments.
"Dawaai is an innovative pharmacy-led healthcare group. Our mission is to provide integrated pharmacy services with convenience and quality. We are reinventing the concept of retail pharmacy by taking authentic medicines to patients' door-step as quickly as possible" Furquan explains.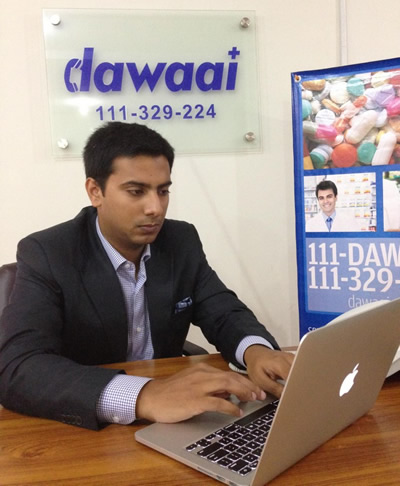 Dawaai serves also as a facilitator for laboratory tests, the platform provides its users with a possibility to order this service at home and then simply send the samples back to the laboratory, the results of which are then delivered through the application. The platform and the app thus simultaneously work as a medical record - allowing patients to access their file anytime and anywhere.
Professionalism is maintained through a team of qualified pharmacists. Their expertise also ensure that the medicine is authentic and that they are delivered in-line with all due requirements, like temperatures, packaging, in proper doses, etc. The Pharm-tech is also in direct contact with distributors, which also guarantee supply and product quality.
"We only procure our medicines directly from manufacturers and their distributors. Most large pharmaceuticals are in direct contact with us at a senior management level. There is constant flow of relevant information and quality control mechanisms to ensure authenticity of our medicines."
If there is something essential that Furquan understood is that health is not only about quick reaction, but recognizing prevention and information, as equally important. Therefore, Dawaai also includes detailed information about its medicines, their uses, side effects and precautions. This aspect is reinforced by a well-documented blog where M. D's and pharmacist provide useful advice and collaboration on health.
"We don't just sell medicines, we provide Health and fitness supplements, vitamins, medical devices and disability aids - so you and your loved ones can lead a healthy lifestyle. We provide all the important information on those medicines so that you would be able to know its uses, side effects, precautions and methods of consumption. We have made buying medicines online as simple as possible."
Developing countries are generally burdened with financial limitations, non-sustainable lending practices from banks and non-comprehensive health insurance policies which workers cannot afford, creating a vicious cycle for those in need and creating long-term debt.
Furquan highlights that inclusion is an essential element of sustainable healthcare. After joining the UNCTAD and Alibaba Business School eFounders Fellowship programme he fortified inclusion by setting up a lending platform - in order to allow rural populations to complete their medical treatments.
Highlighting important social components such as these in entrepreneurship is vital in the contemporary healthcare climate, where developing countries suffer from financial barriers – which UNCTAD constantly looks to address (as part of the UN's Sustainable Development Goals) and actively provides assistance for.
As a champion in his community Furquan helps by increasing access to healthcare services for highly disadvantaged people and thereby contribute to prevent diseases and promote healthy lifestyles through all means available. These services aim to create a more transparent, inclusive, reliable and complete healthcare system.
eFounders Fellowship Programme
UNCTAD's smart partnership with the Alibaba Business School aims to bridge the digital divide in Africa and Asia and empower young e-founders in developing countries to become champions for the new economy.
The partnership is the brainchild of UNCTAD Secretary-General Dr. Mukhisa Kituyi and Jack Ma, founder and executive chairman of Alibaba Group, who served as a special advisor to UNCTAD on young entrepreneurs and small business.