22 January 2016
The International Chamber of Commerce (ICC) and UNCTAD have pledged to strengthen their work maximizing the benefits of international trade and investment for economic and social development, and laid out plans for new collaborative efforts to advance the Sustainable Development Goals (SDGs) adopted by the United Nations General Assembly in September 2015.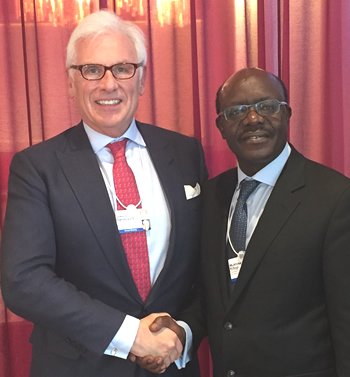 UNCTAD Secretary-General Mukhisa Kituyi and ICC Secretary General John Danilovich issued a joint statement when they met at the annual meeting of the World Economic Forum, taking place in Davos, Switzerland, 20–23 January, 2016.
"Both UNCTAD and ICC are strongly committed to implementing the United Nations 2030 Agenda for Sustainable Development and can collaborate in a number of important areas such as trade facilitation, e-commerce, investment and competition law," Dr. Kituyi said.  "The private sector will play a significant role in fulfilling the implementation of the SDGs and we are very pleased to partner with ICC, being the largest representative business organization in the world."
Mr. Danilovich said: "Collaboration between the private sector and intergovernmental organizations – especially UNCTAD, given its convening role for developing countries on trade and investment – is vital if we are to make progress towards the SDGs and ensure a more sustainable and prosperous future for all. Our engagement with UNCTAD is a clear and visible demonstration of the private sector's commitment to the goals."
Building on the success of the widely adopted UNCTAD/ICC Rules for Multimodal Transport Documents, Dr. Kituyi and Mr. Danilovich said that their organizations shared a mutual interest and expertise in developing standards for use in international trade.
Accordingly, the organizations will collaborate in supporting countries wishing to ratify and implement the World Trade Organization's Trade Facilitation Agreement, which aims to cut red tape and the cost of cross-border trade.
In addition, in order to enhance the potential of foreign direct investment in the achievement of the SDGs, the organizations will promote dialogue on this subject at their joint Investment Advisory Council, a high-level platform for the exchange of ideas between senior business leaders and officials, and at the World Investment Forum, UNCTAD's two-yearly gathering for discussions on emerging investment-related challenges.
As for the digital economy, both organizations will join forces to capitalize on the potential that information and communication technologies, including the Internet, have for development.
Recognizing that non-tariff barriers to trade have been shown to be up to four times as restrictive as traditional tariff measures, UNCTAD and ICC will cooperate to raise awareness among governments about the significance of such measures and foster transparency.
The organizations will also work jointly to strengthen consumer protection and safeguard competition law.
The partnership between UNCTAD and ICC will strengthen the voice of the private sector at the fourteenth session of the United Nations Conference on Trade and Development taking place in Nairobi, Kenya, on 17–22 July 2016.
The conference brings together heads of state and government, ministers and key stakeholders from the business world, civil society and academia to tackle global trade and economic development issues in relation to the SDGs and to move from decisions to actions in the implementation of Agenda 2030.
ICC is the world's largest business organization with a network of over 6.5 million members in more than 130 countries. ICC works to promote international trade, responsible business conduct and a global approach to regulation through a unique mix of advocacy and standard setting activities – including market-leading dispute resolution services. Members include many of the world's largest companies, small and medium-sized enterprises (SMEs), business associations and chambers of commerce.
UNCTAD – the United Nations Conference on Trade and Development – was formed in 1964 to help poor countries adopt policies that would integrate them into the world economy and boost prosperity. UNCTAD is based at the United Nations Office at Geneva, Switzerland, and has representative offices at the United Nations in New York and in Addis Ababa, Ethiopia. It works at the behest of 194 member States and employs 500 people.