17 May 2019
Written by Isabelle Durant, Deputy Secretary-General of UNCTAD
This week, on the fringes of the Commission on Science and Technology for Development (CSTD) at the Palais des Nations, I was very pleased to engage with ministers, ambassadors, entrepreneurs and start-up supporters at a special event co-organized with Bertrand Piccard and his Solar Impulse Foundation.
We discussed the valuable role of start-ups in addressing development challenges.
The event showcased five dynamic start-ups that have devised innovative and profitable solutions to sustainable development challenges in developing nations and across the globe.
It is estimated that 1.1 billion people in the world still don't have access to electricity. This is 14% of the world's population.
And 2.1 billion people don't have access to clean drinking water, which is 30% of the world's population.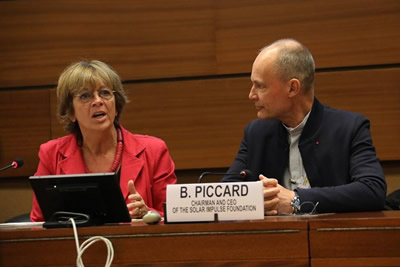 Isabelle Durant and Bertrand Piccard
To address these global challenges, we need all hands on deck, and we must include start-ups and their innovative solutions!
I was happy to see at the event so many young entrepreneurs strive not only for profit but also for environmental, social and economic impact.
Unfortunately, it's difficult for them to find funds to drive early-stage research.
Therefore, it is important for governments to support these start-ups and spur investment in such operations.
Participants shared experiences, stories and lessons on how to create a dynamic environment for start-ups to access technologies and investments.
They also called for more attention to the potential of start-ups to tackle development challenges.
While there is still a lot to be done, the event highlighted the importance of connecting the diplomatic community and entrepreneurs. It also created awareness that other solutions and partners exist.
Most importantly, it affirmed that if we roll up our sleeves and work together, the Sustainable Development Goals will be a success story we will be proud of one day.
What did the five start-ups propose?

Ecotech Ceram provides sustainable heat storage solutions for secure, clean and efficient energy.
One Ecostock unit can prevent up to 8000 tons of CO2 in its lifetime
Each unit can deliver 1 megawatt-hour of CO2-free high temperature heat

HiLyte is a rechargeable iron battery providing clean, affordable and on-demand energy for off-grid communities.
94% less CO2 emissions compared to kerosene for the same light intensity
Costs 50% less to power a light bulb and charge a mobile phone

Sabella is a turbine nestled on the seabed to capture energy from ocean currents and tides.
Modular architecture: tidal turbine from 3 to 20-meter diameter and 50 to 2000 kilowatts.
Tidal energy reduces the emissions of CO2 by 86%.

Spouts is the first ceramic water filter factory in Uganda, providing clean and safe drinking water for millions in need.
An alternative to water boiling which requires polluting fuels (charcoal and firewood).
Each filter saves 2.21 tons of CO2 emissions per year.

Premium Hortus is an e-commerce platform selling in agroecological and organic products and supporting African farmers and small businesses.
CO2 reduction estimated at 5883 kg per year
70% reduction in food waste (7840 kg per household per year)