18 July 2018
Peru's Biopencil made from sustainably harvested algae shows that the oceans economy is much more than seafood.
The Peruvian startup Biopencil is changing how we write, as well as giving us the opportunity to protect the environment and create new job opportunities for fishing communities when we "put pen to paper", company CEO Hernán Garrido Lecca has told the Second Oceans Forum meeting in Geneva on 16 and 17 July.
The world consumes 14 billion pencils every year. The New York Stock Exchange alone uses 2 million. While it takes a tree 10 to 14 years to be pencil-ready, it takes just two weeks for a trader to turn a pencil into sawdust.
"To make a pencil, you have to kill a tree," Mr. Garrido Lecca said during a forum session on the potential for marine resources to create economic opportunities.
"That doesn't make any sense. It's something that has bothered me since I was a kid."
So he and two friends invented a environmentally-friendly pencil out of algae.
Like a Cuban cigar
The idea came to Mr. Garrido Lecca when he and a business partner were testing new ideas for products they could make from sheets of laminated algae.
The company had been harvesting algae off the Peruvian coast to sell to Chilean industries. Though business was good, Mr. Garrido Lecca wanted to add value to his water plants.
"So we started to play with the algae," he said. "We started rolling it like a Cuban cigar and said why don't we make pencils."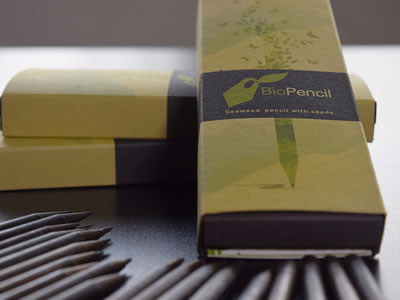 Related link:
Related News:
After confirming that the Biopencil was doable, they started to explore options for producing them industrially. But after a trip to Mexico to visit the world's largest pencil-making plant, they realized such production methods were against the company's vision.
"So we made another important decision," Mr. Garrido Lecca said.
"We said we would only hire women 50 years old or older to produce the pencil in an artisanal way," he said, adding that this is the least-employed segment of the Peruvian population. The company now employs around 400 women.
To make the Biopencil even more sustainable, the company added a cap that contains seeds that can be planted.
"The moral of the company is: Why kill a tree when you can give life to one?" he said, adding that it has been inspiring to see how their product has become more than a pencil.
"Once we got the product in the market, amazing things started to happen," he said. "Kids in schools started to adopt the pencil – I mean, the whole class would say we will not use regular pencils anymore. And then they went all together to places and started to create little forests in the name of teachers that had died."
"It's very interesting the movement it has generated," he added.
A household name
For now, the company has been selling its "seaweed" pencil only in Peru, mostly to companies under a social responsibility scheme. But with a United States patent in hand, Biopencil is poised to export and become a household name.
"My dream is to get into retail, into the family, into the house," Mr. Garrido Lecca said. "In order to do that, we have to make the product comparable in price."
He added: "Everybody that buys this product is going to be willing to pay a little premium – but a little premium, not 1.5 times the price of a normal pencil, which is the case now."
Organizations such as the International Labour Organization in Peru, which has switched to the Biopencil, are helping the company reach the economies of scale necessary to be competitive.
"Something the United Nations can do to support such innovations is try to provide critical minimum mass to reduce the price, by either buying them or providing access to big global corporations."