11 March 2022
Empowered by UNCTAD's training, she endured pandemic-induced disruptions with persistence, hard work and business acumen, emerging stronger from the crisis.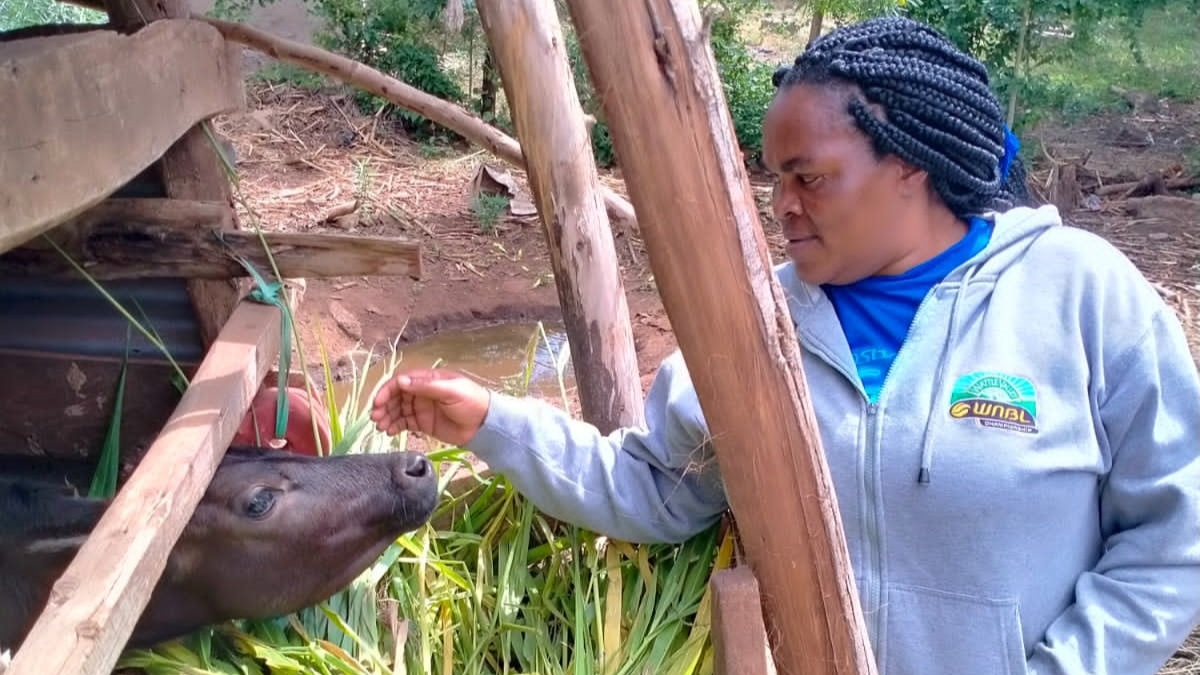 Kenyan businesswoman Christine King'ola engages in dairy farming and cross-border trade.
Christine King'ola lives in Taveta town on the Kenya-Tanzania border and owns about two hectares of land, where she grows bananas and does dairy farming.
During her first harvest in early 2020, she got some 500 banana bunches at a time when the farm gate price of a banana stalk had increased by 10%.
The business outlook was promising until the COVID-19 pandemic struck.
Hard-hit by pandemic
Ensuing border closures stopped sales to neighbouring Tanzania and movement restrictions led to dwindling banana sales.
"From June 2020, I couldn't go out to sell my bananas," Ms. King'ola said.
She had piles of bunches of ripe bananas rotting all over the farm with nowhere to sell them.
"What I had already consigned to the market was thrown away in my absence," Ms. King'ola recalled. "I was disappointed and disheartened."
Mitigating the impact of COVID-19
As the COVID-19 crisis wore on, she struggled to move forward.
"The pandemic pushed me to think about how I use the bananas from my farm," she said.
"I realized it was too soon to give up. I was still determined to grow and thrive in business."
Then it occurred to Ms. King'ola that she could start raising pigs, feed them using the products from banana farming and generate an income.
She sold two of her low-yielding dairy cows and bought four pigs – one boar and three sows. She fed them bananas and other products from her farm.
This allowed her to save the money she would have otherwise spent on commercial feed. She also got bananas from neighbouring farms for free. By December 2020, she had 21 pigs.
New business direction
In June 2021, COVID-19 restrictions eased and cross-border trade between Kenya and Tanzania resumed.
Ms. King'ola's banana business started to boom again. With bananas fetching higher prices, it was no longer cost-effective to use them to feed her pigs, so she sold all the pigs and refocused on selling bananas.
With her confidence and capital restored, she set her sights on new business opportunities.
In November 2021, she attended a workshop for cross-border traders, which was part of an empowerment project by UNCTAD's trade, gender and development programme.
Equipped with knowledge gained from the training, she started selling maize and beans across the border, setting up a network of suppliers and buyers in and beyond her hometown.
Sharpening entrepreneurial skills
Ms. King'ola said the UNCTAD workshop sharpened her entrepreneurial skills.
She learned how to better estimate costs and profit margins and leverage market opportunities.
It empowered her to diversify the range of cereals beyond maize and beans, which boosted her income.
It also improved her skills in keeping business and financial records and collecting information on suppliers and customers before embarking on a new business.
'More confident than ever' as a woman trader
Ms. King'ola credited UNCTAD's training with enhancing her understanding of customs rules and procedures, saying it "has made my business life easier."
Previously, she used to sell the cereals through unofficial routes to evade taxes and duties, but she ended up incurring losses.
There were times when she had to pay bribes, lost consignments to porters and dealt with fines and penalties when her goods were seized by customs officials.
"The training showed me that cereals can be traded between Kenya and Tanzania duty-free and the levies charged are not as high as other traders and I thought them to be," she said.
Now her priority is safety and security. Official crossing routes provide a guarantee.
She also recognizes the importance of correctly filling out customs forms and declaring all goods, backed by her experience that truthful declarations have been met with fair assessments of the taxes and levies due.
Traders like her also have legal avenues to file a complaint if they find an assessment unfair.
"I am now more confident than ever in crossing the border to Tanzania and procuring goods there," Ms. King'ola said.
"Because I have in-depth knowledge of my rights and obligations as a small-scale cross-border trader," she added, "I trust that my business has a bright future."
UNCTAD report
Ms. King'ola's story is featured in an UNCTAD report on capacity-building activities conducted by the organization in Malawi, Tanzania and Zambia, aimed at small-scale and informal cross-border traders, mainly women.
The report paints a picture of informal and small-scale cross-border trade before and after the pandemic.