07 November 2014
Participants consider how laws on geographical indications and branding initiatives can assist rural communities in LDCs to promote their products and enter value chains, while preserving territorial integrity and biodiversity.
The event, held within the Terra Madre fair in Turin, Italy, discussed how the international community can help develop mechanisms to promote traditional products from least developed countries (LDCs). The focus was on geographical indications laws and branding techniques linked to the concept of "made in". UNCTAD moderated the event, which was organized jointly with the Slow Food organization.
During the two-day workshop, held on 23-24 October 2014, representatives of rural communities in LDCs addressed challenges they face in promoting and marketing traditional products.
Such products include:
Mullet Botargo produced by Imraguen women in Mauritania
Red Rice from Bhutan
Harenna Forest Wild coffee from Ethiopia
Green and Golden Tea from Laos
Cambodian Kampot pepper and Kep Crab
Fruit juices manufactured by the women's community of Casamance, Senegal
Vary Malady and Rojofotsy rice (pink rice) from Alaotra Lake in Madagascar
White prawns from Mozambique
Participants shared their experiences and expressed views on how geographical indications laws, which certify a product as coming from a certain area, can support local farmers and benefit society as a whole. During a conference on 25 October 2014, the results and conclusions of the workshop were shared with the broader audience of the Terra Madre fair.
Amedeo Teti, Director General for International Trade Policy in the Italian Ministry of Economic Development, said in his welcome speech that while "trademarks belong to just one company, geographical indications belong to the population of rural communities".
"Awareness of the product creates an incentive for customers in an importing country to pay higher prices for the products of rural communities of specific regions, thus contributing to the society's overall well-being," he added.
Stefano Inama of the UNCTAD Division for Africa, Least Developed Countries and Special Programmes, emphasized the role of LDC governments and stakeholders in promoting traditional products alongside commercial farming. He highlighted two basic conditions needed for traditional products to be successful in the international market: using geographical indications to promote the idea of quality; and compliance with sanitary and phytosanitary regulations.
He also emphasized the need to enforce geographical indications laws. "Having the law is only one step. Implementation is the key", Mr. Inama said.
Promoting traditional food products from small-scale producers in LDCs involves recognizing the value of a unique product of excellent quality while at the same time supporting the culture and identity of local communities.
Small household farmers are essential for world food security, but competing with food giants is a lose-lose game, "unless the local food is converted into a success story though geographical indications" said Paolo Di Croce, the Secretary-General of Slow Food.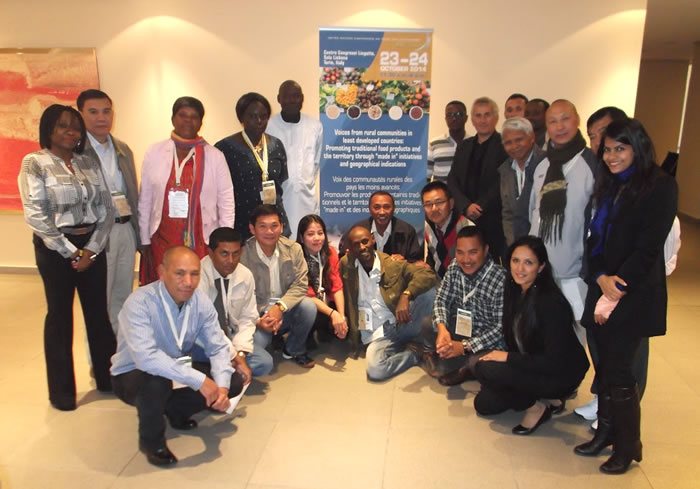 Participant at the UNCTAD / Slow Food workshop, Turin, Italy (23-24 October 2014)
During Terra Madre fair, held at the Salone Internazionale del Gusto, 23-27 October, the workshop participants had the opportunity to meet other rural communities from around the world, and share experiences on the promotion of traditional products.
The next UNCTAD event for rural communities of the LDCs will be held in December 2014 in Geneva.