14 November 2022
The partnership will empower women digital entrepreneurs to use intellectual property tools to protect their brands.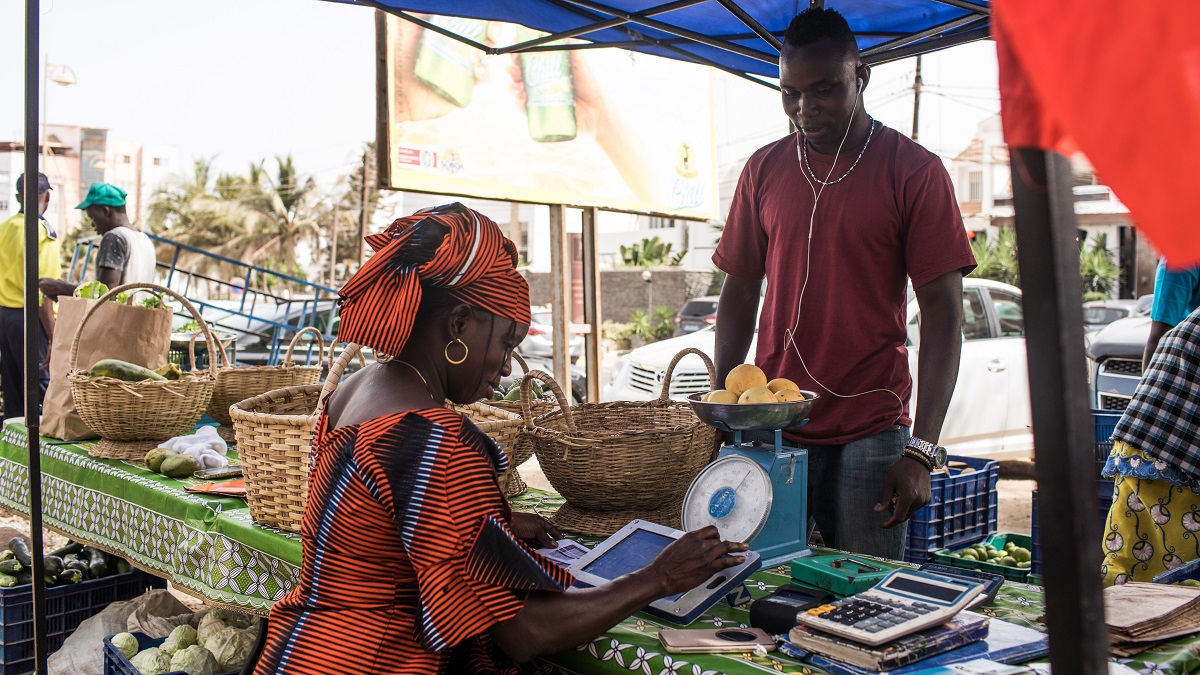 © World Bank/Vincent Tremeau | A woman processes a vegetable order using her tablet at a market in Dakar, Senegal.
As a member of the UNCTAD-led eTrade for all initiative, the World Intellectual Property Organization (WIPO) helps strengthen knowledge on how digital enterprises can harness the intellectual property (IP) system to capture value.
The success of a pilot training session on IP, jointly organized with WIPO Academy during an eTrade for Women masterclass held from 5 to 7 October 2022, has led to closer collaboration between UNCTAD and WIPO to build the capacity and knowledge of women digital entrepreneurs in developing countries.
The masterclass attended by 22 women digital entrepreneurs from six French-speaking African countries addressed some challenges faced by women, including gender stereotypes, limited access to finance, scant digital and entrepreneurial skills and insufficient knowledge about IP registration.
"We are pleased to partner with WIPO to help women entrepreneurs leverage tools that can lead to more value creation in developing countries," said Shamika N. Sirimanne, director of technology and logistics at UNCTAD.
"Our masterclasses are geared towards enabling women to overcome barriers and master a set of skills to succeed as entrepreneurs in the digital economy," she added.
Need to empower women in the digital economy
Businesses are increasingly marketing their goods and services online, especially in the wake of the COVID-19 pandemic.
This shift to digital formats offers new opportunities for entrepreneurs to promote and expand their businesses and reach their customers more directly and conveniently.
While the benefits of doing business online can be considerable, women entrepreneurs face new challenges in ensuring their brands, logos, Internet domain names, designs and the content of their websites are safeguarded.
"We are interested in supporting women entrepreneurs in the registration and administration of their intellectual property rights so they can manage their businesses using their own innovations," said Altaye Tedla, WIPO Academy's head of distance learning.
E-commerce has expanded significantly across Africa in recent years, but women entrepreneurs face many obstacles to building successful digital businesses.
This point was emphasized by Birame Sock, founder and CEO of Kewly, an online B2B wholesale distribution platform based in Senegal. She's also UNCTAD's eTrade for Women advocate for French-speaking Africa.
"Intellectual property can be a powerful tool to scale a business and bring it to foreign markets, including for digital SMEs. Yet women often have limited knowledge on how to protect their brands or other assets and use intellectual property strategically," she said.
Next steps
To move the UNCTAD-WIPO collaboration forward, the WIPO Academy will deliver another training session during the eTrade for Women masterclass for English-speaking African countries from 6 to 9 December 2022 in Lagos, Nigeria.
Some 375 people applied for the masterclass, showing the growing demand for capacity-building activities in this area.
UNCTAD launched the eTrade for Women initiative in 2019 to empower women entrepreneurs in the digital economy and reduce the gender gap in the sector.
The masterclasses offer participants unique access to top experts and business leaders who share knowledge on how to grow a business and take it to the next level.
The eTrade for all and eTrade for Women initiatives are supported by Estonia, Germany, the Republic of Korea, the Netherlands, Sweden and Switzerland.