15 August 2023
President Ruto: "We strongly believe that UNCTAD is a strategic partner for Kenya."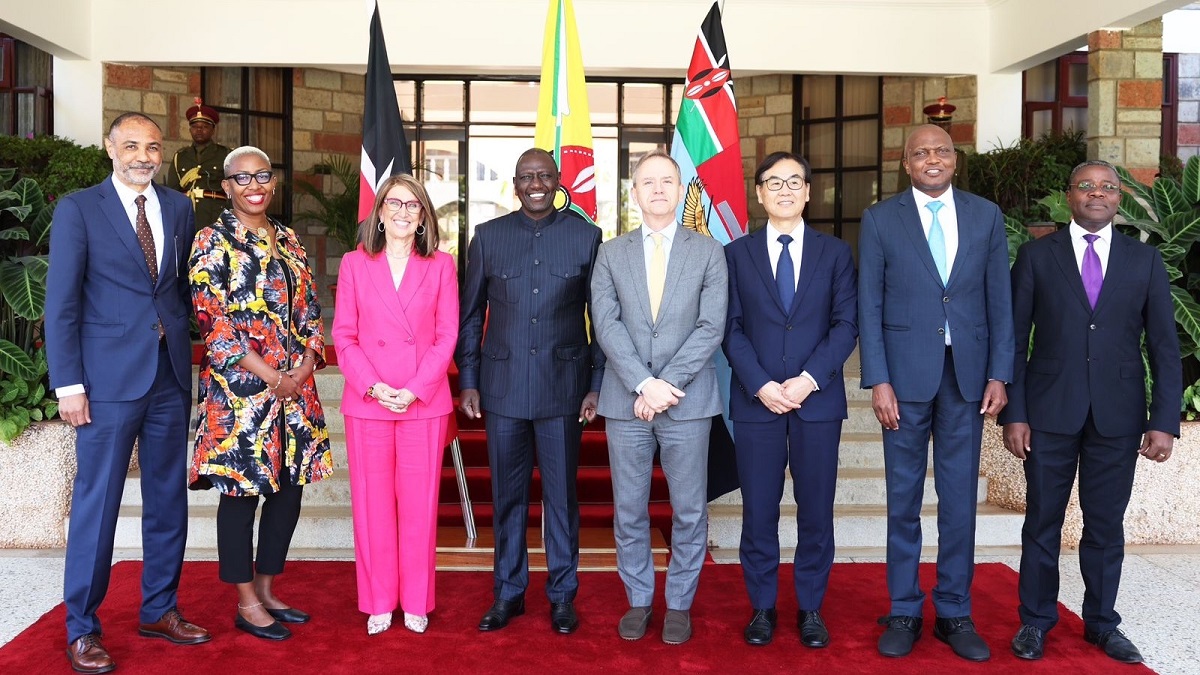 © Government of Kenya | UNCTAD Secretary-General Rebeca Grynspan and Kenyan President William Ruto (third and fourth from the left, respectively) at the country's State House on 15 August.
UNCTAD Secretary-General Rebeca Grynspan met today with President William Ruto of Kenya to discuss the structural challenges facing the region and offer UNCTAD's support.
President Ruto stated, "We strongly believe that UNCTAD is a strategic partner for Kenya", underlining that trade remains key to long-term sustainable economic growth. He was accompanied by Industry, Trade and Investment Cabinet Secretary Moses Kuria.
Ms. Grynspan's itinerary in the East African nation features discussions with Kenyan ministers, high-ranking officials and business leaders, and a presentation of UNCTAD's "Holistic Productive Capacities Development Programme for Kenya" – a tool assessing the economy's latent potential for output. The UNCTAD chief is also set to tour a circular economy center in Lavington, Nairobi.
"This is Kenya's moment," Ms. Grynspan asserts, underlining the nation's innovation and resilience at large and its potential as an innovation and supply chain hub for sectors like automobiles, mobile phones and solar power.
Kenya's economy has demonstrated remarkable resilience despite COVID-19 and other shocks, with growth rates projected to exceed 5%. Diversified exports, including high-tech goods like mobile phones, position Kenya to reap gains from the African Continental Free Trade Area (AfCFTA).
The country's burgeoning e-commerce market, projected to encompass nearly 40 million by 2027, and plans for a $40 smartphone align with President Ruto's vision of affordability.
Secretary-General Grynspan will launch UNCTAD's flagship Economic Development in Africa Report 2023 in Nairobi on 16 August.
Ms. Grynspan's first official mission to Kenya underscores UNCTAD's commitment to comprehending and bolstering African nations' pivotal role in shaping the global economy and having a leading role in global supply chains.