20 June 2019
Three UN agencies seek $8.2 million to help countries harness sustainable use and trade in seafood and other ocean-based sectors.
UNCTAD, UN Environment and the Food and Agriculture Organization have crafted a joint action plan to help save our oceans and seas.
The three agencies are appealing for US$8.24 million to help countries achieve the trade-related targets of Sustainable Development Goal (SDG) 14, which seeks to advance the conservation and sustainable use of oceans.
The five-year plan is based on a roadmap agreed to by member states and the three organizations at the United Nations Ocean Conference in 2017.
"We have a window of opportunity to accelerate actions to meet the trade-related targets of SDG 14," said UNCTAD's director of international trade and commodities, Pamela Coke-Hamilton, while presenting the plan to member states in Geneva on 13 June.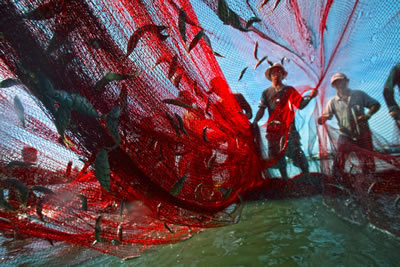 Related link:
Plan to fast-track progress
The joint plan seeks to fast-track progress through improved trade and trade-related policies that safeguard food security and contribute to the conservation and sustainable use of oceans, living marine resources and livelihoods.
Planned activities include targeted technical assistance, capacity-building and international facilitation in support of sustainable fish and seafood value chains as well as trade under an ecosystem and food security approach.
The joint plan offers the only inter-agency platform for actions to harness sustainable use and sustainable trade in seafood and other oceans-based sectors.
Fish and seafood are some of the most traded food commodities. In 2017, around 38 per cent of global fish and seafood production was traded internationally generating $152 billion.
Over 58 per cent of this trade in volume originates in developing countries where net trade income (exports minus imports) was valued at US$ 37 billion in 2016.
Oceans under threat
Oceans remain under unprecedented threat, noted UN Secretary-General António Guterres in his message to mark this year's World Oceans Day on 8 June.
Unsustainable overexploitation of living aquatic resources during recent decades has led to overfishing and the degradation of fish stocks, habitats, ecosystems and biodiversity.
Currently, about one-third of global fish stocks are fished at biologically unsustainable levels, causing an economic loss estimated at $83 billion per year.