15 November 2021
Young climate activists joined world leaders, negotiators and senior figures to demand immediate action to limit planetary warming to 1.5 Celsius and secure their future.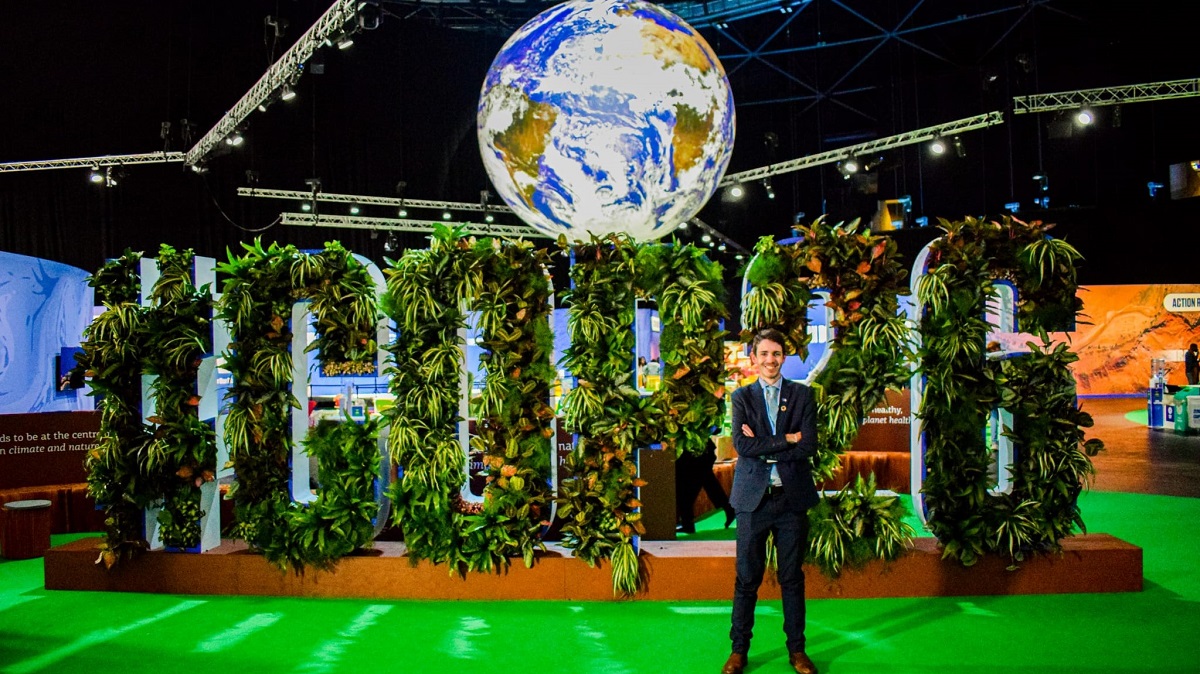 Daniele Guadagnolo, co-founder of Change for Planet, at COP26. Photo courtesy of Mr. Guadagnolo.
The COP26 UN climate conference held in Glasgow, Scotland, from 31 October to 12 November, was billed as humanity's last chance to get climate change under control and avert devastating consequences such as extreme weather events, ice melt, ocean acidification and food insecurity.
Young people are concerned that their futures will be dominated by floods, heatwaves and storms as the climate that allowed previous generations to prosper changes rapidly. As a result, many are taking bold and transformative steps to green their communities, advocate for climate justice and protest against government inaction.
Changing the status quo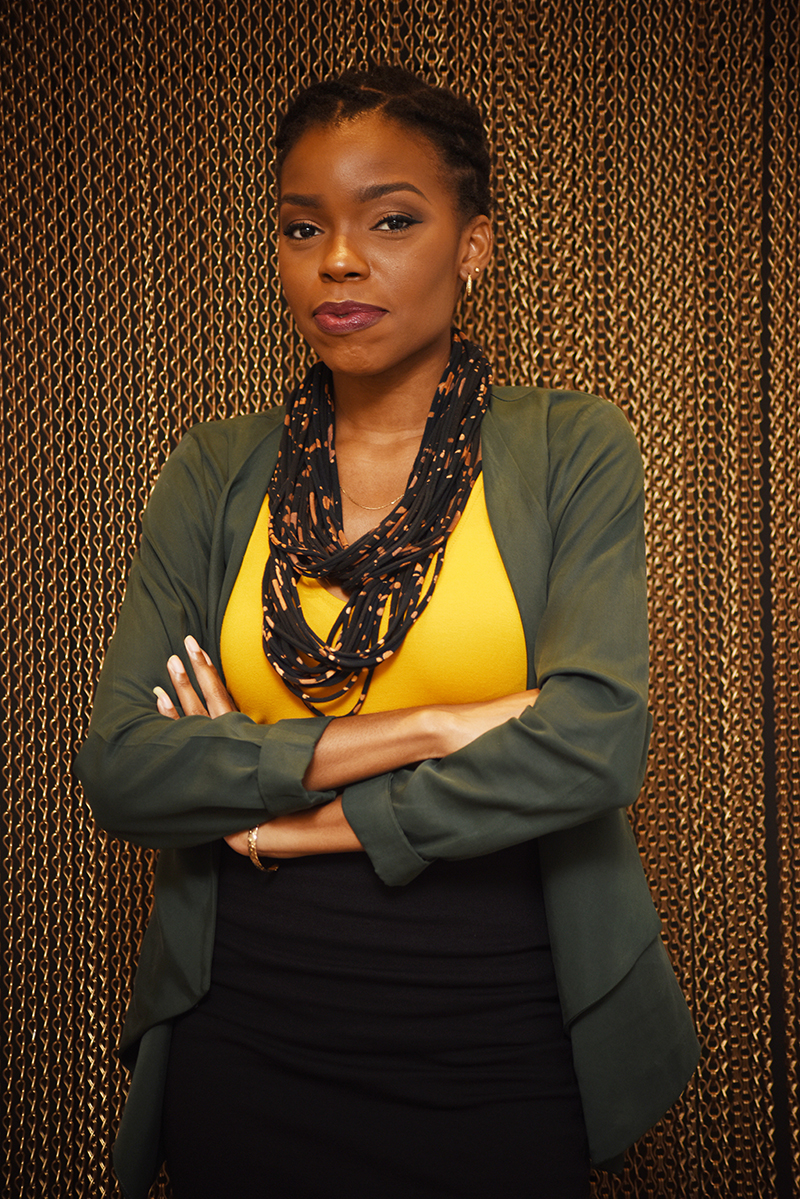 Young climate leaders who are part of the UNCTAD Youth network of young changemakers participating in UN discussions on trade and development matters made their voices heard at COP26. They urged politicians and businesses to take concrete action and meaningfully include them in climate and environmental governance.
Aurelia Bruce from Trinidad and Tobago joined the climate discussions as the focal point for the Commonwealth Youth Climate Network. "We were tasked with organizing youth-focused events, actioning an intergenerational dialogue on shaping inclusive climate policies and bringing more youth expertise to the decision-making processes," Ms. Bruce said.
Coming from a small island developing state (SIDS), Ms. Bruce believes delayed action to combat adverse effects of climate change will only exacerbate natural disasters and related social inequalities being faced by many Caribbean islands.
"For SIDS to survive increasingly extreme weather conditions, we must bridge the divide between developed and developing states to address this global issue together," she said.
Attending his third climate conference, Daniele Guadagnolo from Italy participated in youth-led events at the invitation of the European Commission and the Italian government to talk about the role of youth in climate advocacy.
He was one of the 400 youth delegates who drafted the Youth4Climate Manifesto, a global proposal for climate justice with a focus on reaching net zero carbon emissions by 2030, increasing youth participation in decision-making processes, education on climate and financing a greener future.
"This document gives us a fair chance to do something more ambitious," he said. "The role of trade and development in capping carbon emissions and helping developing countries build institutional capacities to deal with challenges brought by climate change also featured strongly in the discussions."
Financing an equitable transition
Vladislav Kaim from Moldova, who is a member of the UN Secretary-General Advisory Group on Climate Change, took part in negotiations to help align the strategies and key messages from COP26 with youth expectations and advise other high-level officials, while representing their own regional standpoints on what should be done.
As the only economist in the group, Mr. Kaim took the lead on advisory on ensuring climate finance and a just transition from the standpoint of Eastern Europe. "Most vulnerable countries are grappling with many challenges at the same time, one of them being the fiscal crisis," Mr. Kaim said.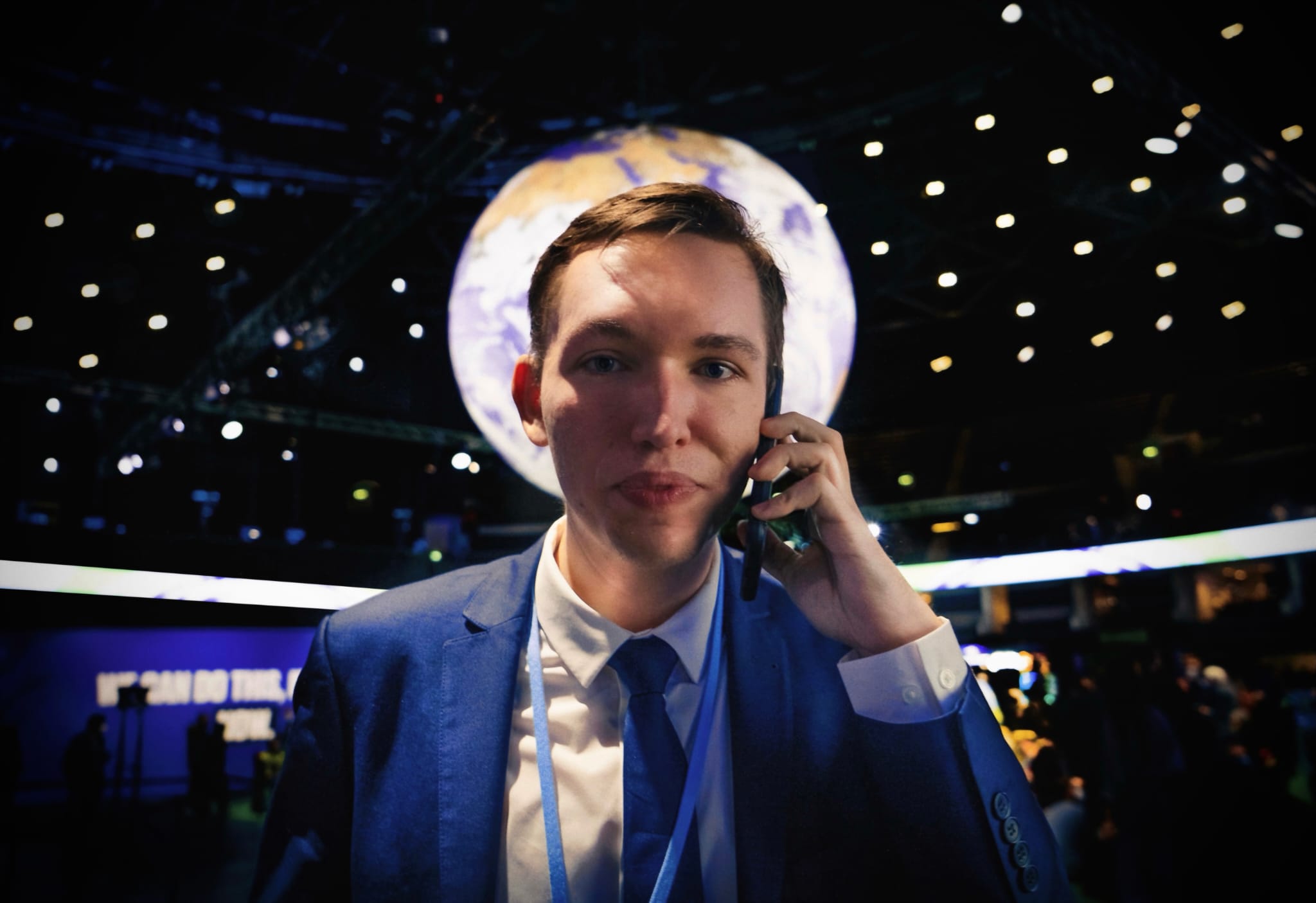 He said the way climate finance is currently disbursed will not make a significant dent in countries' efforts at adaptation and mitigation if comprehensive debt restructuring for countries facing a fiscal crisis is not done.
"I advocated for the inclusion of debt relief and partial conversion of debt to climate resources, outside of the $100 billion target  earlier agreed in Paris so that countries would get an income and feel relief on the expense side," he said.
Another point of discussion was how climate finance is disbursed at the micro level, with resources being allocated to a few big projects for which the youth don't have the capacity to apply. "The rules of adaptation finance should be revised to make sure it's circulated towards smaller community projects led by the youth," Mr. Kaim said.
The relevance of new generations in bringing about climate action has never been greater, even though meaningful inclusion of young people in shaping global climate politics and governance remains unsatisfactory.
So what happens now?
The COP26 youth participants plan to keep up the pressure on relevant actors and to continue spreading the message that the moment to act and meaningfully involve young people is now.
Climate action was one of the issues deemed to be crucial to young people in the Youth Declaration presented at UNCTAD's 15th quadrennial conference held in October 2021.
The youth are the decision makers of tomorrow and can play a powerful role in the implementation of the 2030 Agenda for Sustainable Development.
Through the UNCTAD Youth Network, women and men between the ages of 18 and 30 will continue to help build the narrative about the future by sharing ideas and experiences, working with fellow youth in preparing inputs to UNCTAD meetings on trade and development-related issues, and making their voices heard in major youth events and more.