Flows to Europe Slump to 15-Year Low as US Tax Reforms Spur Earnings Repatriation
Flows to Europe Slump to 15-Year Low as US Tax Reforms Spur Earnings Repatriation

Press Release
For use of information media - Not an official record
UNCTAD/PRESS/PR/2019/017
Flows to Europe Slump to 15-Year Low as US Tax Reforms Spur Earnings Repatriation
Prospects upbeat for modest growth this year
Geneva, Switzerland, 12 June 2019
Foreign direct investment (FDI) flows to developed economies fell by 27% to US$557 billion, marking the third successive year of decline, according to UNCTAD's World Investment Report 2019.
"Despite the slump witnessed last year, prospects are fairly upbeat, with modest growth expected this year," said James Zhan, director of UNCTAD's investment and enterprise division.
"We expect Europe to rebound, and the increase in greenfield project announcements shows that FDI growth is indeed poised to recover," Mr. Zhan said.
Whereas the decline in 2017 was primarily due to listless merger and acquisition (M&A) activity, the 2018 slump was caused by the repatriation of accumulated earnings by United States multinational enterprises (MNEs), following tax reforms.
In contrast, cross-border M&A activity of United States MNEs climbed to a new high. However, M&A transactions were not enough to stem the decline induced by earnings repatriation.
Europe
FDI flows to Europe halved to $172 billion.
The repatriation of accumulated earnings had a large impact on flows to European economies that host financial functions of United States MNEs, such as Ireland (down by $65 billion to -$66 billion) and Switzerland (down by $126 billion to -$87 billion).
At the same time, M&A activity in Europe revived.
Acquisitions of European assets by United States MNEs more than doubled to $172 billion while those to European MNEs more than quadrupled to $119 billion.
The largest deals included the acquisition of Sky (United Kingdom) by telecommunication conglomerate Comcast (United States) for $40 billion and the merger of industrial gases companies Praxair (United States) and Linde (Germany) for $32 billion.
Flows to the United Kingdom shrunk by 36% to $64 billion. However, whether Brexit will materially affect FDI in the longer run, remains to be seen.
While total FDI inflows declined, reinvested earnings rose by 73% to $33 billion. Cross-border M&A transactions as well as announced greenfield investment projects in 2018 bodes well for the country's FDI prospects.
United States
In the United States, FDI shrunk by 9% to $252 billion. The decline mainly stemmed from a contraction in intracompany loans (from -$16 billion to -$62 billion).
Reflecting steady economic growth, however, investment income on inward FDI increased to $200 billion, of which $119 billion (up 28% from 2017) was retained in the United States.
Net M&A sales of United States assets to foreign investors slumped by one third to $199 billion, largely due to the absence of megadeals.
Australia
FDI flows to Australia surged by 43% to $60 billion, a new high. Over half of net M&A sales in 2018 were related to financial and insurance activities ($19 billion), mostly acquisitions of real estate investment trusts.
Investment in Australia's extractive industries, which peaked in the late 2000s, remained subdued. Yet, extractive industries are generating higher investment income, as the past investment boom has translated into growing exports of commodities.
Outflows
FDI outflows from developed economies receded by 40% to $558 billion.
Outflows from European economies increased modestly, but outflows from the United States fell to a net divestment position of -$64 billion (representing a decline of $364 billion from 2017), reflecting the repatriation of earnings.
Outflows from Japan crimped by 11% but remained high at $143 billion.
Increasing cross-border investment
This year, FDI flows to Europe are likely to rebound from the anomalously low levels in 2018.
While economic growth is slowing, announcements of both greenfield projects and M&As indicate increasing cross-border investment.
This new edition of the World Investment Report also presents a comprehensive analysis of special economic zones around the world.
In developed economies, almost all the zones are customs-free zones, and their economic significance as a share of the overall economy in which they are located is relatively limited, except possibly foreign-trade zones (FTZs) in the United States.
Major European and Japanese auto manufacturers operate plants that have been designated as FTZ facilities.
Figure 1 - Developed economies: Top 10 recipients of FDI flows, 2017 and 2018 (Billions of dollars)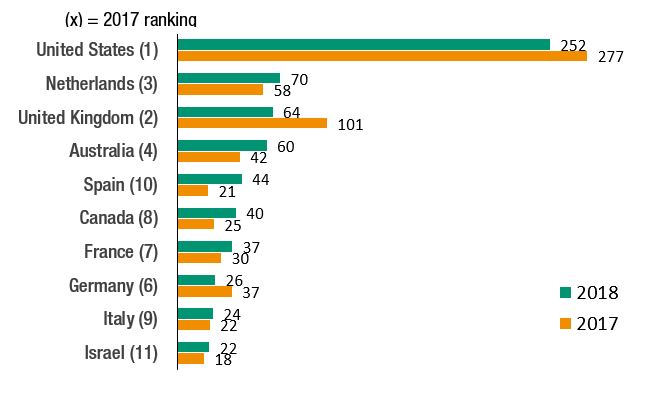 Source: UNCTAD, World Investment Report 2019.

Figure 2 - Developed economies: Top 10 investors of FDI flows, 2017 and 2018 (Billions of dollars)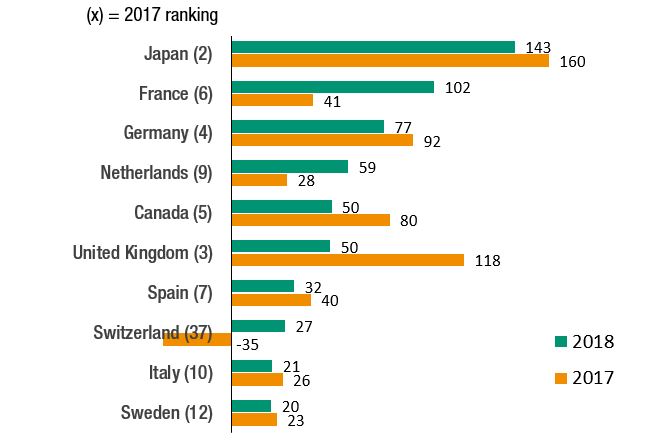 Source: UNCTAD, World Investment Report 2019.

---