WIR - Foreign Direct Investment to developing Asia holds steady at $476 bBillion In 2017, United Nations Reports

Press Release
For use of information media - Not an official record
UNCTAD/PRESS/PR/2018/022
WIR - Foreign Direct Investment to developing Asia holds steady at $476 bBillion In 2017, United Nations Reports
Geneva, Switzerland, 6 June 2018
Region regained its position as the world largest recipient of foreign direct investment in 2017
Chinese outward investment down for the first time in 15 years

Foreign direct investment (FDI) flows to developing Asia in 2017 remained at the level of 2016 ($476 billion), according to UNCTAD's World Investment Report 2018.

Increased investment in the high-tech sector in China and rises in most countries belonging to the Association of Southeast Asian Nations (ASEAN) were enough to offset declines in other large recipient economies in the region, including Hong Kong (China), Singapore, India and Saudi Arabia, in that order, the report says.

The region regained its position as the largest recipient of FDI in the world as its share in global inflows rose from 25% in 2016 to 33% in 2017.

FDI in East Asia was stable at $265 billion, with a decline in inflows to Hong Kong (China) and an all-time high in China (figure 1). In South-East Asia, FDI in the ASEAN countries rose by 11% to $134 billion, propelled by an increase in flows to most member countries and a strong rebound in Indonesia. Meanwhile, inflows to South Asia contracted by 4% to $52 billion, with a decline in FDI to India. FDI to West Asia continued its downward trend (to $26 billion), with inflows to the region declining almost continuously since 2008.

Outward FDI flows from developing Asia declined by 9% to $350 billion in 2017, with East Asia witnessing a significant drop to $250 billion owing to a reversal in outflows from China for the first time since 2003 (figure 2). Despite the decline, the region remained a major source of FDI worldwide, still accounting for nearly a quarter of global outflows.

In 2018, FDI inflows in the region are expected to remain at a similar level. Inflows to China could see continued growth because of recently announced plans to facilitate and attract foreign investment. Other sources of growth could be greater intraregional FDI, including to relatively low-income economies in the region, most notably Cambodia, the Lao People's Democratic Republic, Myanmar and Viet Nam. In West Asia, the evolution of oil prices, the efforts of oil-rich countries to promote economic diversification, and geopolitical uncertainties will shape FDI inflows.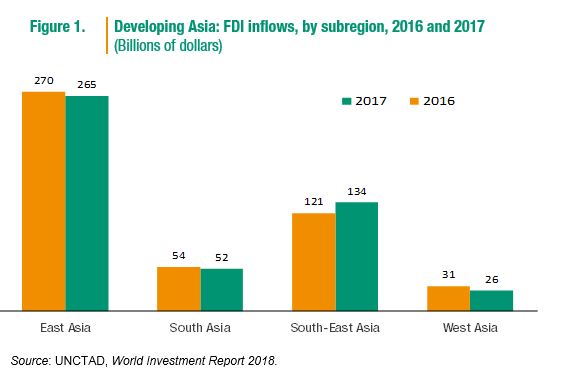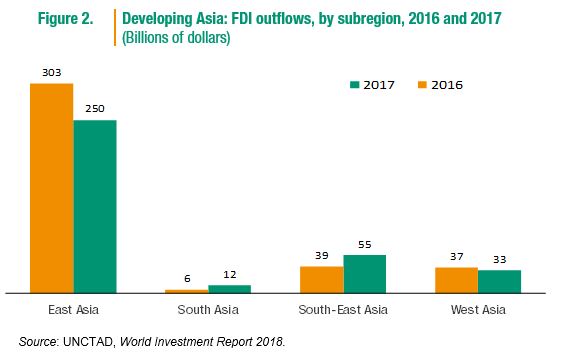 ---