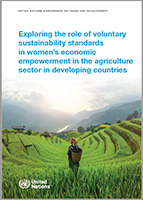 Women are equally as important economic actors as men, yet they suffer gross inequalities such as gender gaps in income and human capital, despite rapid improvements in global living standards and educational attainment.
The compilation of evidence and data presented in this report proves that the many gender-related gaps identified in the agriculture sector in developing countries often lead to missed economic opportunities.
Market demand tools such as Voluntary Sustainability Standards (VSS) have been identified as having the potential to contribute to achieving gender equality and women's empowerment, while fulfilling parity in the economy.
These positive contributions, as identified in this paper includes possible equality in wages and income, and skills upgrading, and the externalities that expand from having better wages and skills. However, research indicating the socioeconomic impacts of VSS is limited in nature and often offers mixed results.
The challenge of 'qualifying' these positive contributions of VSS have yet to be assessed when more independent empirical studies are available.
While there are specific examples reported from certain countries, wider research in particular on Women´s Economic Empowerment (WEE) and the role of VSS is very limited if not non-existent.
This report aims to first demonstrate the role VSS plays in fostering WEE; and second illustrate the contribution of VSS to the global agenda of SDG 5: Gender Equality with the available empirical findings on the impact of VSS on gender equality and WEE.
The report also presents case studies where this link was investigated.