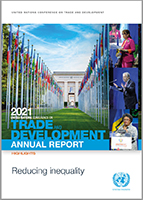 Reducing inequality
There are moments in history that divide time in before and after. They confront us with the hard truths about ourselves and the world we have built. COVID-19 is one of these moments.
The pandemic has exposed the cracks and limits of our development path, including the glaring inequalities we have for too long tolerated. This crisis comes on top of the imminent threat of climate change and environmental degradation, and a digital revolution which has left many behind.
It is at these moments where the difference between before and after depends critically on our actions. Thus, in 2021, UNCTAD worked relentlessly to support its member States to unleash the power of trade, investment, finance and technology to foster an inclusive and sustainable recovery and future. We provided timely research and policy options to counter the crisis, increase development finance, promote a transformative approach to climate adaptation, close the digital divide and build productive capacity. We were on the ground to reduce the adverse effects of the crisis. For example, trade facilitation thanks to ASYCUDA kept trade flowing, ships moving and people safe. And we offered a forum where member States could debate ideas and share experiences.
Despite the pandemic, we successfully held UNCTAD15 with Barbados - the first time a small island developing state hosted the UN's global trade meeting. To match the scale of the moment, member States gave us a strong mandate: The Bridgetown Covenant.
I was honoured to join UNCTAD as its first woman Secretary-General at such a crucial moment. I will lead bold actions towards recovery, and calls for tackling the uneven access to vaccines, the debt crisis, the climate emergency and gender inequality. We know, where there is inequality, there is fragility, and we cannot afford another lost decade for the developing world.
There is only one way to face the ongoing challenges: together. We continue joining forces with multiple partners and members of the UN family to maximize our ability to deliver.
There are signs of recovery, but the recovery is uneven and insufficient. This report highlights the best of UNCTAD efforts to ensure that we do not go back to the world of before, but to an after that is faithful to our institutional creed: prosperity for all.

Rebeca Grynspan
Secretary-General
United Nations Conference on Trade and Development