UNCTAD as a thought leader in pushing for transparency of NTMs among international organizations has continuously worked on collecting and disseminating comparable information on NTMs across the globe through trade portals and is committed to promote regulatory collaboration and convergence.
Trade portals provide the necessary information for traders to be able to move goods across borders and facilitate trade between countries. In line with this effort, UNCTAD has not only developed its own data dissemination portal on trade regulations and NTMs but have also assisted countries to collect regulations for their own trade portals.
 
TRAINS Data Entry Tool and Dissemination Portal
UNCTAD has developed a data system – TRAINS – to make trade-related Regulations and NTM data collected from official sources (national laws and regulations) across the globe publicly available. It is a one-stop show for importers/exporters, policymakers, and researchers to access data on trade regulations, NTMs, as well as some practical information on target markets.
 
About TRAINS
TRAINS is an online data system that features both the TRAINS Data Entry Tool and the TRAINS Dissemination Portal
The TRAINS Dissemination Portal  –  is an interactive web portal that provides public access to trade-related Regulations and Non-Tariff Measures (NTMs) information across the globe and allows public users to benefits from efficient search queries, data compilation, data retrieval as well as download customized search results.
NTM data available on the TRAINS Dissemination Portal comes from the TRAINS Data Entry Tool where the most comprehensive trade Regulations and NTMs has been collected for over 109 countries using a standardized approach that ensures cross-country comparability.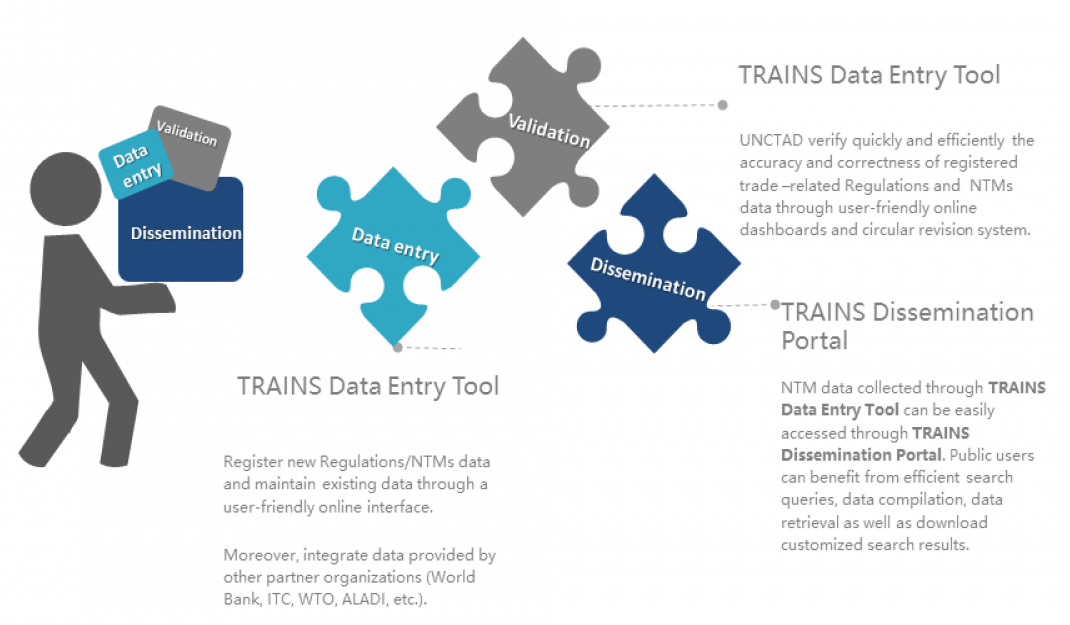 Objective
The goal of TRAINS is twofold:
The TRAINS Dissemination Portal aims to improve the transparency of trade-related regulations and NTMs within and across countries and to promote public awareness of import and export NTMs affecting traders' products of interest.
The TRAINS Data Entry Tool enable countries to have a comprehensive overview of all trade-related regulation, rules, and notifications that encompass NTMs in their own country. It facilitates country management of their own regulations and review of the effectiveness of existing NTMs as well as strengthening policy coherence through coordination.
Furthermore, government agencies and departments in developing and least-developed countries, if needed, can be offered tailored support to overcome capacity constraints in collecting, maintaining, and updating trade information. This will help empower government stakeholders to regularly publish trade regulations and increase information transparency.