9 Jan 2023
Over the years, developed economies have reinforced their leading position. But some developing countries have made significant progress on gender equality.
---
Loading...
UNCTAD's Inclusive Growth Index shows that, while economic and social inequalities between women and men persist everywhere, the gaps between countries and regions are wide.
The index is a relative measure of gender equality taking the best performer, Iceland, as a reference. The position of regions relative to each other has not changed much in the last two decades, though developed economies as a group have reinforced their leading position.
Nordic countries perform particularly well. They are at the top of the index, along with some Eastern European economies like Slovakia, Slovenia and Belarus.
Latin America and the Caribbean appears to be, on average, the most gender-equal developing region, with Chile, Argentina and Mexico leading the way. The region's countries tend to be in the centre of world distribution.
Developing Asia is the region with the widest gaps. At the top, some of the region's countries, such as Azerbaijan, Kazakhstan, Singapore and the United Arab Emirates, do better than several developed nations.
Africa remains the least gender-equal region. But the region's average hides stark differences. Rwanda, Ethiopia and South Africa score above the median for all countries.
A dozen developing countries have made significant progress, climbing more than 10 spots. Seven of them are in sub-Saharan Africa.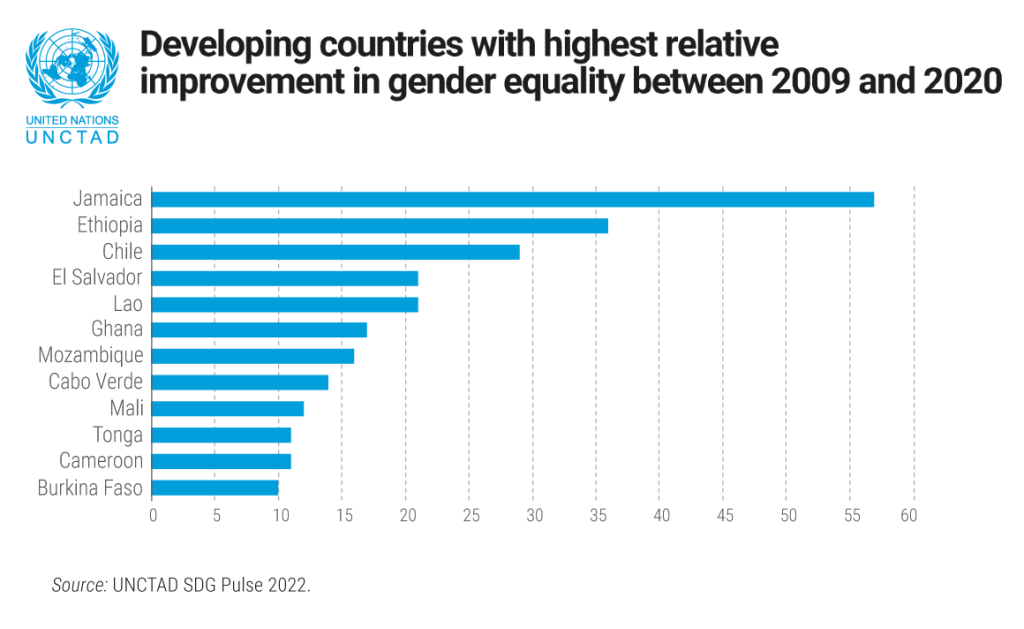 Alleviate the burden of unpaid care work
The 2022 edition of UNCTAD's Inclusive Growth Index includes more gender equality indicators than previous versions. It takes into account the key role of care work, which the index considers to be "all paid and unpaid care activities used as inputs in the production and in the maintenance of the labour force".
Care activities, whatever form they may take, have contributed to creating, worsening and perpetuating inequalities between women and men. Women everywhere are – or have been until recent times – reported to spend more time on unpaid care work than men.
UN research shows that more women than men left the workforce in 2020 to take up the added care work that came with stay-at-home mandates in response to the COVID-19 pandemic. This year, in most countries women's labour force participation is expected to stay below pre-pandemic levels, according to UN Women.
To improve gender equality everywhere, UNCTAD calls for more investment in the care industry in all countries to help relieve women of the historical burden of unpaid – yet essential – care work that can hinder their personal, educational and professional growth.
Improve data on trade and gender
Trade policies can be a powerful tool for improving gender equality. But since the links between trade and gender are complex and context specific, governments need sound national data to design gender-responsive policies.
Most government bodies producing official statistics, however, lack the necessary data and tools. This is especially true in developing and emerging economies, where, as the index shows, gender inequalities are more pronounced.
UNCTAD and partners are working with governments in Africa, the Caucasus and Central Asia to strengthen their capacities to develop and use gender-specific trade statistics.
Preliminary studies in pilot countries, such as Georgia, have highlighted that the gender employment gap is wider in businesses involved in global trade. Women are underrepresented in capital or technology-intensive sectors, such as the automotive industry, and overrepresented in labour-intensive sectors, such as the textile industry.
Women and men in many countries are therefore developing different types of knowledge and skills that may not transfer easily across sectors. For women, it means that, without targeted training programs, they will likely miss out on the higher wages and better working conditions that should come as businesses in these countries move up global value chains – and policymakers need to be aware of this.
Along with strengthening statistical capacities in developing and emerging economies, UNCTAD remains committed to working with governments and partners to promote further research and conceptual frameworks on the links between gender and trade. The organization contributed to the first World Trade Congress on Gender in December 2022.