25 - 29 November 2019
Uíge, Uíge Province
, Angola
Results
Workshop participants segregated by gender / Participantes do workshop segregados por género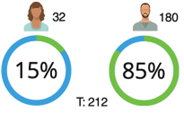 Workshop participants segregated by sector / Participantes do workshop segregados por sector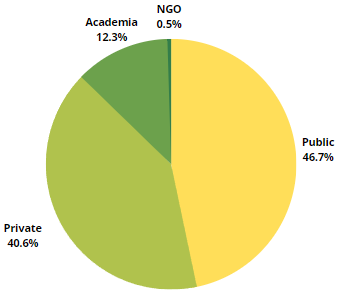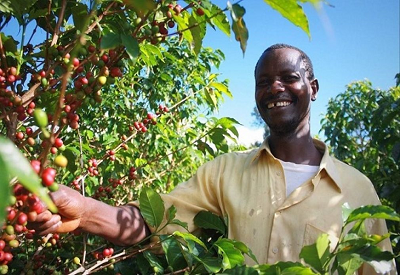 As part of the EU-UNCTAD joint Programme for Angola (Train for Trade II), and in support of Angola's efforts to strengthen and diversify its economy towards more sustainable economic sectors, UNCTAD organized a training workshop focused on the coffee and tropical fruits value chains. The event took place in Uíge, in the province of the same name, between 25 and 29 November 2019.

Goals The third NGER training workshop in Angola had two main goals:
To train stakeholders with a view to increasing their capacity to analyse policies related to the promotion and development of the targeted value chains (coffee and tropical fruits).
To transfer cross-cutting knowledge on green product promotion, product certification and export processes for coffee and tropical fruits.
Results
 
The workshop provided training on green sector development to 212 participants from the Government, private sector and academia. Participants explored the concepts of green products, comparative and competitive advantages, phytosanitary defence, certification, non-tariff measures, and regional integration, among others. Through a participative process that included work in groups, presentations and debate in an open plenary, stakeholders identified the main barriers to the development of local green sectors and proposed actions to address these barriers.

Key results from the workshop include:
Selection by stakeholders of five local green products (avocado, banana, coffee, orange and pineapple).
Identification of strengths, weaknesses, opportunities and threats (SWOT analysis) for the five green products.
Mapping of the value chains for the five green products.
Production of an action plan with proposed interventions to address the barriers for green sector development in the five green value chains.
National Association of Coffee, Cocoa and Palm (CAFANG) to present action plan produced during the workshop to the Government.
Introduction of local producers to the Agency for Private Investment and Export Promotion (AIPEX) with a view to their inclusion in the agency's registers.
Building the premises for the formation of cooperatives through sharing experiences and technical advice by a cooperative association operational in another province.
Identification of local road infrastructure needs by stakeholders, which informed the Transport and Logistics component of the EU-UNCTAD Joint Programme for Angola.
Identification of local need and desire for entrepreneurship training, which informed the EMPRETEC component the EU-UNCTAD Joint Programme for Angola.
Descrição do evento em português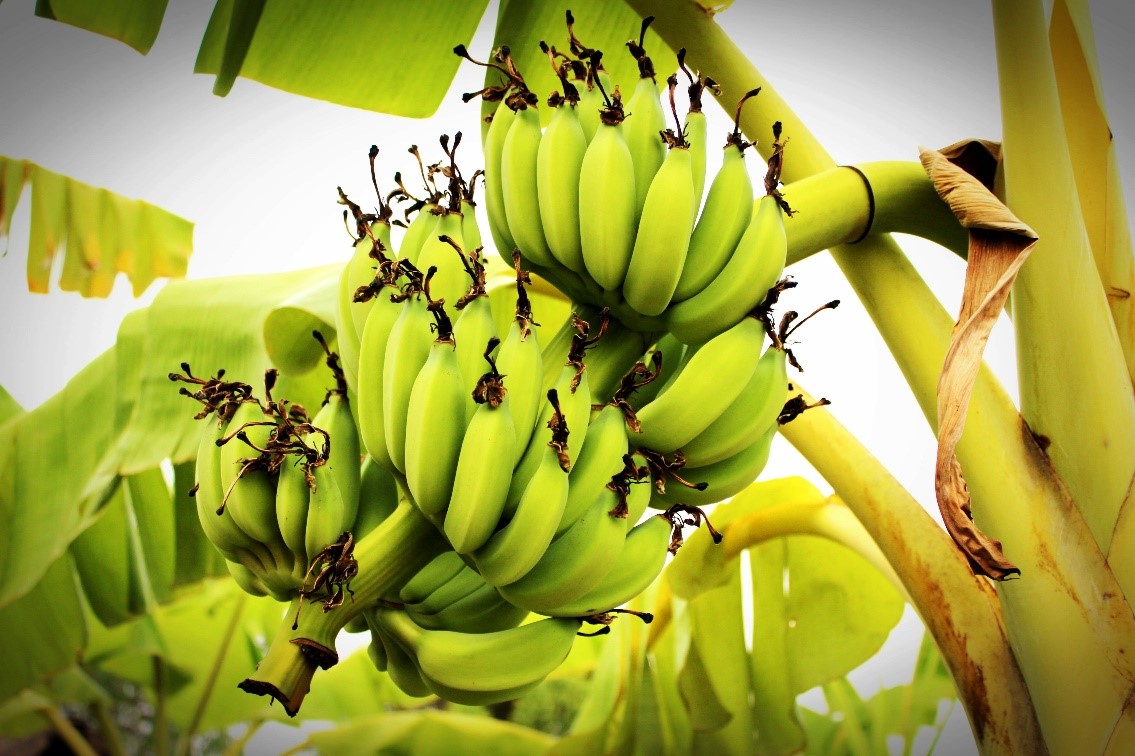 No âmbito do Programa Conjunto UE-CNUCED para Angola (Train for Trade II), em apoio aos esforços de Angola para fortalecer e diversificar sua economia rumo a sectores económicos mais sustentáveis, a CNUCED organizou um workshop de formação focado nas cadeias de valor do café e frutos tropicais. O evento aconteceu no Uíge, na província de mesmo nome, entre 25 e 29 de novembro de 2019.
 
  Objetivos O terceiro workshop de formação da RNEV de Angola teve dois objetivos centrais:
Treinar oficiais provinciais, produtores, membros de associações e representantes da sociedade civil local de forma a aumentar a capacidade de análise de políticas nacionais visando a promoção e o desenvolvimento das cadeias de valor do café e frutos tropicais.
Transferir conhecimento transversal sobre promoção de produtos verdes, certificação e processos de exportação para o café e frutos tropicais.
Resultados
O workshop forneceu formação sobre o desenvolvimento de sectores verdes a 212 representantes do governo, sector privado e academia. Os participantes exploraram os conceitos de produto verde, vantagens comparativa e competitiva, defesa fitossanitária, certificação, medidas não tarifárias e integração regional, entre outros. Através de um processo participativo, que incluiu trabalhos em grupos, apresentações e debates em plenário, as partes interessadas identificaram as principais barreiras ao desenvolvimento dos sectores verdes locais e propuseram ações para enfrentá-las.

Os principais resultados do workshop incluem:
Seleção pelos participantes de cinco produtos verdes locais (abacate, abacaxi, banana, café e laranja).
Identificação de forças, oportunidades, fraquezas e ameaças (análise FOFA ou SWOT) para os cinco produtos verdes locais.
Mapeamento das cadeias de valor para os cinco produtos verdes locais.
Produção de um plano de ação com propostas de intervenções para o enfrentamento das barreiras ao desenvolvimento das cinco cadeias de valor verdes locais.
Apresentação ao Governo pela Associação Nacional de Café, Cacau e Palmar (CAFANG) do plano de ação produzido durante o workshop.
Introdução de produtores locais à Agência de Investimento Privado e Promoção das Exportações (AIPEX), com vistas à inclusão em seus cadastros.
Construção de uma base para a formação de cooperativas através do compartilhamento de experiências e aconselhamento técnico por uma cooperativa de outra província.
Identificação das necessidades locais de infraestrutura de transporte pelos participantes, comunicadas ao componente de Transporte e Logística do Programa Train for Trade II.
Identificação da necessidade e desejo local de formação em empreendedorismo, comunicados ao componente EMPRETEC do Programa Train for Trade II.
Invited speaker from Banco BAI informing participants about credit lines for agricultural producers.
Prelectora do Banco BAI informando os participantes sobre linhas de crédito para produtores agrícolas.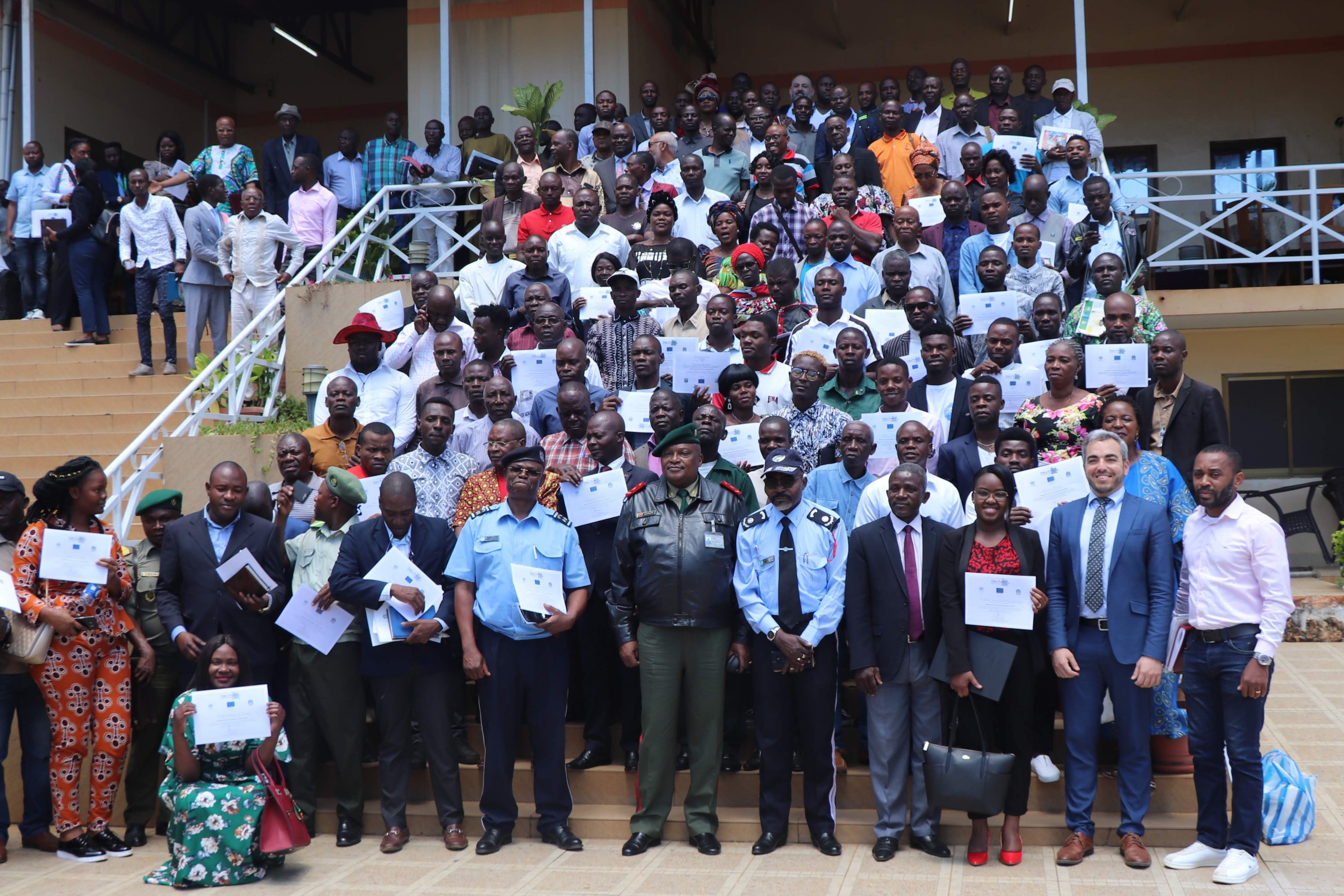 Participants at the closing ceremony.
Participantes na cerimônia de encerramento.
There is some issue in accessing document path, Please contact to Site Admin
Sponsor / funding:
European Union / União Europeia
---

Related
Project
Contact
Mr. Mario Jales
Mr. Adelino Muxito

Ms. Johanna Silvander