17 - 21 June 2013
Room XXVI, Palais des Nations
Geneva
, Switzerland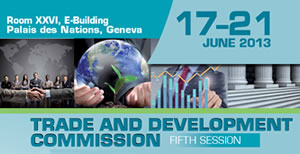 The Commission will provide the opportunity for member States and other stakeholders to discuss key trade and development issues related to building more resilient, sustainable and inclusive development.
Under provisional agenda item 3, member States and other stakeholders will consider the reports of four multi-year expert meetings on:
Trade, services and development.
Commodities and development.
Promoting economic integration and cooperation.
Enhancing the enabling economic environment at all levels in support of inclusive and sustainable development.
In addition, there will be consideration of the outcome of the expert meeting on tourism's contribution to sustainable development.
Under provisional agenda item 4, the Commission will then consider recent trends in trade in goods and services, and in the international trading system, as well as trends in the nature and level of employment and poverty reduction in developing countries, and how these two trends interact with each other. Ways in which trade policies and complementary measures could boost employment and poverty reduction will be highlighted.
Under provisional agenda item 5, the Commission will have the opportunity to discuss trends currently reshaping international maritime transport and trade. These include the growing importance of developing countries in the demand for maritime transport services, as well as their increasing market share in the supply of maritime business. Other issues that may be examined include rising sustainability imperatives and climate change concerns, which are shaping transport policies and strategies of the future to ensure effective integration of developing countries into global transport and trading networks.
The Commission will also consider progress made in promoting and strengthening the synergies among the three pillars of UNCTAD's work in the areas covered by this Commission.
(TD/B/C.I/CRP.3)
-
13 Jun 2013
-
Agenda item 6
(TD/B/C.I/CRP.4)
-
12 Jun 2013
-
Agenda item 6
17 Jun 2013
-
Agenda item 5
17 Jun 2013
-
Agenda item 5
Agreed Conclusion
21 Jun 2013
Agreed Conclusion
21 Jun 2013
---

Language(s)
English | Français | Español | 简体中文 | Русский | العربية |
Related
Meeting series
Contact
Communications concerning representation:
UNCTAD secretariat
Intergovernmental Support Service
Palais des Nations
CH-1211 Geneva 10
All other enquiries:
Ms. Arlette Verploegh, (for transport, trade logistics and capacity-building issues)
tel: +41 (0)22 917 6312
fax: +41 (0)22 917 0052
e-mail:
arlette.verploegh@unctad.org
Mr. Samuel Gayi, (for issues related to commodities)
tel: +41 (0)22 917 2131
fax: +41 (0)22 917 0509
e-mail:
samuel.gayi@unctad.org