17 - 21 October 2022
(GMT+1)
Luanda
, Angola
Background and objectives:
UNCTAD, under the EU-UNCTAD Joint Programme for Angola: Train for Trade II, with funding from the European Union, will conduct a training workshop on the Blue Economy and fisheries sector development, from 17 to 21 October 2022.
Angola with its vast coastline offers great potential for the development of the blue economy, including fisheries and marine aquaculture. The Blue Economy has been internationally defined as the "sustainable use of ocean resources for economic growth, improved livelihoods and jobs, and ocean ecosystem health." The fishing sector is a significant component of the Angolan Blue Economy.
In Angola, the fisheries sector and aquaculture subsector provide significant employment, especially in the artisanal sector. If sustainably harnessed, the Blue Economy, in particular the fisheries sector, has the potential to become one of the key sectors for Angola in view of furthering national development. However, the sector also has major challenges and threats including partial overfishing and overall deficient fisheries management and surveillance capacities; and high turnover of staff in the decision-making institutions of the country. The workshop's objectives are to exchange views and experiences on the potential of the broader Blue Economy in contributing to Angola's national development, including current and future policies and strategies; investigate ways and means to sustainably tap into the potential of the fisheries sector through diversification and structural transformation of the sector; share best practices and successful experiences from other developing countries; discuss policies and strategies to strengthen the role of the fisheries industry in Angola's socioeconomic growth, and look for methods and means to successfully handle the issues of fulfilling international fish quality and safety requirements. Furthermore, the importance of Marine Spatial Planning as a key tool for the development of the Blue Economy will be addressed.
The target groups of the workshop will range from technical experts from public and private institutions dealing with the blue economy and fishery sector to key policymakers, advisors, and practitioners.
For documents and materials, see the documents section.
Results achieved:
The workshop was attended by 104 participants (Female: 53; Male: 51) from the Government, private sector, industry associations and universities and polytechnics of Angola. It included two high-level opening and closing sessions (with the participation of two ministers and several Secretaries of State), 24 technical presentations with question and answer segments, three (3) panel discussions and one half-day working group session. In addition, one day was dedicated to field visits of the fisheries experts. The workshop comprised presentations and inputs from world-leading experts in fisheries and aquaculture development as well as marine spatial planning, and case studies from African countries and Viet Nam, through the UNCTAD Center of Excellence at the Nha Trang University. In the workshop delivery, UNCTAD collaborated with the International Standardization Organization (ISO) and the Marine Stewardship Council (MSC). The FAO / Angola provided an intervention and facilitated a workshop segment.
As a result of the workshop, a needs assessment and capacity-building plan with priorities were drafted for the fisheries and aquaculture sector in Angola, and recommendations for the sectors' development were formulated. These were developed through the discussions during the workshop, expert inputs deriving from the field visits, presentations and discussions, as well as in particular the working group discussions on the final day, focusing on (i) Conducive environment for fisheries and aquaculture sector development; (ii) National Quality Infrastructure; (iii) Marine Spatial Planning as a tool to manage the Blue Economy; and (iv) International Sustainability Standards and Certification.
The Minister of Fisheries and Marine Resources, H.E. Carmen do Sacramento Neto dos Santos, and the Minister of Industry and Commerce, H.E. Victor Francisco dos Santos Fernandes, expressed the Government's strong commitment to continue harnessing the fisheries and aquaculture sectors in Angola, based on the sectors' strategic importance, with the support of UNCTAD and the European Union. Both UNCTAD and the European Union expressed their commitment to support Angola in this important process, striving towards a more diversified and greener economy, with broader benefits for the population as a whole, including through value addition of the fisheries industry, decent jobs, poverty reduction, women's empowerment, and broader socioeconomic and cultural benefits.
Workshop de formação sobre a Economia Azul, com foco no desenvolvimento do sector das pescas e no cumprimento das normas internacionais para a exportação de pescado
Antecedentes e objectivos:
CNUCED, no âmbito do Programa Conjunto UE-CNUCED para Angola: Train for Trade II, com financiamento da União Europeia, realizará um seminário de formação sobre a economia azul e o desenvolvimento do sector das pescas, de 17 a 21 de Outubro de 2022.
Angola com o seu vasto litoral oferece um grande potencial para o desenvolvimento da economia azul, incluindo a pesca e a aquacultura marinha. A Economia Azul foi definida internacionalmente como a "utilização sustentável dos recursos oceânicos para o crescimento económico, melhoria dos meios de subsistência e do emprego, e saúde do ecossistema oceânico". O sector das pescas é uma componente significativa da Economia Azul angolana.
Em Angola, o sector das pescas e o subsector da aquacultura proporcionam empregos significativos, especialmente no sector artesanal. Se aproveitada de forma sustentável, a Economia Azul, em particular o sector das pescas, tem o potencial de se tornar um dos sectores chave para Angola, tendo em vista a promoção do desenvolvimento nacional. Contudo, o sector tem também grandes desafios e ameaças, incluindo a sobrepesca parcial e capacidades globais deficientes de gestão e vigilância das pescas; e uma elevada rotatividade de pessoal nas instituições decisórias do país. Os objectivos do seminário são: trocar pontos de vista e experiências sobre o potencial da economia azul mais ampla em contribuir para o desenvolvimento nacional de Angola, incluindo políticas e estratégias actuais e futuras; investigar formas e meios de explorar de forma sustentável o potencial do sector das pescas através da diversificação e transformação estrutural do sector; partilhar as melhores práticas e experiências bem sucedidas de outros países em desenvolvimento; discutir políticas e estratégias para reforçar o papel da indústria pesqueira no crescimento socioeconómico de Angola, e procurar métodos e meios para tratar com sucesso as questões do cumprimento dos requisitos internacionais de qualidade e segurança do pescado. Além disso, será abordada a importância do Ordenamento do Espaço Marinho como uma importante ferramenta para o desenvolvimento da Economia Azul.
Os grupos-alvo do seminário vão desde peritos técnicos de instituições públicas e privadas que lidam com a economia azul e o sector das pescas até decisores políticos, conselheiros e profissionais-chave.
Para documentos e materiais, ver a secção de documentos.
Resultados alcançados:
O seminário contou com 104 participantes (Feminino: 53; Masculino: 51) do Governo, sector privado, associações industriais e universidades e politécnicos de Angola. Incluiu duas sessões de abertura e encerramento de alto nível (com a participação de dois ministros e vários Secretários de Estado), 24 apresentações técnicas com segmentos de perguntas e respostas, três (3) painéis de discussão e uma sessão de grupo de trabalho de meio dia. Além disso, um dia foi dedicado a visitas de campo dos peritos de pesca. O seminário incluiu apresentações e contributos de especialistas líderes mundiais em desenvolvimento da pesca e da aquicultura, bem como planeamento espacial marinho, e estudos de caso de países africanos e do Vietname, através do Centro de Excelência da CNUCED Na entrega do workshop, a CNUCED A FAO / Angola providenciou uma intervenção e facilitou um segmento de workshop.
Como resultado do seminário, foi elaborada uma avaliação das necessidades e um plano de capacitação com prioridades para o sector das pescas e aquacultura em Angola, e foram formuladas recomendações para o desenvolvimento dos sectores. Estas foram desenvolvidas através das discussões durante o seminário, contribuições de peritos resultantes das visitas de campo, apresentações e discussões, bem como, em particular, as discussões do grupo de trabalho no último dia, centrando-se em (i) Ambiente propício ao desenvolvimento do sector das pescas e da aquacultura; (ii) Infra-estruturas Nacionais de Qualidade; (iii) Planeamento do Espaço Marinho como instrumento de gestão da Economia Azul; e (iv) Normas Internacionais de Sustentabilidade e Certificação.
A Ministra das Pescas e Recursos Marinhos, S.E. Carmen do Sacramento Neto dos Santos, e o Ministro da Indústria e Comércio, S.E. Victor Francisco dos Santos Fernandes, expressou o forte empenho do Governo em continuar a explorar os sectores da pesca e da aquacultura em Angola, com base na importância estratégica dos sectores, com o apoio da CNUCED e da União Europeia. Tanto a CNUCED como a União Europeia expressaram o seu compromisso de apoiar Angola neste importante processo, lutando por uma economia mais diversificada e mais verde, com benefícios mais amplos para a população como um todo, incluindo através da adição de valor à indústria pesqueira, empregos decentes, redução da pobreza, empoderamento das mulheres, e benefícios sócio-económicos e culturais mais amplos.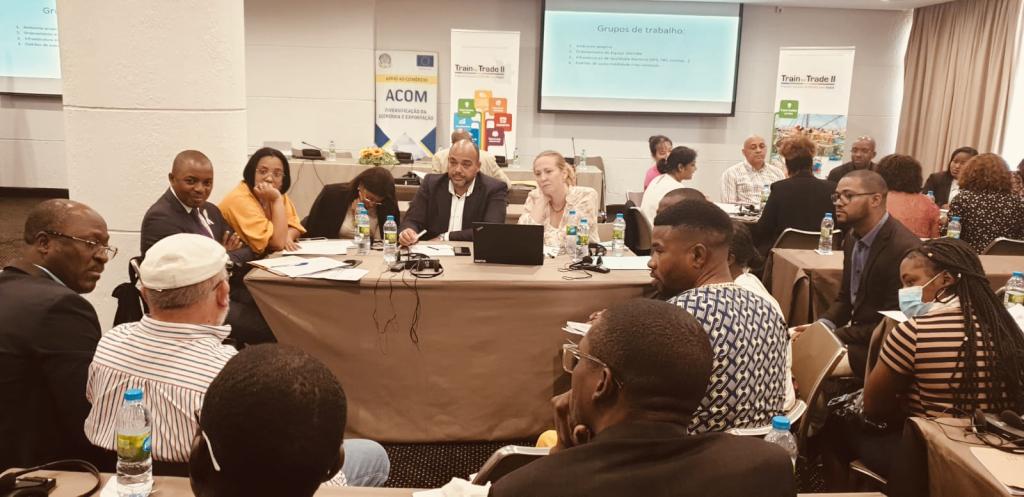 Working group session, 21 October 2022
Sessão do grupo de trabalho, 21 de Outubro de 2022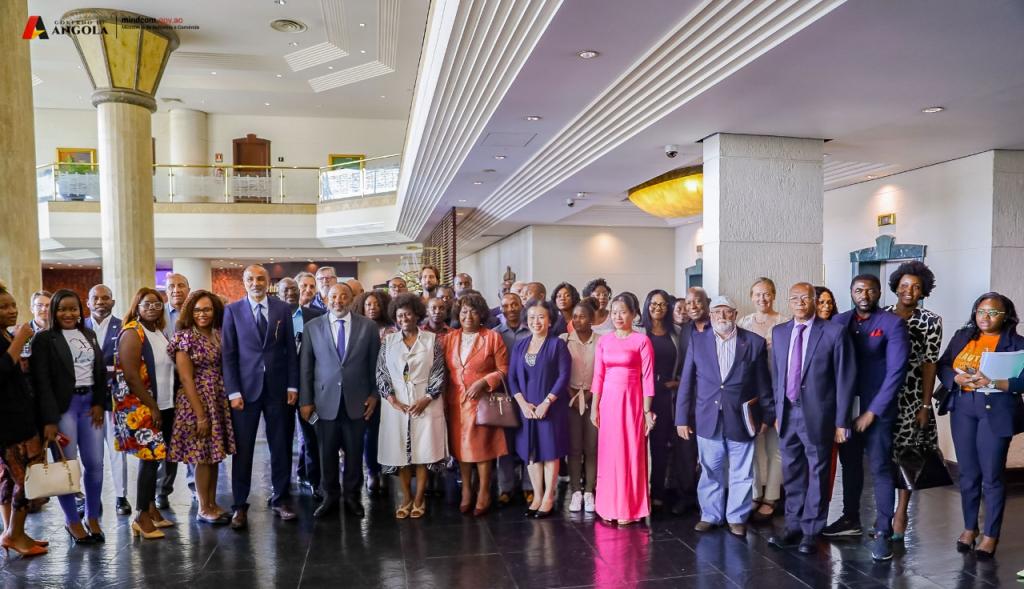 Group photo of the participants, 21 October 2022
Foto de grupo dos participantes, 21 de Outubro de 2022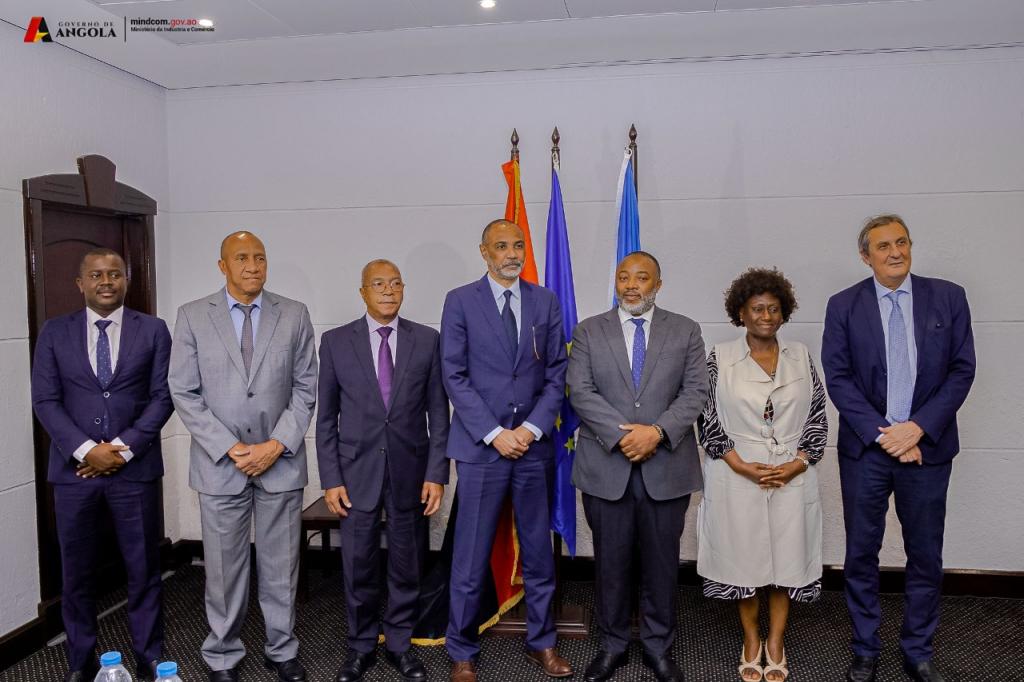 Closing session, 21 October 2022
Sessão de encerramento, 21 de Outubro de 2022
There is some issue in accessing document path, Please contact to Site Admin
(UNCTAD/ALDC/INF/2021/5)
-
11 Jan 2022
Training Manual
01 Feb 2022
Co-organizer(s):
UNCTAD, MINDCOM, Ministry of Fisheries and Marine Resources of Angola, UNCTAD's CoE in Viet Nam (Nha Trang University); International Standardization Organization (ISO); Marine Stewardship Council (MSC)
Sponsor / funding:
European Union in Angola
---

Language(s)
English | Português |
Related
Topic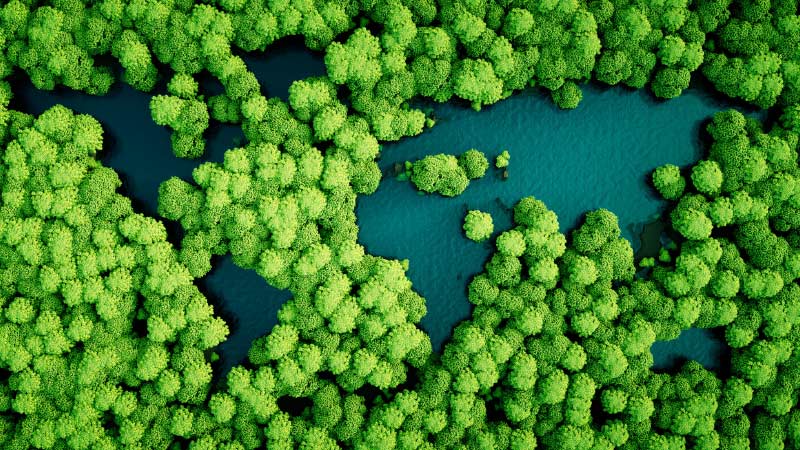 Trade and environment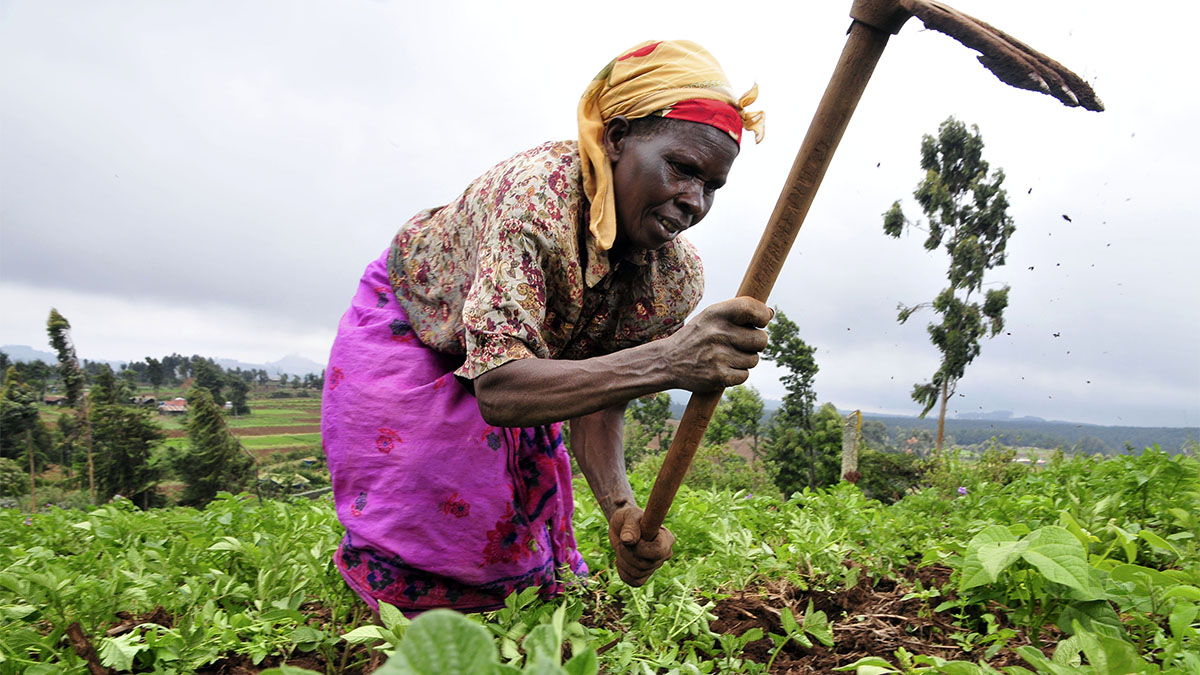 Least developed countries
Programme
Project
Contact
Mussie Delelegn Arega
Acting Head, Productive Capacities
and Sustainable Development Branch
UNCTAD Geneva
mussie.delelegn@un.org
+41229175038
Johanna Silvander
Programme Manager,
Train for Trade II
UNCTAD Geneva
johanna.silvander@un.org
+41 (022) 917 5116
Adelino Muxito
National Coordinator,
Train for Trade II
UNCTAD Luanda
adelino.muxito@unctad.org
+244 921 897 959
Results
Workshop participants segregated by gender / Participantes do workshop segregados por género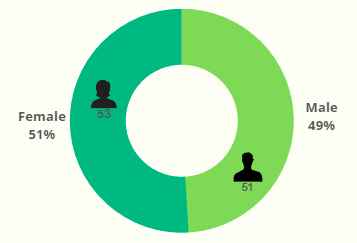 Workshop participants segregated by sector / Participantes do workshop segregados por sector