16 June 2020
New UNCTAD report shows reshoring, diversification and regionalization will drive restructuring of global value chains in the coming years.
International production is set for significant transformation in the decade ahead, as the coronavirus pandemic amplifies existing challenges, according to UNCTAD's World Investment Report 2020.
UNCTAD has monitored and reported on foreign direct investment (FDI) and the activities of multinational enterprises (MNEs) during the last 30 years in which international production has experienced significant fluctuations.
In the aftermath of the global financial crisis of 2008, despite a brief recovery, flows of cross-border investment in physical productive assets stopped expanding, alongside sluggish growth in trade and a slowdown of global value chains (GVCs) (figure 1).
Existing trends deriving from the challenges of growing economic nationalism, the new industrial revolution and the sustainability imperative were already steadily brewing towards an inflection point and the outbreak of the pandemic looks set to tip the scales further (figure 2).
"The major transformation underway in international production will profoundly impact developing countries over the coming decade. This may call for major policy rethink.," said UNCTAD Secretary-General Mukhisa Kituyi.
Technology trends shaping international production
This year's report describes three key technology trends of the new industrial revolution (NIR) that will shape international production: robotics-enabled automation, enhanced supply chain digitalization and additive manufacturing.
The pace and extent of new technological adoption will partly depend on the policy environment for trade and investment, which is trending towards more interventionism, rising protectionism and a shift to regional and bilateral frameworks.
They will also depend on sustainability concerns, including differences between countries and regions on emission targets and environmental, social and governance (ESG) standards, market-driven changes in products and processes, and supply chain resilience measures.
The effects on international production from the technology, policy and sustainability trends are multi-faceted, and will play out differently across industries and regions, landing in four possible trajectories: reshoring, diversification, regionalization, and replication (figure 3).
Challenges and opportunities
The transformation of international production in the post-pandemic era will bring both challenges and opportunities for investment and development policymakers.
"Confronting the challenges and capturing the opportunities requires a change in the investment-development paradigm," said UNCTAD's director of investment and enterprise, James Zhan
The main challenges in the new era of international production are likely to involve increased divestment, relocations, investment diversion and a shrinking pool of efficiency-seeking investment, implying tougher competition for FDI.
Changes in the locational determinants of investment will negatively affect developing countries' ability to attract MNE operations. In contrast, new opportunities are likely to arise due to investors looking to diversify supply bases to enhance production resilience.
Shorter value chains leading to distributed manufacturing of final goods and digital platforms can enable new applications and services as well as improve bottom-up access to GVCs.
Longer term, supply chain resilience is crucial for economic growth and job creation, and for the development prospects of low-income and vulnerable countries.
Recovery will depend on policymakers safeguarding a trade and investment policy environment favouring a gradual adjustment of international production networks.
Governments will face the challenge of dealing with adverse developments but at the same time have plenty opportunities to capitalize on emerging avenues.
"The changing context of international production demands a degree of rebalancing towards growth based on regional demand and on services," Mr. Zhan said. 
He added: "The new scenario is also likely to involve refocusing development strategies towards attracting investment in building productive infrastructure and fostering services, as well as investing in the green and blue economies."
Figure 1: FDI, trade, GDP and GVC trends, 1990–2019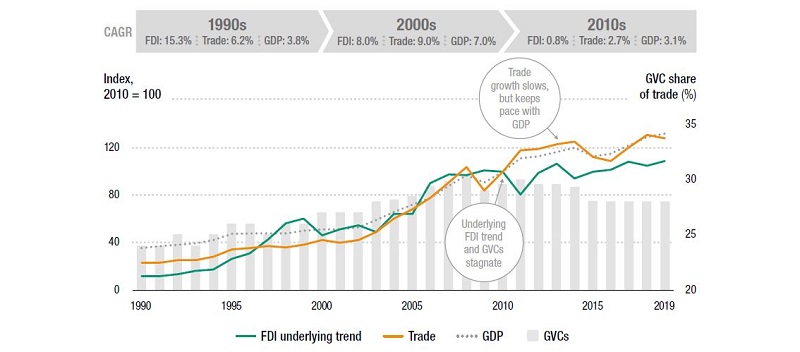 Source: UNCTAD
Figure 2: International production in a "perfect storm"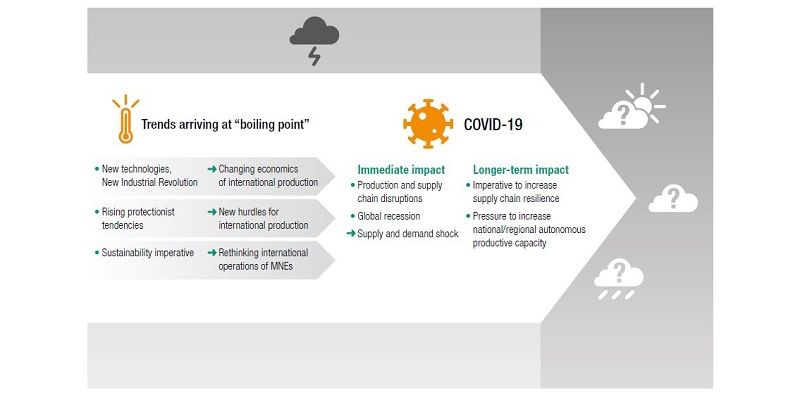 Source: UNCTAD
Figure 3: Elements of trajectories and impacts on international production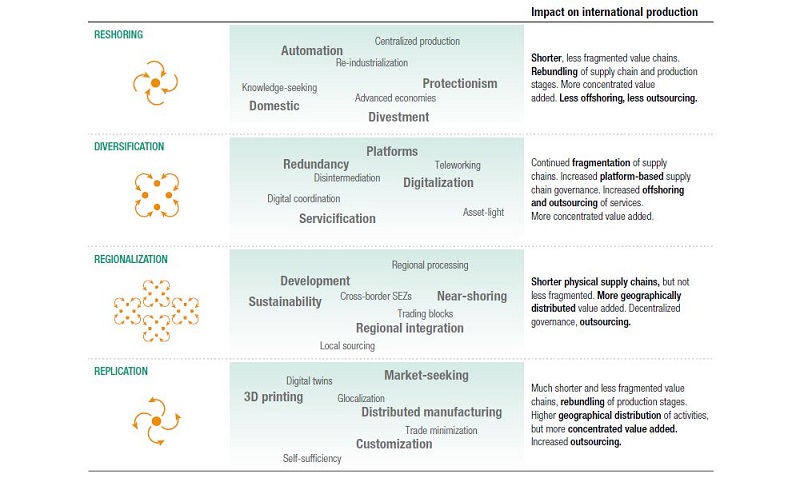 Source: UNCTAD