14 July 2021
The mechanism could help avoid "carbon leakage", but its impact on climate change would be limited – only a 0.1% drop in global CO2 emissions – with higher trade costs for developing countries.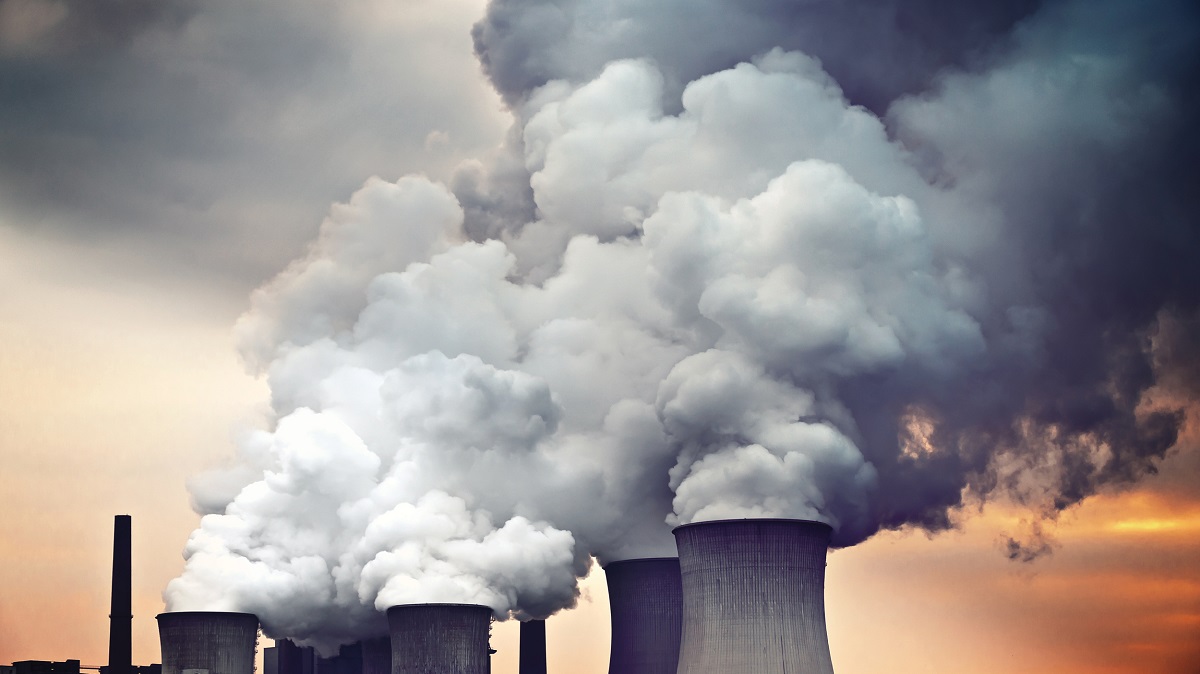 The European Union (EU) carbon border adjustment mechanism (CBAM) announced on 14 July could change trade patterns in favour of countries where production is relatively carbon efficient but do little to mitigate climate change, UNCTAD has warned.
An UNCTAD report published on 14 July shows the CBAM's potential implications on international trade, carbon dioxide (CO2) emissions, income and employment for countries inside and outside the EU, with a special focus on developing and vulnerable countries.
The CBAM is expected to introduce new CO2 emissions-cutting measures transitionally in 2023 and finalize them before 2026.
"Climate and environmental considerations are at the forefront of policy concerns, and trade cannot be the exception. CBAM is one of these options, but its impact on developing countries also needs to be considered," UNCTAD Acting Secretary-General Isabelle Durant said.
The report confirms that introducing the CBAM would reduce part of the carbon leakage produced by the different climate change ambitions between the EU and other countries.  
Carbon leakage refers to the relocation of production to other countries with laxer emissions constraints for costs reasons related to climate policies, which could lead to an increase in their total emissions.
Developing countries also pay a price
The report says several of the EU's trading partners exporting goods in carbon-intensive sectors – including cement, steel, aluminium, oil refinery, paper, glass, chemical and fertilizers – have raised concerns that the CBAM would substantially curtail their exports, but these changes may not be as drastic as some fear.
Exports by developing countries across the targeted carbon-intensive sectors would be reduced by 1.4% if the CBAM is implemented with a price of $44 per tonne of embedded CO2 emissions, and by 2.4% if it's implemented with an $88 per tonne price, the report shows.
However, the effects would vary significantly by country depending on their export structure and carbon production intensity.

Exports to the European Union 2019 in selected sectors to be considered in the CBAM.
20 most-exposed countries in terms of aggregated value of exports (billion $)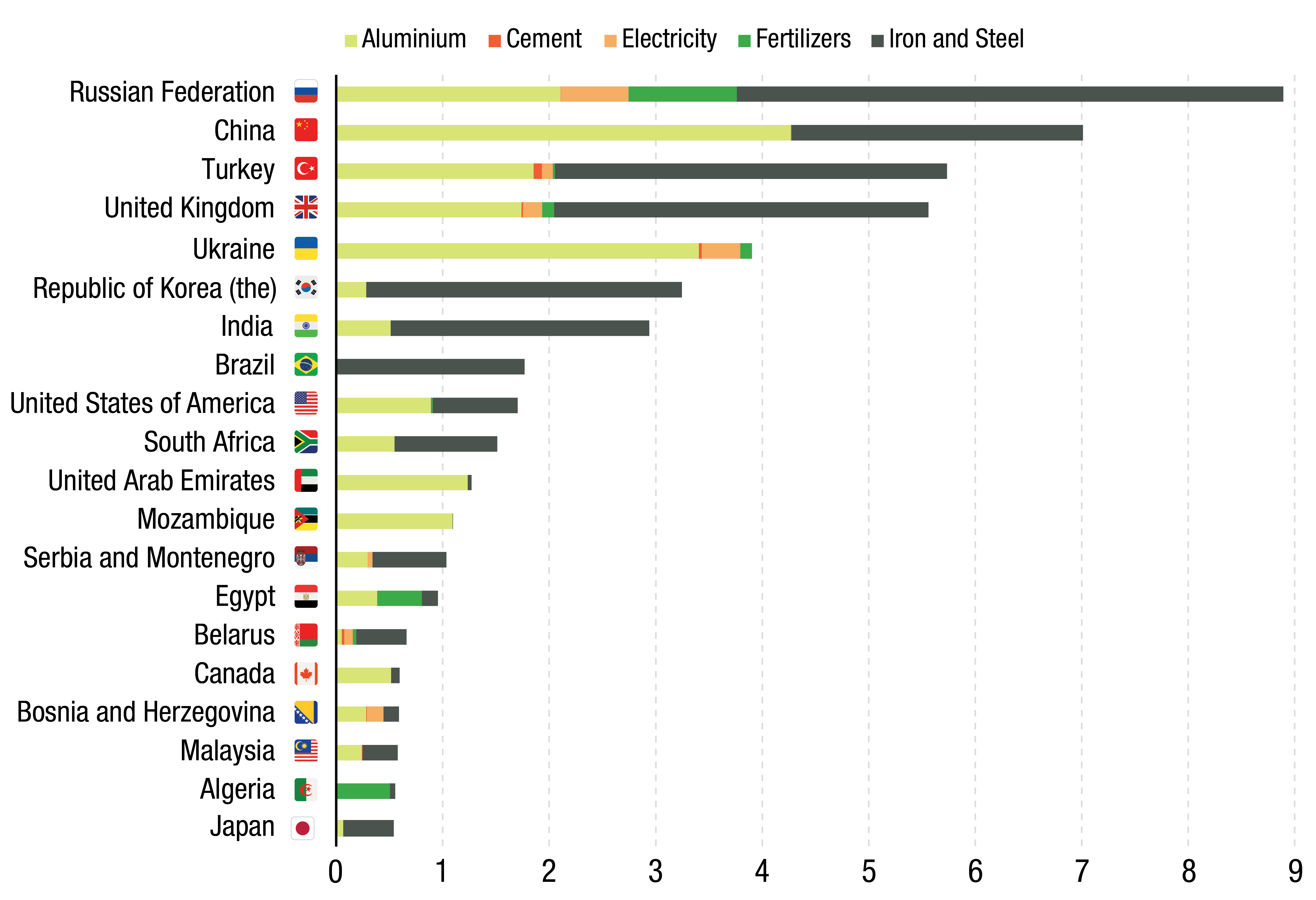 Source: UNCTAD based on UN COMTRADE.
Note: The list does not include Iceland, Norway and Switzerland because they participate in, or are linked to, the ETS. Therefore, it is likely that these countries are exempt from the mechanism.

In both scenarios, developed countries, as a group, wouldn't suffer export declines since many tend to employ production methods that are less carbon intensive in the targeted sectors than many developing nations. 
"The CBAM would generate a similar gap between developing and developed countries in terms of welfare. In both cases, developed countries would fare better than developing ones," the report states.
With a CBAM based on a carbon price of $44 per tonne, the income of developed countries would rise by $2.5 billion, while that of developing nations would fall by $5.9 billion, according UNCTAD's analysis. 
However, developed countries would experience a higher welfare loss of $51 billion from the initial introduction of a carbon price of $44 per tonne, driven by losses in the EU, while developing countries would gain $1 billion in the absence of the CBAM.
Potential employment effects would be small for most economies, the report shows.
Effects on the EU's economy
Increased carbon prices would significantly reduce carbon emissions in the EU, but the world's largest trading bloc's exports would decline, the report says.
A CBAM based on a carbon price of $44 per tonne of CO2 embedded emissions would reduce the carbon leakage resulting from the implementation of climate policies in the EU by more than half, from 13.3% to 5.2%.
But the mechanism wouldn't fully compensate for the negative effects of the carbon tax on the EU's economy.
Limited impact on mitigating climate change
Although the CBAM would be effective in reducing carbon leakage, its value in mitigating climate change is limited, the report says, as the mechanism would cut only 0.1% of global CO2 emissions.
While the mechanism seeks to avoid the leakage of production and CO2 emissions to the EU's trading partners with less stringent emissions targets, it's so far unclear how it can support decarbonization in developing countries. 
"Reducing these emissions effectively will require more efficient production and transport processes," the report says.
UNCTAD urges the EU to consider deploying CBAM flanking policies capable of narrowing, and eventually eliminating, the gaps between developed and developing countries.
"The EU could consider using some of the revenue generated by the CBAM to accelerate the diffusion and uptake of cleaner production technologies in developing countries," Ms. Durant said. "This will be beneficial in terms of greening the economy and fostering a more inclusive trading system."
---
Development in motion
In a series of dynamic graphs, we explain some of the salient issues facing the global economy today.