08 June 2023
UNCTAD and its partners continue to work with several developing countries to produce official data on selected types of illicit financial flows.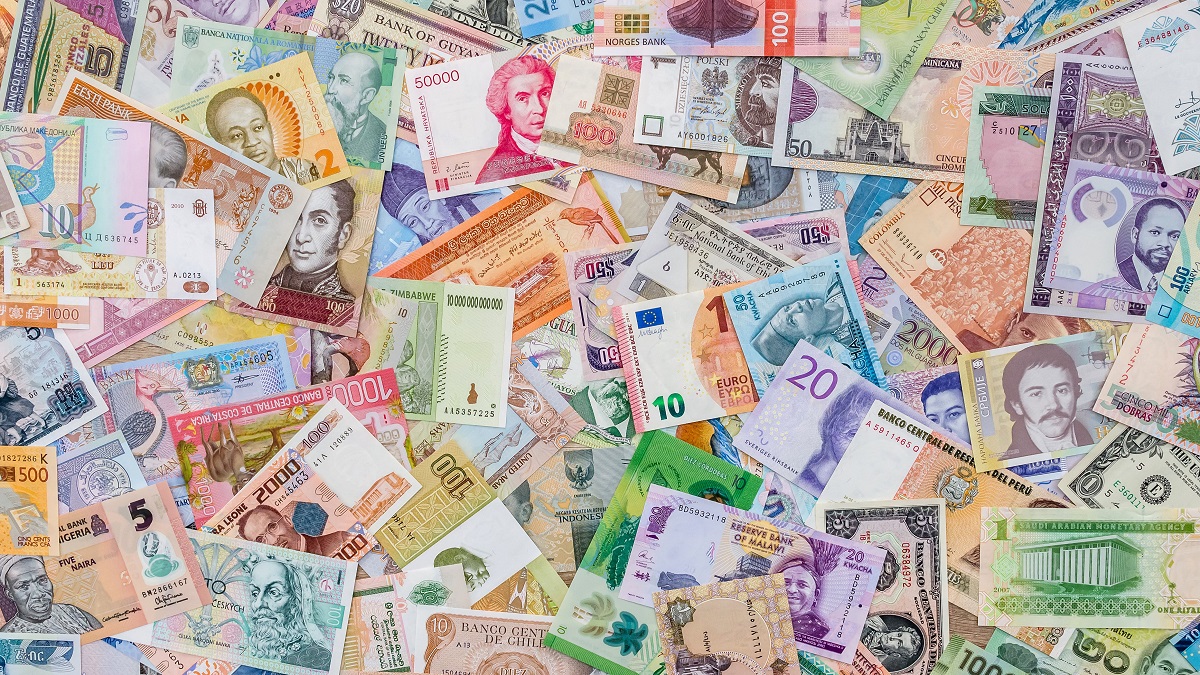 © Shutterstock/RomanR | Banknotes of various currencies around the world.
Afghanistan, Bangladesh, Colombia, Ecuador, Maldives, Mexico, Myanmar, Nepal and Peru have produced the first-ever national estimates of illicit financial flows (IFFs) related to drug trafficking, trafficking in persons and smuggling of migrants with the support of the UN Office on Drugs and Crime (UNODC).
The estimates are published on the UN's Global Sustainable Development Goals (SDGs) Indicators Database. And a recent UNCTAD infographic report showcases preliminary estimates and findings on tax and commercial IFFs from 11 African countries.
Significantly reducing IFFs by 2030 is one of the priorities under the UN's SDG 16. UNCTAD and UNODC are co-custodians of SDG indicator 16.4.1, which measures the total value of inward and outward IFFs in current US dollars.
The two organizations support countries in producing transparent, robust and globally comparable statistics on IFFs.
"Such statistics are needed to shed light on the activities, sectors and channels most prone to illicit financial flows, pointing to where actions should be undertaken as a priority to curb these flows," said Anu Peltola, who heads UNCTAD's statistics work.
Cracking down on IFFs: Inaction isn't an option
IFFs can take many forms and use different channels and are therefore very difficult to track and estimate.
But countries can't afford to stand by and do nothing, as IFFs threaten sustainable development. They deprive countries of revenue to finance investments in critical programmes such as education, health, gender inclusion and poverty eradication.
Also, IFFs may fuel organized crime and corruption, thus undermining the rule of law and the functioning of institutions and the justice system.
For example, in Africa, some countries with high IFFs spend on average 25% less on health and 58% less on education compared with countries with low IFFs, according to an earlier UNCTAD report.
IFFs hit world's most vulnerable hardest
IFFs can result from various illicit tax and commercial practices, illegal markets, corruption and exploitation, draining state revenues and fuelling illegal activities.
They are directly associated with the violation of human rights, such as in the cases of trafficking in persons and smuggling of migrants.
For example, every year, thousands of migrants and refugees put their lives in the dangerous hands of criminal smugglers when escaping violence, conflict, poverty and climate disasters.
In those cases, migrants must pay considerable fees to smugglers to facilitate their journey across borders, often in life-threatening conditions. And such a scourge generates alarming illicit financial flows.
UNODC estimates that the smuggling of foreign irregular migrants to the United States generated over $1.1 billion in inward IFFs per year from 2016 to 2018 for smugglers based in Mexico.
This is equivalent to the value of total air passenger transportation service exports from Mexico to the rest of the world during the same period.
The enormous profits generated by IFFs from migrant smuggling are likely re-invested in illegal markets, fuelling further instability, corruption and criminal activities in the region.
Billions siphoned through commercial IFFs
IFFs can also be observed in commercial activities. For example, UNCTAD's pilot study shows that estimates in Burkina Faso found IFFs in gold exports between the country and Uganda, as well as with Switzerland.
In Namibia, the study revealed preliminary estimates from trade misinvoicing of $19.6 billion inward IFFs and $4.7 billion outward IFFs between 2018 and 2020.
Kyrgyzstan and Uzbekistan also provided provisional estimates of illicit financial flows linked to trade misinvoicing.
Meanwhile, many pioneering countries in Africa and Asia are finalizing their first estimates of tax and commercial IFFs for reporting to the UN's Global SDG Indicators Database by the end of 2023.
Countries are making progress in tackling IFFs
A recent UN General Assembly resolution recognized the significant progress achieved in the global fight against IFFs, while encouraging 193 member states to report data on SDG indicator 16.4.1, using the statistical concepts and methods provided by UNCTAD and UNODC.
These globally agreed-upon concepts and tested methods help enhance the capacities of relevant officials to track IFFs.
To date, 22 pilot countries have benefited, as they bring together statistical offices, customs, tax authorities, central banks, financial intelligence units, law enforcement agencies, national ministries and other key agencies to analyse existing administrative and transactions data to track IFFs.
Moreover, a four-year global capacity-enhancing project is underway, coordinated by the UN Economic Commission in Africa (ECA) with support from UNCTAD, UNODC and all other regional economic commissions.
This project will support interested countries to track IFFs, use the estimates to shape policies, as well as report data on the related SDG indicator.
Time to ramp up fight against IFFs
In a recent exclusive interview series with UNCTAD and ECA, policymakers and statisticians in Africa underlined that statistical measurement of IFFs matters.
Théodora Aleka-Laban, who works for Gabon's National Commission for the Fight against Corruption and Illicit Enrichment, envisaged a world without IFFs.
Ms. Aleka-Laban said this would enable "African countries to finance their own development policy without needing to ask for expensive loans and they would be able to achieve a critical part of the Sustainable Development Goals."
"This is the Africa we want, and this is why we are fighting against IFFs," she concluded.