26 July 2018
For trade in green products to contribute fully to sustainable development, countries need a policy mix that spreads the benefits equally, the High-Level Political Forum heard.
Tools that can help countries harness green exports were described at a learning session organized by UNCTAD in partnership with Fairtrade America and the ABS Capacity Development Initiative at the United Nations High-Level Political Forum (HLPF) on the Sustainable Development Goals in New York on 13 July.
Markets for green products are growing significantly faster than conventional products, and present important opportunities for developing and least developed countries.
"Green exports allow countries to foster, economic, social and environmental sustainability at the same time," UNCTAD's Robert Hamwey said.
UNCTAD's National Green Export Reviews help countries identify green export opportunities and develop and implement a targeted action plan.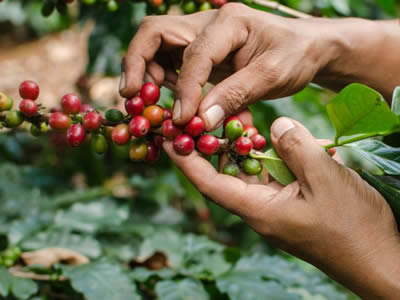 Eric Beantanana from Madagascar, discussing his country's experience with the National Green Export Review, said that "the approach is a holistic one. It is not only important morally, to combat climate change, but also economically, as it is in the interest of the people".
Countries and producers wanting to take advantage of green exports can use various tools to do so, participants at the session heard.
Green trade
For example, certification and labelling schemes known as voluntary sustainability standards (VSS) are a market tool that can harness green trade for development.
Under such schemes, labelling organizations define social and environmental standards, and certify producers and traders that fulfil them, Fairtrade America's Stefanie Colish said.
The labels allow consumers to identify sustainable products, for which many are willing to pay a higher price, and producers are remunerated for the additional investment that sustainable production often requires.
While VSS tend to work well for businesses and consumers, they not always benefit producers. Miho Shirotori, who leads an UNCTAD project on VSS in Vanuatu, the Philippines and Laos, said.
She quoted examples showing that, in practice, small farmers in developing countries face a myriad of challenges when they aspire to certify goods as organic or some other standard.
"We have to focus on making VSS economically viable for producers to them truly sustainable," Ms. Shirotori said. "This requires identifying the bottlenecks and addressing them with public interventions."
A key area of UNCTAD's work on green exports is what is labelled BioTrade - the collection, production, transformaiton and commercialization of goods and services derived from native biodiversity under the objectives of the Convention on Biological Resources (CBD), which came into force in 1993.
Lorena Jaramillo, a member of UNCTAD's BioTrade team, discussed her approach to ensuring the benefits are spread widely. "Most of the responsibility and knowledge about biodiversity lie with producers, but economic benefits and access to markets are located at the end of the value chain," she said.
Benefit sharing
Olivier Rukundo of the ABS Capacity Development Initiative gave a presentation on the Nagoya Protocol on Access and Benefit Sharing, a concrete legal tool that helps share the benefits of biodiversity more equally.
The Nagoya Protocol requires users - such as researchers and companies - to obtain formal permission from the provider country if they want to access genetic resources for research and development purposes. Moreover, there must be a compliance mechanism in place in which benefits can be equitably shared.
During questions and answers with workshop participants, further issues were discussed, including specific national experiences with green exports, the relation between VSS and World Trade Organization agreements, and ways to ensure the trustworthiness of VSS, such as third-party certification.
The two-hour session, which was moderated by the chief of UNCTAD's New York office Chantal Line Carpentier, may be viewed here.
Going for goals
The High-Level Political Forum is an annual stocktaking conference at United Nations Headquarters at which countries gather to report progress toward meeting the 17 goals of the 2030 Agenda for Sustainable Developlement which they adopted in 2015.
UNCTAD organized and participated in numerous events during the eight-day forum.
This included a roundtable on July 16 that provided a critical analysis of how trade, and BioTrade and the Access and Benefit Sharing Mechanism under the Nagoya Protocol can be incentives for the achievement of several Sustainsable Development Goals, especially Goal 15 ("Life on Land").
UNCTAD Deputy Secretary-General Isabelle Durant spoke at events on societal resilience and sustainable energy in landlocked developing countries, while UNCTAD Secretary-General Mukhisa Kituyi contributed to a policy dialogue on the global economy, international trade and finance.