31 August 2021
Driven by the belief that young people possess the agency and power to shape their future, some Kenyan youth are tapping into the digital economy and taking their place at the negotiation table.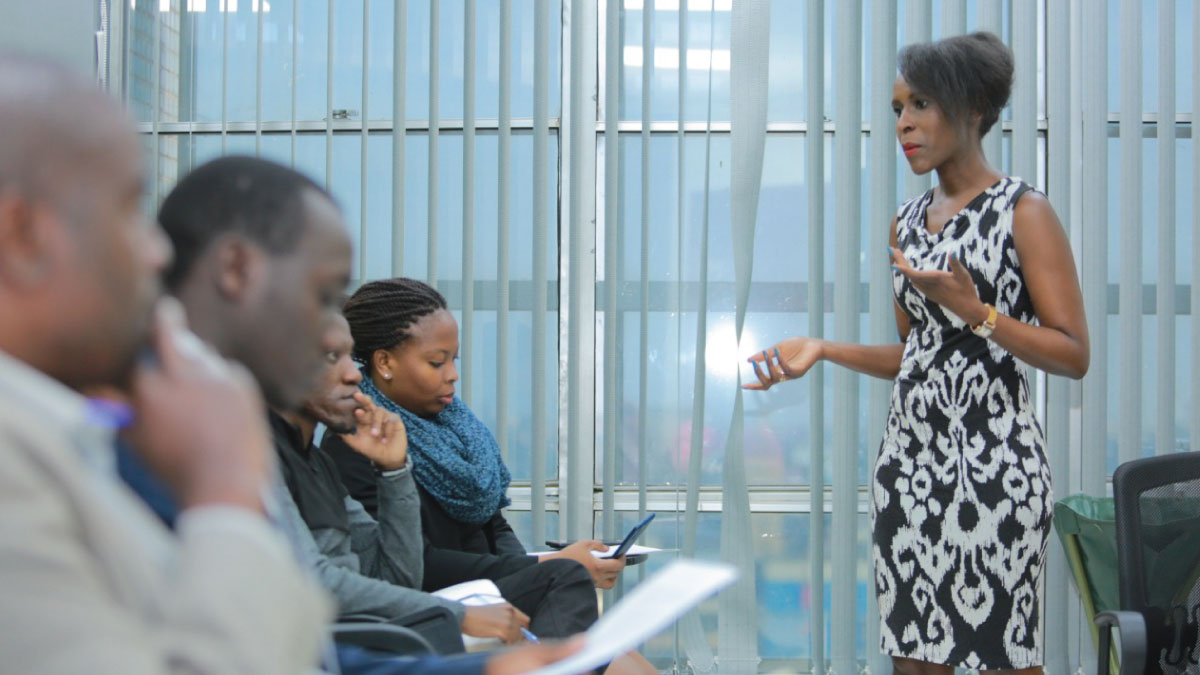 Linda Okero presents the work of Youth Action Hub Kenya to various stakeholders.
Young people can be catalysts of inclusive development. That's the mantra of Linda Okero, a communication enthusiast who leads Youth Action Hub Kenya, a group of young trailblazers from Nairobi.
Their mission is to integrate the voices of marginalized youth into the development agenda by providing an educational platform for them to learn about issues that affect them and nurturing their leadership skills through capacity-building programmes.
"We see thousands of young Kenyans actively engaging in discussions on economic opportunities and sharing their pain points when it comes to accessing decent livelihoods," Ms. Okero says.
Almost 60% of the African population is under the age of 25, according to the Mo Ibrahim 2019 Forum Report. Many of the young people were struggling economically even before the coronavirus crisis, which has deepened their vulnerability.
Youth Action Hub Kenya is helping the youth shape their future by equipping them with the skills to effectively engage in community-building activities and foster an intergenerational dialogue with decision makers. "The goal? To chart a new narrative for Africa's future," Ms. Okero says.
Harnessing digital jobs
With the COVID-19 pandemic accelerating digital transformation across sectors – spurring the rise of platform economies and with it the emergence of new employment trends, job roles and opportunities – the youth in Kenya are looking towards the future of work with hope and optimism.
"Economically empowered young people are more likely to step into leadership roles and dare to voice and propose solutions, hopes and visions for a better tomorrow," Ms. Okero says.
In Kenya, digital access has been instrumental in reshaping the concept of work, with many unemployed youth, students or young professionals leaning towards newly available short-term jobs or "gigs" to earn an additional income.
In the next five years, the gig industry in the country is projected to grow by 33% annually, offering the youth with relevant digital skills a chance to compete for opportunities on a global scale.
Against this backdrop, e-commerce is seeing a lot of growth. In 2020, approximately 15 million Kenyans shopped online and spent $1.1 billion.
To leverage this blooming sector, Youth Action Hub Kenya launched the "Own Your Voice on SDGs" project to educate young people on emerging job opportunities within the digital economy.
More than 15,000 people participated in the group's webinars on the future of work organized in collaboration with other organizations.
"We wanted to demystify the concept of the gig economy and create a new economic narrative for Africa to show the world the potential of our youth," Ms. Okero says.
To support disadvantaged and vulnerable groups, the project included seminars for the youth from the Kakuma refugee camp located in northwestern Kenya.
"People who are just trying to survive, they don't hope anymore," Ms. Okero says. "Giving them the opportunity to learn a skill or two is helping them reclaim their voice, hopes and dreams."
Tackling barriers, building bridges
Promoting youth participation in formal decision-making and community-building processes requires the removal of structural barriers, values and beliefs, according to the UN World Youth Report 2020.
Ms. Okero and her team are tackling these barriers and building a bridge between African youth and the stakeholders involved in the continent's development.
Their project was part of a trilogy of socioeconomic transformative initiatives supporting the UNCTAD Youth Forum slated for 16 to 18 September as part of UNCTAD's 15th quadrennial conference events. Ms. Okero will be one of the speakers at the forum.
Her group is also involved in a 10-year sustainable development challenge called "My2030Vow", a storytelling campaign that encouraged people across the world to commit to the UN Sustainable Development Goals for individual and collective accountability.
Making trade part of the solution
Youth Action Hub Kenya also focuses on making trade part of the solution to the challenges facing young people.
It partnered with the Kenya Trade Network Agency on workshops to explore how the youth can benefit from the new single market created by the African Continental Free Trade Area agreement.
"The youth have not been empowered enough to realize they can be the ones to instigate the change they wish to see," Ms. Okero says.
To change that, her group has engaged Kenya's ministry of trade and council of governors to add its voice to forums on topics that impact the youth.
Created at UNCTAD's Youth Forum 2018, the Youth Action Hubs initiative empowers young people to think globally and express their views on matters within UNCTAD's mandate.