19 July 2018
UNCTAD-hosted Second Oceans Forum represents important step toward achieving trade-related aspects of Sustainable Development Goal 14, UN envoy says.
United Nations Oceans Envoy Peter Thomson hailed the Second Oceans Forum held in Geneva on 16–17 July as "a very important step on the road" to using trade to help, not harm, global fisheries.
The forum was chaired by Mr. Thomson and organized by an UNCTAD-led international coalition working toward a breakthrough on both ending harmful fisheries subsidies and managing fisheries in a way that is sustainable and economically beneficial, particularly to developing countries.
"The Second Oceans Forum is something that I warmly support," Mr. Thomson said.
The forum, organized by UNCTAD, the Food and Agriculture Organization of the United Nations and the United Nations Environment Programme, looked at trade-related fisheries targets in the 17-goal development blueprint adopted by the international community in 2015 (known as the 2030 Agenda for Sustainable Development).
"Part of my terms of reference as the Special Oceans Envoy is to make sure that parts of the United Nations system cooperate with each other in the implementation of Goal 14 ("Life under Water")," Mr. Thomson said.
"This is a shining example of that, because the meeting is directed at target 6 of Goal 14 in particular, the trade subsidies element of the goal, and of course target 4 of Goal 14, the fisheries management side of the goal."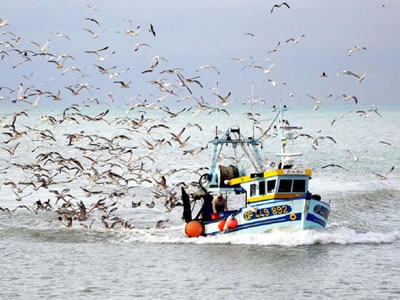 Related News:
Both targets, reflecting the extreme vulnerability of marine life and ocean health, are set to be met by 2020 – barely 18 months from the time the forum was held.
Seafood value chains
In his chair's summary, delivered at the close of the event, Mr. Thomson said the Trade-related Joint Plan of Action that the coalition had proposed would "serve as an important means of implementation to mobilize resources, technical expertise and partnerships".
"Intersectoral linkages between fisheries and related industries are often underexplored," Mr. Thomson said. "Seafood value chains need to be better understood to design interventions that boost value addition for developing countries, towards integrating horizontal and vertical aspects of value chains and to share benefits more equitably."
He also said that there was an urgent need to compile data on structure, nature and level of subsidization of fisheries, in both developed and developing countries alike, to facilitate reform.
On making marine-based value chains sustainable in developing countries, Mr. Thomson said: "several good practices from developing countries, notably Malta, Maldives, Ecuador and Peru were proposed to assure the sustainability of the fishing industry, small scale fisheries, algae-based products and other sustainable Blue Economy sectors".
Timely implementation
Mr. Thomson concluded with a reminder of the importance of the ocean to social, economic and environmental progress.
"In closing, let me remind us again that timely implementation of targets 4 and 6 of Goal 14 by 2020 is essential to the 2030 Agenda," Mr. Thomson said.
"If the international community fails to meet these targets on time, there is a risk that it affects the integrity of other targets under the Goals. The Second Oceans Forum was an important step in achieving Goal 14."
Vital support for the forum was also given by the United Nations Economic Commission for Europe, The Commonwealth, the Africa, Caribbean and Pacific Group of States, and the International Ocean Institute.