09 November 2021
UNCTAD's TrainForTrade programme boosts the skills of port management practitioners and prepares them to tackle shocks and emerging challenges.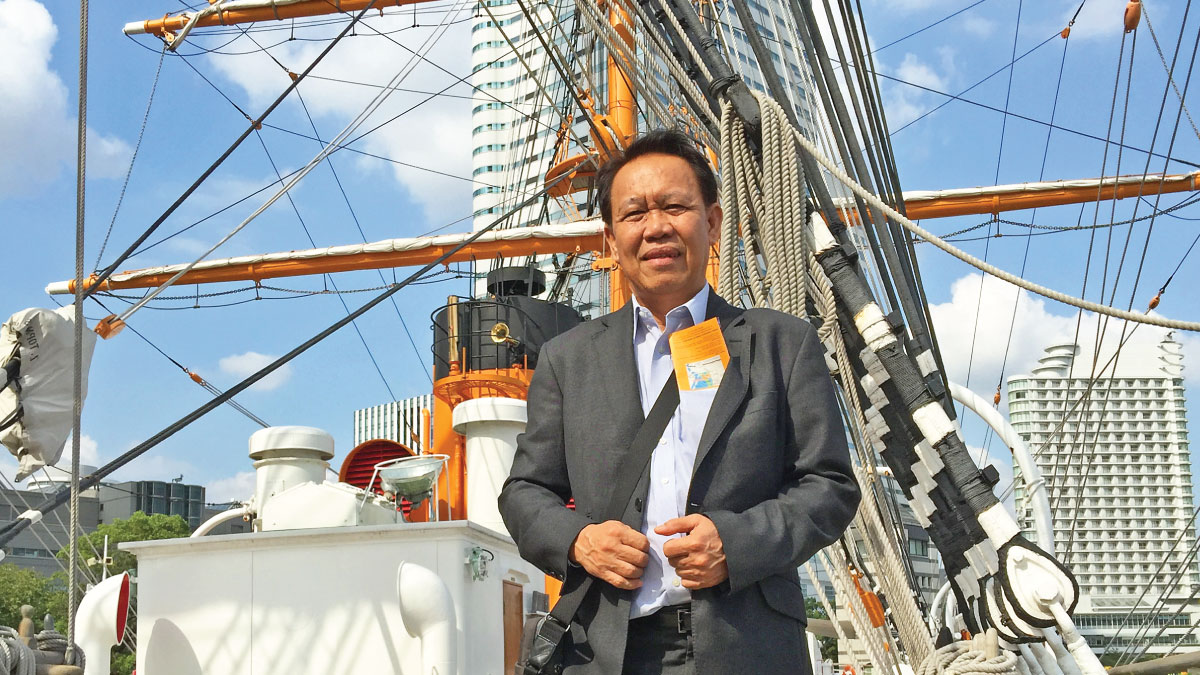 Hector Miole during a visit to the port of Yokohama in Japan. Photo courtesy of Mr. Miole.
Hector Miole's long and succesful career as a port professional started rather unexpectedly. He was teaching in the middle of a college semester in 1976 when the Philippine Ports Authority (PPA), then newly established, started a recruitment campaign.
"They invited applicants to take entrance examinations for possible employment. My main motivation to join them was the generous compensation package they offered," Mr. Miole recalls.
In February 1977, PPA employed him as a terminal operations officer, kicking off his journey in the port management community.
Thanks in part to training from UNCTAD's TrainForTrade port management programme, he has risen through the ranks and is now an assistant general manager at the Philippine port.
Career propelled by UNCTAD
Mr. Miole obtained a master's degree in port administration from the University of Antwerp in Belgium in 1982, thanks to a scholarship from UNCTAD.
He had earlier studied English, earning his bachelor's degree in 1973. He later got earned a certificate in business economics from the University of Asia and the Pacific in 2005.
He reconnected with UNCTAD in 2012, when he met the chief of the organization's TrainForTrade programme, Mark Assaf, at an event in Geneva.
Mr. Assaf presented the programme's modern port management course to the meeting's attendees. Shortly afterwards, the PPA adopted the course as part of its high-level training programme for managers and key executives.
In 2013, UNCTAD conducted a joint coaching workshop with the PPA in Manila.
"The workshop aimed to improve participants' organizational and delivery skills and the ability to assess results and provide feedback correctly," Mr. Miole recalls. Four countries participated in the workshop.
Mr. Miole received his certificate in modern port management in 2015 after completing the course's eight modules in two workshops, which he says introduced him to a well-structured learning process.
"This was combined with practical examples from highly developed port systems as well as the sharing of unique methods and practices by small and developing country port management models represented by other attendees," Mr. Miole said.
Power of knowledge exchange
During the workshops, Mr. Miole realized how important it was for even experienced port professionals like him to exchange knowledge with other people from successful ports, learn their core competencies and their visions for the future.
Thanks to his training, he has advocated for the adoption of the modern port management programme in the PPA, with good results. "We have completed the first two cycles of the programme and will soon complete the third," he said.
Mr. Miole has also shared his knowledge and experience with his colleagues in TrainForTrade's training sessions in Indonesia and in global webinars.
He sees the opportunity for networking with other members of port communities as an important element of TrainForTrade's workshops.
While participating in workshops in Ireland, he was impressed by local ports' solutions to common challenges, which he could replicate in Philippine ports.
"Understanding the growth and development of the Dublin port and how the port of Cork managed its cruise and passenger ferry businesses were important guideposts during my visit," Mr. Miole said.
He says the exchange of port experiences among TrainForTrade's trainees supplements the often highly technical aspects of the training programme. "It also shows the gender-sensitive, inclusive and non-discriminatory global face of the programme."
Rebuilding post COVID-19
Mr. Miole says the port sector needs support to recover and rebuild from the COVID-19 crisis and develop new knowledge, especially related to digitalization, related to port management and resilience.
"We need to be better prepared for new threats and constraints that have the potential for higher frequency and damages. I'm thinking specifically of cybersecurity, climate change, communicable diseases and digital gaps," he says.
According to him, the TrainForTrade programme offers port managers a fitting opportunity to position themselves to better tackle these and other challenges.
The programme launched in 1989 disseminates international trade-related knowledge and develops skills and capacities in developing countries and those with economies in transition.
Over the years, it has received funding from Belgium, France, Greece, Ireland, Portugal, Spain, the beneficiary countries and partner ports.