09 February 2023
Participants of UNCTAD and Okayama University's Young Female Scientist Programme are breaking the glass ceiling in science, technology, engineering and maths.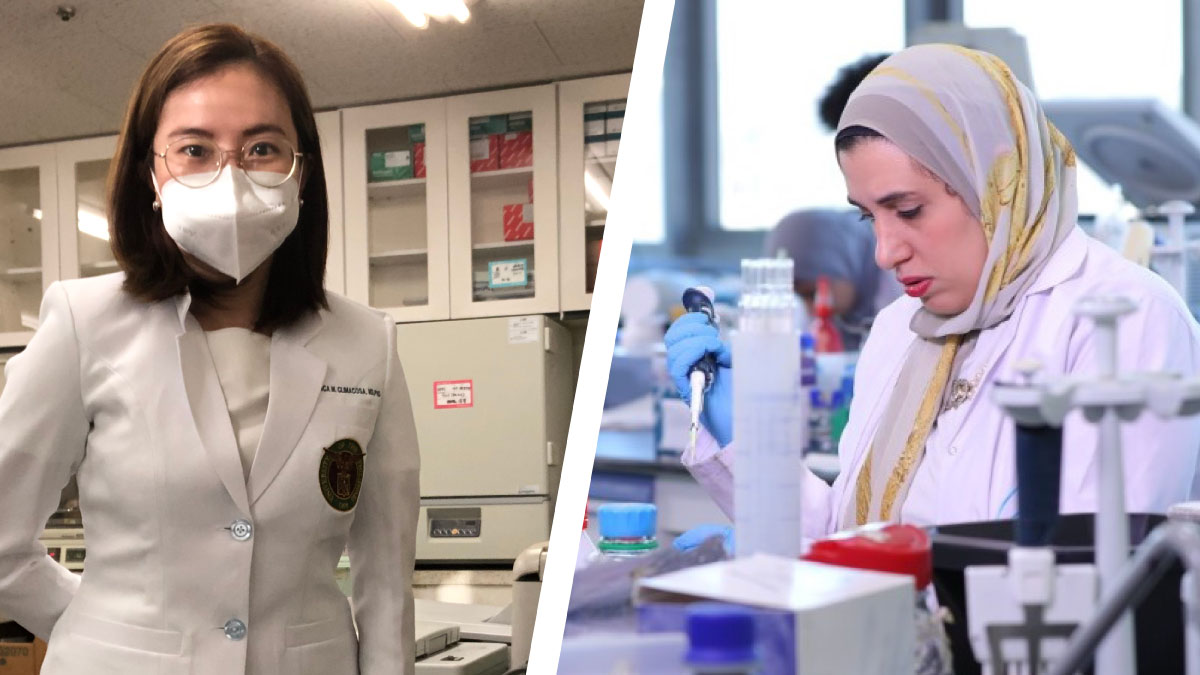 © UNCTAD | Fresthel Climacosa (left) from the Philippines and Menatallah Elserafy from Egypt are working to break the glass ceiling in their scientific fields.
As the world marks the International Day of Women and Girls in Science on 11 February, Menatallah Elserafy from Egypt and Fresthel Climacosa from the Philippines are working to break the glass ceiling in their scientific fields.
Ms. Elserafy, an assistant professor and researcher at the Centre for Genomics at the Zuwail City of Science and Technology in Egypt, focuses on DNA repair mechanisms.
Ms. Climacosa, an associate professor in the Department of Medical Microbiology at the University of the Philippines, focuses on the prevention and control of diseases, including tuberculosis.
In 2022, the two medical researchers participated in the Young Female Scientist Programme, a joint initiative by UNCTAD and Okayama University in Japan to empower women in science, technology, engineering and mathematics (STEM) disciplines.
---
Listen to The Weekly Tradecast episode with Ms. Elserafy and Ms. Climacosa
---
The STEM gap
STEM areas offer enormous opportunities for women. But attitudes persist that these are fields mainly for men, often leaving women under-represented or excluded.  
Women make up under a third of the workforce in STEM. Just one in five professionals working on artificial intelligence is a woman.
"Women face immense barriers in science and technology. And many developing countries lack the resources to train scientists to the highest academic level," said Shamika N. Sirimanne, UNCTAD's director for technology and logistics.
"I'm very grateful to Okayama University for providing young women scientists from developing countries with the opportunity to take home with them new knowledge, new skills and new international collaborative networks," she added.
New technical skills
Ms. Elserafy said: "In addition to acquiring new technical skills while working at the Neutron Therapy Research Centre at Okayama University, we produced promising preliminary data that we can build on in a long-term collaboration."
"We also learned how to use new advanced microscopes that enhanced research work," she added.
Ms. Climacosa worked under the supervision of Naoya Ohara of Okayama University, whose team recently discovered a new mutation in a tuberculosis variant.
She studied the impact of this mutation on bacteria treated with an anti-tuberculosis drug.
The experiments she conducted at Okayama University prepared her to launch a research programme in the Philippines to help prevent and control diseases like tuberculosis.
"The good laboratory practices I learned from Dr. Ohara's team are undoubtedly valuable in our own programme," Ms. Climacosa said.
While at Okayama University, she took part in a meeting of the Mycobacteria Study Group of Japan alongside renowned and early-career Japanese researchers, scientists and academicians working on mycobacteria.
"It was a great opportunity to network with the attendees for potential research collaborations in the future," she said.
Science collaborations
The two researchers stressed the importance of international collaboration in their fields and the value of their cultural exchange experience in Japan.
"We'll continue working on projects in both Egypt and Japan simultaneously in the future. We'll also apply for funding to support the projects and enable further research visits," Ms. Elserafy said.
Ms. Climacosa is exploring sending Filipino graduate students to Okayama University for possible sandwich research programmes to further strengthen the collaboration.
Aware of the barriers faced by women in science and the need for role models in STEM, the two researchers offered advice to aspiring young female scientists.
"Create your own path, break stereotypes, look up to female role models and learn from what they have done to achieve success," Ms. Elserafy said.
Ms. Climacosa echoed these sentiments and urged young women in STEM to persevere.
"Don't be afraid to go beyond what is expected of you. Dare to do what no one expected you to do," she said.
In support of global goals
The Young Female Scientist Programme is part of a long-term plan by Okayama University to support the Sustainable Development Goals (SDGs) through education. Science and technology are powerful tools for achieving SDG 5 on gender equality.
The programme has empowered 21 women from Africa and Asia since it began two years ago under the UN Commission on Science and Technology for Development, an UNCTAD-supported intergovernmental forum that promotes international cooperation in science and technology.
President of Okayama University, Hirofumi Makino, said: "We'll continue to encourage young people, especially women, to explore new waves of technological innovation with equity, inclusiveness and sustainability in mind."