12 December 2012
10:00-18:00 hrs., Palais des Nations
Geneva
, Switzerland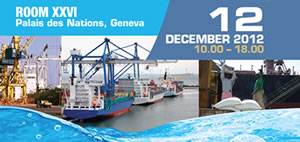 Quick link:
Prepared in collaboration with the International Association of Ports and Harbors (IAPH)
Background and purpose of the meeting
More than 80 per cent of merchandise trade by volume is seaborne, and the share is even higher for most developing countries. In many cases, over 95 per cent of a developing country's international trade passes through one main seaport. Increased port performance can lead to lower transport costs and help boost a country's competitiveness.
There is presently no global comparison of port performance allowing ports and their clients to benchmark against other ports. Identifying standardized indicators that would allow stakeholders to gain a better understand of their ports' efficiency could be an important first step towards encouraging further port reforms, leading to improved port efficiency and country competitiveness.
The purpose of this meeting is to discuss possible ways to measure and compare the performance of seaports. Experts will also analyse whether and how indicators could be developed that would help increase transparency. Experts from governments and port authorities, as well as academics and stakeholders from the private sector, will have an opportunity to share information on recent and ongoing research in this area, and to discuss potential future collaborations, including UNCTAD's role in the process.
Participation
Member States, specialized agencies and intergovernmental bodies wishing to participate in the meeting, as well as non-governmental organizations in the general category and those in the special category wishing to participate as observers, are requested to inform the UNCTAD secretariat of the names of their representatives early on, at the latest by 28 November 2012. Representatives of the private sector, academia and relevant organizations dealing with issues related to the topic of the meeting will also be invited.
Contributed papers
All experts are encouraged to prepare and submit papers or contributions dealing with issues relevant to the topic of the meeting, including in relation to their country's experiences. These contributions will be made available to the meeting on the UNCTAD website in the form and language in which they are received.
Papers should be submitted by e-mail to florence.hudry@unctad.org before 3 December 2012.
There is some issue in accessing document path, Please contact to Site Admin
(UNCTAD/WEB/DTL/TLB/2013/1)
-
19 Jun 2013
---

Language(s)
English | Français | Español | 简体中文 | Русский | العربية |
Related
Meeting series
Contact
Nominations and representation at the meeting:
UNCTAD secretariat
Intergovernmental Support Service
Palais des Nations
CH-1211 Geneva 10
Enquiries concerning substantive issues: