25 - 26 September 2017
Room XXV
Geneva
, Switzerland
UNCTAD is organizing its first Non-Tariff Measures Week to have comprehensive and intensive discussion on this topic. The NTMs Week has a diverse programme for three days with policy discussions, recent economic research findings, the annual meeting of the Multi Agency Support Team (MAST), and a look towards voluntary sustainable standards. 
Regulations and standards are a main hurdle to trade. Business surveys as well as quantitative assessments show that with falling tariffs, NTMs have become the more important impediment to trade. Challenges include costs of compliance and in particular the lack of transparency. At the same time, many regulations and standards provide benefits for consumer protection and other sustainable development objectives. 

Downloads:
Meeting Registration Guidelines
The meeting on mandatory trade regulations and MAST takes place during the first two days of the NTMs week. The meeting sheds light on the importance of NTMs on international trade and development, and shows successful global and regional approaches to tackle the challenges including transparency initiatives and regulatory cooperation. 
Moreover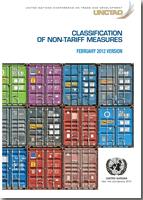 , the MAST meeting follows up on the September 2015 and October 2016 Expert Meetings on NTMs to take stock of the policy agenda and the further development and revision of the NTMs Classification. The International Classification of NTMs developed by MAST has become a common language for the international trade community, including for researchers, regional and international organizations as well as governments.
This was the first step towards enhancing transparency and understanding of NTMs. Significant effort has also been made in the subsequent global and comprehensive mapping of NTMs by UNCTAD and its partners. The current database covers over 80% of world trade and these efforts go hand-in-hand with capacity building.
The global database on Non-Tariff Measures: http://i-tip.unctad.org
More information about the UNCTAD Programme on NTMs: http://unctad.org/ntm
There is some issue in accessing document path, Please contact to Site Admin
---

Contact
Mr. Ralf Peters, Chief Trade Information Section. Tel : (+41) 22 917 5680 E-mail :
ralf.peters@unctad.org