13 January 2021
Here's why the UN has dedicated a whole year to the creative economy and its critical role in promoting sustainable development, especially in a post-coronavirus world.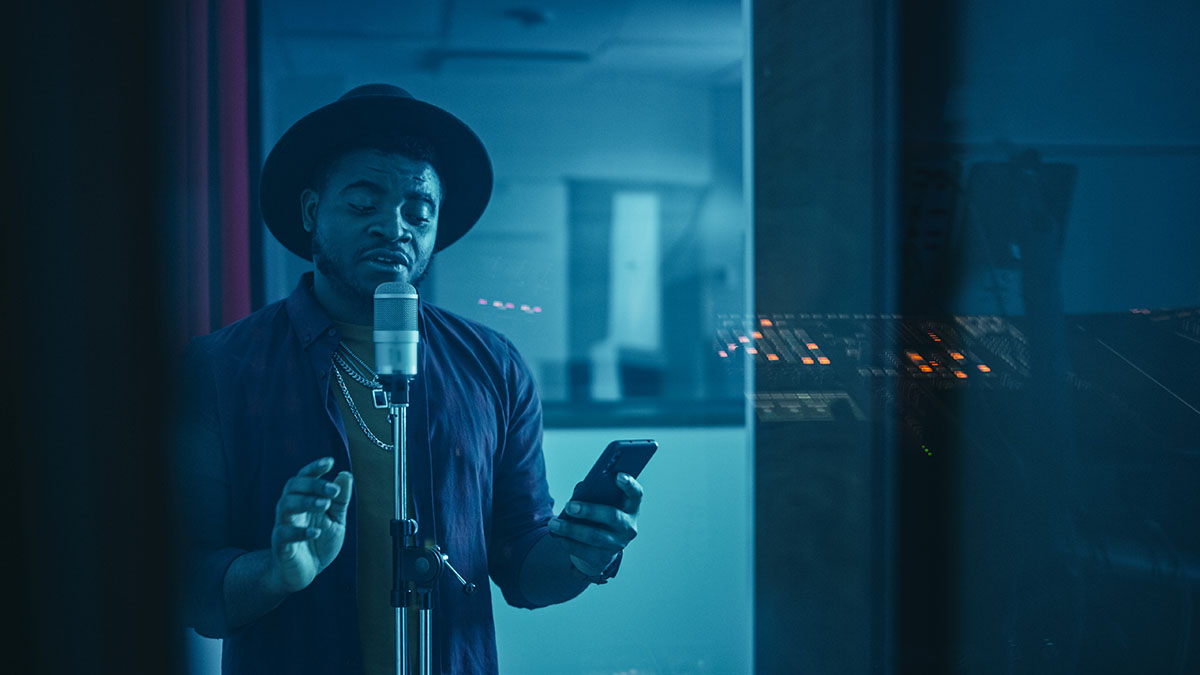 © Gorodenkoff Productions OU
After a year of pandemic-induced lockdowns, there couldn't be a better time to appreciate the creative economy. The United Nations is doing just this as it marks 2021 as the International Year of the Creative Economy for Sustainable Development.
As the coronavirus pandemic closed traditional areas of life, many people took up a craft, read books, watched endless series and films, connected to digital concerts, or shopped online for the latest fashion. They helped sustain the creative economy, which is finally having its day – or more accurately, year – in the sun.
In November 2020, the UN adopted resolution A/RES/74/198, declaring 2021 the "International Year of Creative Economy for Sustainable Development". Tabled by Indonesia, it was backed by 81 countries, a ringing endorsement of an often misunderstood and misrepresented piece of the global economy.
Timely resolution
UNCTAD Deputy Secretary-General Isabelle Durant said the resolution was timely. "The creative industries are critical to the sustainable development agenda. They stimulate innovation and diversification, are an important factor in the burgeoning services sector, support entrepreneurship, and contribute to cultural diversity," she said.
The creative and cultural industries have also played a major role in mediating the digital transformation happening globally, and more so since COVID-19 pushed us online in unprecedented numbers.
"When the resolution was being negotiated and approved, no one could have anticipated what the intervening year would hold: a status quo-shattering pandemic," said Marisa Henderson, UNCTAD's creative economy programme head.
"But more than ever, we need creative thinking, innovation and problem-solving to imagine ourselves out of the challenges of inequality and vulnerability that we face daily. The creative industries, the lifeblood of the creative economy, are well placed to help."
The resolution recognizes that the creative economy has the potential to support developing countries and countries with economies in transition in diversifying production and exports and to deliver sustainable development in an inclusive and equitable manner.
Creative industries badly hit by pandemic
COVID-19 has dealt a terrible blow to the creative industries, which employ more than 30 million people globally, mostly young people. In 2020, estimates say the cancellation of public performances alone has cost authors roughly 30% of global royalties, while the global film industry has lost $7 billion in revenues.
UNCTAD has tracked trade in creative goods and services for close to 20 years, during which the growth rate of creative economy exports has often outpaced that of other industries.
"No new estimates are available for the creative economy in 2020 yet but, due to the COVID-19 pandemic, the prospects look bleak," Ms. Henderson said. "Hence the urgent need to both promote and protect the creative industries especially in the decade we have left to achieve the Sustainable Development Goals (SDGs)," she added.
"Without them, the economic development, women's empowerment, and cultural and poverty alleviation targets within the SDGs are unlikely to be met."
But what is the creative economy?
The creative economy is neither new nor novel. If you get your broadcasts online or buy your news from a news stand, subscribe to an entertainment streaming service or go to your local cinema, buy clothes or furniture online or in a mall, read a book or listen to music en route to work, you are consuming a creative product or service.
People conceptualize and arrange this work, then produce or publish it and, ideally, get paid for it. This is no different, really, from other production processes, except that the major input stems from original or copyrightable intellectual property (IP).
The creative economy covers the knowledge-based economic activities upon which the 'creative industries' are based. These industries include advertising, architecture, arts and crafts, design, fashion, film, video, photography, music, performing arts, publishing, research and development, software, computer games, electronic publishing and TV/radio.
The Golden Age
The creative economy accounts for about 3% of global GDP, according to a 2015 study by professional services firm EY. But it's worth is arguably much more when cultural value is added to its commercial gains.
In Indonesia, which brought the resolution to the UN General Assembly, the creative economy contributes 7.4% to the nations's GDP. It also employs 14.3% of its workforce: from craft to gaming, fashion to furniture.
In the UK, creative industries made a record input to the economy in 2017, contributing £101.5 billion to country's coffers, and grew at nearly twice the rate of the economy since 2010.
These are monetary examples of a wider impact. The creative economy is proving to be a powerful emerging economic sector, strengthened by digitalization and a surge in services. Its contribution is likely to grow, experts say, and if key trends can be harnessed, we could be living in a much more creative world in the future.
What the resolution means and key activities
UNCTAD is mandated to implement the resolution, serving as the lead agency driving the annual celebrations and observations of the year, alongside UNESCO, WIPO, UNIDO, the WTO and other key international organizations.
It's working closely with Indonesia, the UAE and Oman, which have scheduled major events throughout the year, culminating with a summit in Indonesia in December 2021.
During the year, countries and organizations will work together to enhance data collection to measure the creative economy. "Regular, reliable and comparable data on the contribution of creative economy will help us better understand its socio-economic contributions at all levels – global, regional and national," Ms. Henderson said.
This year, UNCTAD will work with experts from developing and developed countries to boost the gathering of data on creative goods and services. Find the full programme of activities here.