03 September 2021
With about 75% of all the plastic ever produced becoming waste, countries are exploring how to use trade and development policies and negotiations in the fight against plastic pollution.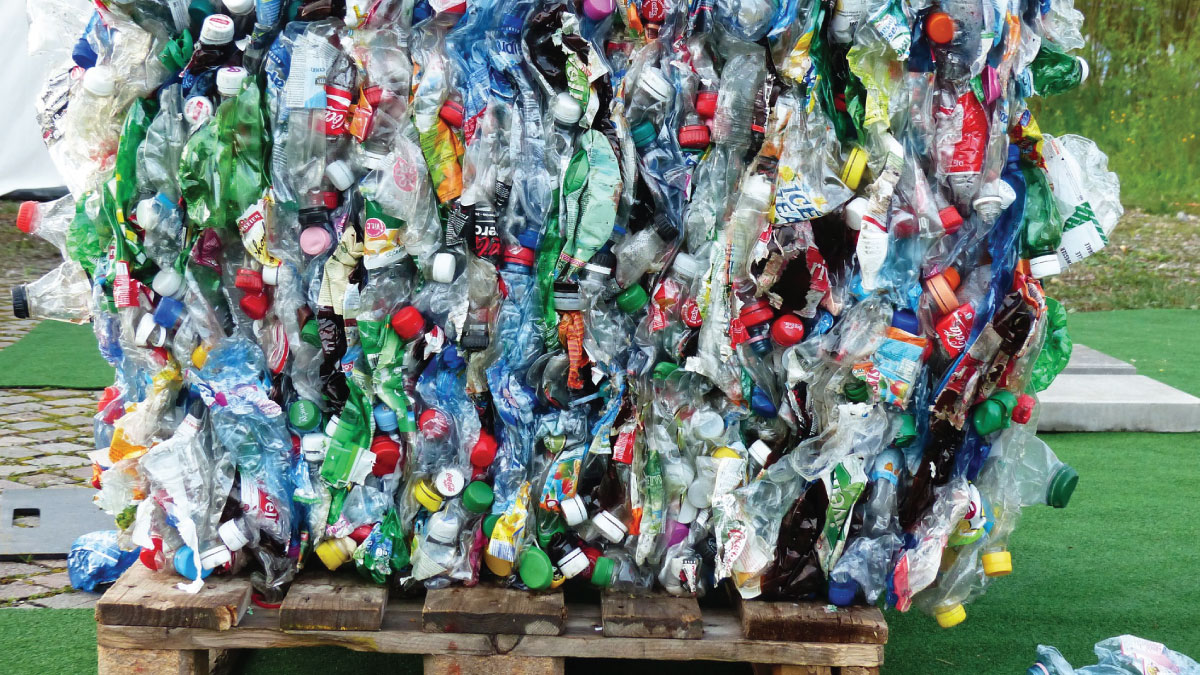 The world's plastics-dependent economy generates large volumes of plastic waste. © Pixabay/Hans Braxmeier
Cooperation on trade is critical to global efforts to tackle plastic pollution, one of today's most evident and persistent environmental problems.
That was the message from several speakers at a high-level event organized by UNCTAD, the UN Environment Programme (UNEP), the Forum on Trade, Environment and the SDGs and Ecuador on 2 September.
The event highlighted where and how trade and trade policies are relevant to plastic pollution, and the need for stronger international efforts and cooperation to tackle plastic pollution, including through a proposed new global treaty under the UN Environment Assembly.
"Plastic is everywhere. It's a multi-faceted, big business," said UNCTAD Acting Secretary-General Isabelle Durant. "Global plastics trade is worth at least $1 trillion, and virtually every country is involved."
The world's plastics-dependent economy generates large volumes of plastic waste. In 2020, plastic waste amounted to 367 million metric tons, with 8 to 12 million metric tons ending up in oceans.
About 75% of all the plastic ever produced has become waste, a trend that may continue if measures to reduce, substitute, collect, recycle and sustainably dispose plastics are not put in place with harmonized global rules worldwide.
Trade policies can be vehicles for change
Ms. Durant said cooperation on trade can play a big role in tackling the plastic pollution menace because "trade occurs at every step in the plastics lifecycle; from its fossil fuel inputs, to intermediate products, final goods and even waste."
She outlined how trade and development policies and negotiations can be essential vehicles for change in the fight against plastic pollution.
"Multilateral trade rules should ensure that national regulations, bans, taxes and other mechanisms meant to tackle plastic pollution are set in a fair, non-discriminatory and transparent manner," she said.
Also, trade negotiations should contribute to incrementally phase out fuel subsidies that drive low primary plastic prices, leading to more traction to natural material alternatives, Ms. Durant added.
She said the negotiations should promote environmental services liberalization, minimum regulatory harmonization and investment facilitation in solid waste management and recyclizing.
Ms. Durant added that flexible trade-related intellectual property rules can enable temporary protection of relevant inventions while facilitating access and transfer of relevant technologies for circular production and waste management systems.
She said the multilateral trading system's response to the plastic pollution challenge must be malleable, useful and adaptable – the very properties that have made plastic successful.
Supporting international efforts
UNCTAD's 15th quadrennial conference (UNCTAD15) to be held online from 3 to 7 October, hosted by Barbados, will offer countries an opportunity to discuss how to decouple economic growth from environmental degradation through better trade and development policies.
As countries ramp up their efforts to combat plastic pollution and other environmental threats, UNCTAD is supporting them in various ways.
It's developing the first ever plastic lifecycle trade database, which shows that the global plastics trade is at least 40% higher than previously thought. It also indicates areas where markets exist for countries that can make alternatives and explores options to finance the transition towards a low-plastic economy.
UNCTAD is also analysing regulatory trends in World Trade Organization (WTO) notifications on trade-related environmental measures, assessing the impacts of marine litter and plastic pollution and identifying possible policy recommendations under its oceans economy and fisheries programme.
Besides, UNCTAD actively contributes to the WTO informal dialogue on plastic pollution and environmentally sustainable plastics trade, which is supported by developed, developing and least developed countries.
It's also implementing a joint programme on sustainable manufacturing and environmental pollution, and conducting studies on green finance for transition and transformation in high-carbon areas of the economy, including examining the financing of plastics and their alternatives.
Increasing interest among WTO members
WTO Deputy Director-General Jean-Marie Paugam said the organization's members are increasingly interested in discussing the environmental implications of the trade in plastics and plastic waste.
"Recent years have seen an intensification of discussions on plastics pollution in WTO committees alongside the growing awareness of its dire environmental and health consequences," Mr. Paugam said.
WTO members have also increasingly used trade policies to address plastic pollution. From 2009 to 2019, about 130 trade measures to address plastic pollution were notified to the WTO – two thirds in the last four years.
Mr. Paugam urged WTO members to deepen their engagement on the issue with interventions to support the transition to a more environmentally sustainable plastics economy.
Collective action needed
Only through collective action can countries tackle the plastic menace, various speakers said.
UNEP's director of ecosystems, Susan Gardner, said: "Countries can find pathways in trade that can help to restore the ocean, promote the development of coastal economies and work towards a global treaty to combat plastic pollution."
Ecuador's minister for environment, water and ecological transition, Gustavo Manrique, emphasized the need for joint efforts between countries to accelerate the transition towards the circular plastics economy. "To control the situation clearly requires decisive and coordinated action by multiple actors."
"Ecuador is committed to the fight against plastic pollution through concrete actions such as our recent inclusive circular economy organic law, single-use plastics law and various municipal ordinances in order to promote a fair balance with nature," Mr. Manrique added.
Ambassador José Valencia of Ecuador said: "In the face of a global challenge, it is necessary to act with global responses, with multiple and adequately coordinated responses. The role of cooperation on trade issues is central."
Ambassador Chad Blackman of Barbados underscored the need for a multisectoral approach, saying governments and international organizations can't do it alone.
He also said consumer action is key. "If there's no awareness or demand coming from consumers to change the impact of plastics on our world, the outcome is not going to change," he said.
Australia, Barbados, Ecuador, Switzerland and the United Kingdom, whose representatives spoke at the event, are among the co-coordinators of WTO's informal dialogue on plastics pollution and environmentally sustainable plastics trade.
Ecuador and Barbados are two of the six co-coordinators of WTO's informal dialogue on plastics pollution and environmentally sustainable plastics trade.