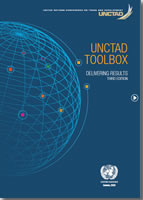 Since its foundation more than 50 years ago, the United Nations Conference on Trade and Development – UNCTAD – has been a key partner supporting countries in meeting their development objectives.
UNCTAD has helped countries in the pursuit of shared prosperity by backing policymaking with sound research and analysis, providing a forum for open and constructive dialogue on development issues, and providing technical support to make a difference on the ground.
The 2030 Agenda for Sustainable Development and the Sustainable Development Goals aim to ensure dignity for all, prosperity for all and a sustainable planet for all. Sustainable development is at the heart of the work of UNCTAD.
UNCTAD provides high-quality and evidence-based analysis that feeds national, regional and international policies with the aim of generating inclusive sustainable development. Based on such analysis, UNCTAD technical assistance builds the capacities needed in developing countries and countries with economies in transition for equitable integration into the interconnected, global economy and to improve the well-being of their populations. It does so in a non-standardized, flexible and customizable way.
UNCTAD technical cooperation is tailored to the needs of its beneficiaries; involves donors, partners and other stakeholders; and aims to achieve concrete, measurable results, to be disseminated and shared with stakeholders from different countries.
The technical cooperation products presented in the UNCTAD Toolbox aim to multiply the intended effects by adopting integrated approaches and coordinating technical cooperation operations both internally and with other stakeholders.
The UNCTAD Toolbox contains information on our technical cooperation products that can assist countries in putting in place the policies, regulations and institutional frameworks and in mobilizing the resources needed to fulfil the ambitions of the 2030 Agenda for Sustainable Development.
UNCTAD stands ready to help developing countries and countries with economies in transition achieve the world we want by 2030.
UNCTAD delivers results. We count on our partners to help bring about the ambitious transformations that, together, we can deliver.