10 - 12 May 2016
Room VIII, Building A
Geneva
, Switzerland
 

Downloads:

Meeting Registration Guidelines
​Concerns over the health of oceans and their ecosystems have enabled the adoption for the first time of a Sustainable Development Goal (SDGs) exclusively dedicated to the oceans: SDG 14.
This goal commits UN Member States "to conserve and sustainably use the oceans, seas and marine resources for sustainable development". 
The oceans economy has been defined as a vehicle toward a greener and more sustainable and inclusive economic paths on the marine and coastal environment.

Trade in marine products and services can create opportunities for economic growth, export diversification and new investments. Major trade sectors where opportunities already exist or could be expanded in the near future include sustainable fishing and aquaculture, sustainable and resilient marine transport and logistic services, and in links with maritime and coastal tourism.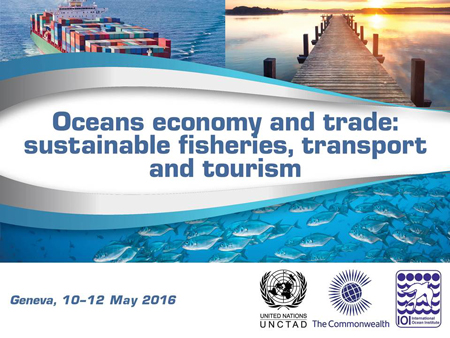 The objective of this international seminar is to: increase the understanding of the concept of the oceans economy and its close links with trade;  examine how international trade in goods and services, as mediated by internationally agreed rules, regulations and trade policy, can better support the advancement of SDG 14 and other related goals, and; underscore the strong inter-sectoral interdependencies of ocean-based sectors and related implications for strategically coordinated policies.

UNCTAD News item

There is some issue in accessing document path, Please contact to Site Admin
Co-organizer(s):
COMSEC and The International Ocean Institute
---

Related Site:
UNCTAD
Trade and Environment, Oceans Economy (topic)
http://unctad.org/en/Pages/DITC/Trade-and-Environment/Oceans-Economy.aspx
Sustainable Fisheries: International Trade, Trade Policy and Regulatory Issues
UNCTAD/WEB/DITC/TED/2015/5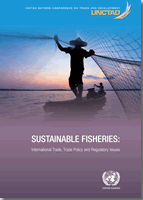 Trade Logistics Branch
http://unctad.org/en/Pages/DTL/Trade-Logistics-Branch.aspx

COMSEC
http://thecommonwealth.org/

IOI
http://www.ioinst.org/
Contact
Mr. David Vivas (UNCTAD, Oceans economy)
[email protected]
Ms. Hassiba Benamara (UNCTAD, Trade logistics)