18 November 2021
The continent also remains the largest seafarer-supplying region in the world. Four of the top five countries supplying seafarers in 2021 were from Asia.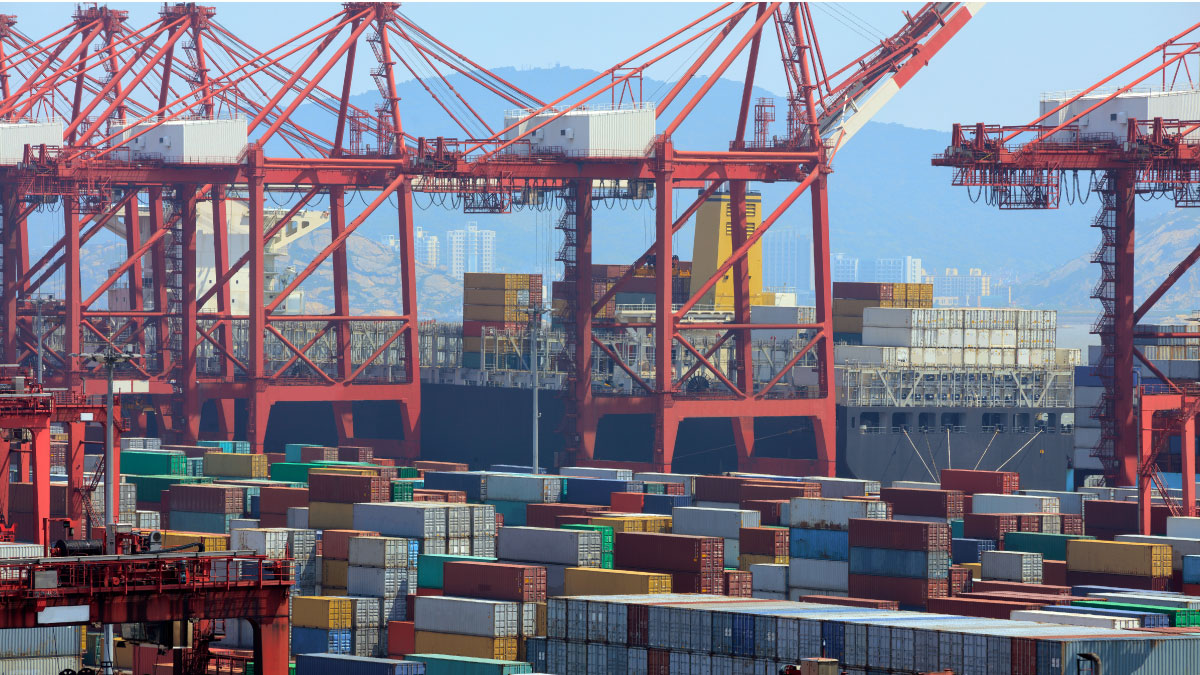 Asia's predominance in global maritime trade strengthened in 2020, as it maintained a 41% share of total goods loaded, increased its volume of goods discharged and remained the largest seafarer supply region in the world, according to UNCTAD's Review of Maritime Transport 2021 published on 18 November.
While the COVID-19 pandemic has prompted discussions about resilience, reducing reliance on distant manufacturing, especially in Asia, the report concludes that an outright end to globalization per se is unlikely. China is expected to remain a leading manufacturing site in the near future.
It states that discussions over the future of globalization have ushered calls to take a fresher look at the configuration of the extended supply chains to reduce heavy reliance on distant suppliers. Some are arguing that reshoring and nearshoring will accelerate, resulting in deep reconfiguration of supply chains.
Asia's resilience
The pandemic drove dramatic variations in Asian trade between 2019 and 2020, particularly on the Transpacific route. Reflecting the initial shock caused by the pandemic, container volumes from Asia to North America dropped by 13% between the fourth quarter of 2019 and the first quarter of 2020 but jumped by 36% in the third quarter of 2020, reflecting a surge in cargo flows to meet consumer demand. 
Reflecting these large swings in trade flows, 2020 saw an increase of 2.8% on the route. By comparison, trade on the Asia-Europe route declined by 2.6% in 2020.
Reflecting the resilience of the region's containerized trade and swift rebound in exports, Asia's container port throughput declined by a marginal 0.4% in 2020, according to the report. The region maintained its position as the global hub for container traffic, with nearly two thirds being handled at Asian container ports.
The liner shipping connectivity of the continent also outperformed other regions, with the top five most-connected economies in the second quarter of 2021 being in Asia – China, Hong Kong (Special Administrative Region, China), Malaysia, Republic of Korea and Singapore.
 
Container ship port calls and maximum ship sizes, 2020 (for illustration purposes country size proportional to the number of container ship port calls)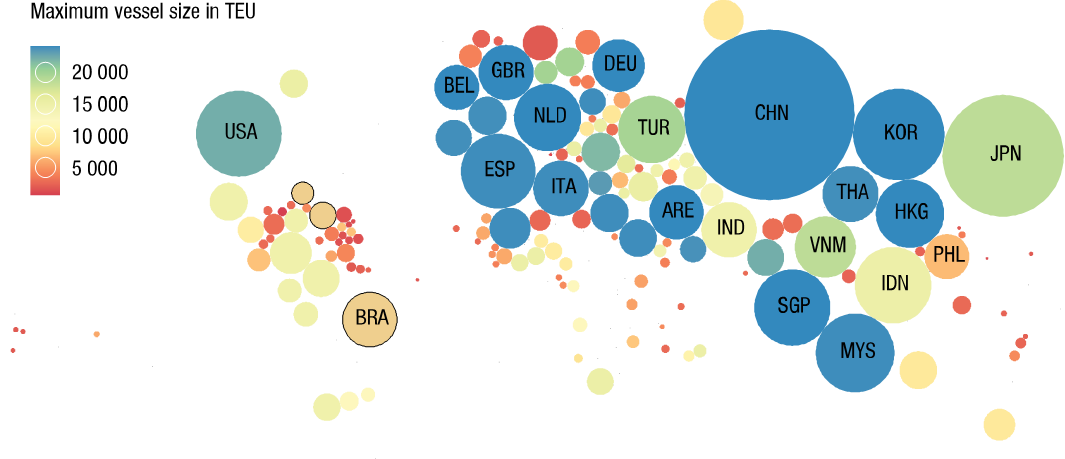 Source: UNCTAD, based on data provided by MarineTraffic.
Note: Ships of 1,000 GT and above. Labelled countries had more than 5,000 container ship port calls in 2020. For the complete table of all countries see http://stats.unctad.org/maritime.

Largest providers of seafarers
The Philippines was the top provider of both seafarers and officers, Indonesia took third place for ratings and fifth for officers, China was third for officers and fourth for ratings, and India was fourth for officers and fifth for ratings. The Russian Federation was the other country in the top five list.
Seafarers are important sources of income for the supplying countries – for example, the Philippines earned $6.5 billion in 2019 from its seafarers. However, this fell by 2.8% in 2020, to $6.4 billion.
The crew change crisis that resulted from the COVID-19 pandemic has left hundreds of thousands of seafarers stranded at sea long beyond their contract time, and others unable to sign up for their time at sea.
UNCTAD says urgent attention is required from flag, port and labour-supplying states, in collaboration with relevant international organizations, to end this crisis.
Other key facts and figures from the report
Asia leads the way when it comes to women holding port management and administrative roles. UNCTAD uses data from its TrainForTrade Port Management programme to benchmark countries using a port performance scorecard. In the category measuring female participation in the port workforce, Asian members were above average for women in management and administrative roles, at 52% – compared to 39% in Europe.
Rail volumes between the Far East and Europe have increased. Shippers have been looking for supply chain alternatives and solutions because of port congestion and lack of vessel capacity. Some have resorted to air freight, despite the higher price. On the Far East-Europe route, rail transport has also attracted shippers.
The increased tariffs imposed by the US on goods from China has led to some interesting shifts of manufacturing within Asia. In 2020, Cambodia took over a large share of China's market share in US Christmas lights imports. Exports of bikes to the US increased by 478% from Cambodia and by 30% from Taiwan, Province of China. Some companies are aiming to diversify production sites, with a "China +1" strategy and this is resulting in new trade flows.