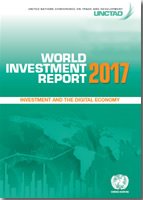 Investment and the Digital Economy
In 2016, global flows of foreign direct investment fell by about 2 per cent, to $1.75 trillion. Investment in developing countries declined even more, by 14 per cent, and flows to LDCs and structurally weak economies remain volatile and low. Although UNCTAD predicts a modest recovery of FDI flows in 2017–2018, they are expected to remain well below their 2007 peak.
These developments are troublesome, especially considering the enormous investment needs associated with the Sustainable Development Goals, detailed in UNCTAD's Action Plan for Investment in the SDGs. Progress on sustainable development – and lasting peace – requires more investment in basic infrastructure, energy, water and sanitation, climate change mitigation, health and education, as well as investment in productive capacity to generate jobs and income growth.
Now more than ever it is important to ensure that the global policy environment remains conducive to investment in sustainable development. UNCTAD plays an important role in this, by providing guidance on national and international investment policy regimes. Its Investment Policy Framework and Roadmap for Reform of International Investment Agreements have been used by more than 130 countries in formulating a new generation of investment policies.
This year's World Investment Report builds on that track record and presents policy advice on how to deal with close to 3,000 old-generation investment treaties.
A key challenge for policymakers in today's global economy is digital development. The theme chapter of the Report this year shows that the digital economy is having a major impact on global patterns of investment. It provides important insights on the implications of the digital economy for investment policies designed for the analogue era, and suggests how investment policy can support digital development.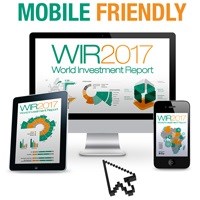 I commend this Report as an important tool for the international investment and development community.